OptionsHouse CEO George Ruhana On Implied Volatility, Building A Company & More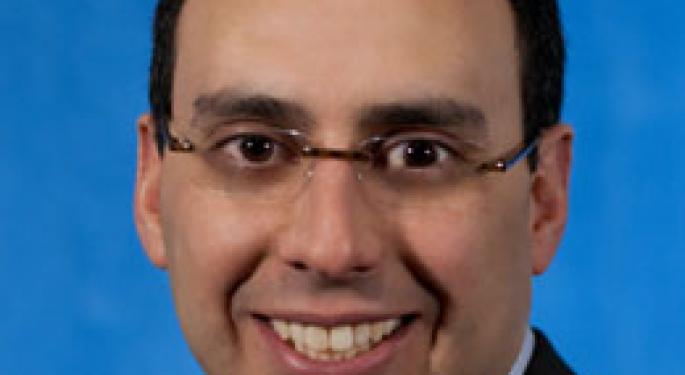 On Tuesday morning, Benzinga got the chance to go one-on-one with the CEO of OptionsHouse, George Ruhana.
Having spent more than 20 years in the industry, Ruhana is one of the most knowledgeable execs in the financial sector. He started as an intern at O'Connor & Associates (which was later acquired by Swiss Bank Corporation) during his junior year in college. He moved to NationsBank CRT before joining PEAK6, the parent company behind OptionsHouse.
"I knew the people who started PEAK6 from O'Connor because they worked there on the equity side," Ruhana told Benzinga. "In 1999 -- during the Internet boom -- it seemed to make a lot of sense to get out of interest rates and into equities."
PEAK6 was a young company at the time, with somewhere around 10 people working at the firm. Ruhana joined the team and worked on the volatility arbitrage desk.
"We built that business out over 15 years," he said. "I did a bunch of different things at PEAK6 from managing all the traders to setting up institutional relationships."
In 2008, PEAK6 gave Ruhana the opportunity to take control of OptionsHouse.
Implied Volatility Explained
Ruhana took a moment to explain the importance of implied volatility.
"Most people have heard of Black-Scholes as a pricing for options," he said. "There's a handful of inputs: the stock price, the strike price, the timed expiration, interest rates, dividends and volatility. If you put all those numbers into the Black-Scholes formula, you get the price of the option."
Ruhana said that implied volatility is the market price of an option put into that formula with the other inputs.
"It's the market perception of what volatility is going to be on a go forward basis," he added.
When asked about using implied volatility as a trading tool, Ruhana said that there are a couple of things to think about.
"One thing they can't do, for the most part, is trade volatility arbitrage like the big, professional firms do, mostly because of the margin rules," Ruhana warned. "All of the Black-Scholes and all the pricing models are based on dynamic hedging. If you buy the calls and sell the stock and constantly re-hedge your position, that's hard to do."
For investors and retail traders, implied volatility is a really good way to start to think about what to do and how to structure a trade.
"If all of a sudden there's a big change in implied, if you' re watching it, you might want to ask what's going on," Ruhana suggested. "That's a good place to start, and figure out if there's news or an event or earnings are coming up."
Second, investors can look at where historicals are, where the implied volatility is at, and where the investor himself is at. If the trader thinks that something is overblown and he or she wants to own the stock for the long-term, Ruhana said that's probably a candidate for a strategy that would sell options.
The OptionsHouse Difference
Ruhana is very proud to have helped OptionsHouse become a respected place for active stock and options traders.
"If you're at broker XYZ and their main business is 401Ks and retirement planning and they do [options] on the side, it's on the side -- whereas for us it's front and center," he said.
OptionsHouse offers real-time options quotes and a risk viewer that allows traders to see their risk and break it down by dollar delta.
"We have something called the 'risk score,' where we pick the top eight or 10 things that get people in trouble," Ruhana added. "We look at your portfolio automatically and relatively in real-time. If you put on a trade that causes one of these factors to go up dramatically, your risk will go from two to eight and it will be red, and then there's an explanation of why."
Ruhana said that, since OptionsHouse is so focused on trading options, "The tools, the risk profile stuff -- they're more options-focused than you would see in other places."
"We have a good research tab that gives a bunch of information on indexes and individual stocks," he added. "We rolled out real-time charts this year that are more embedded than our old ones were. On a go-forward basis, the thing we're working on now is alerts that are based on more than just the price [going] up, doing different things around alerting to give people more information and making it multi-device."
OptionsHouse has already built apps for iOS (iPhone and iPad), as well as Android smartphones and tablets. Ruhana said that the team's goal is to make alerts flow seamlessly, regardless of the device being used.
Catch the full interview in the video below:
Disclosure: At the time of this writing, Louis Bedigian had no position in the equities mentioned in this report.
Posted-In: George Ruhana OptionshouseEducation Options Markets Interview General Best of Benzinga
View Comments and Join the Discussion!