Give The Gift Of Value: Holiday Gift Ideas For The Should-Be Investor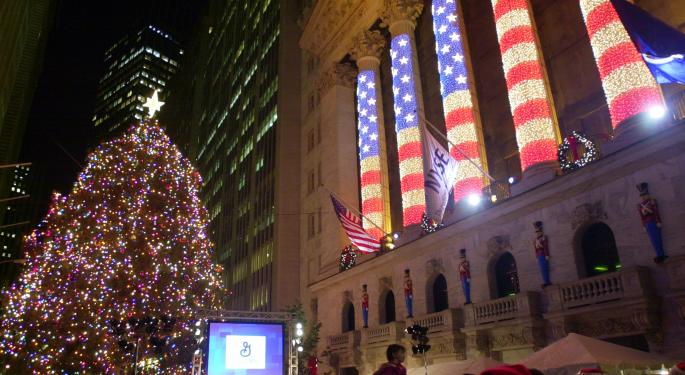 We are now in the heart of the holiday gift buying season and finding that perfect gift for the investors on your list can be daunting.
Looking through the business and finance section of a bookstore like Barnes & Noble or browsing the section on Amazon can be bewildering at times. The current best seller list of investing books includes books about candlesticks, gold, trading strategies, forex, trend trading, options and futures.
All of these subjects probably do far more harm than good for the average investors so it is time to offer up the Value Investor's Holiday Book List.
Ben Graham's The Intelligent Investor
If you have an investor on your list, including yourself, who has not read The Intelligent Investor, then this is the ultimate gift of knowledge. Benjamin Graham's classic book lays out the case for value investing and explains how to define yourself as either a defensive or enterprising investor.
This title is the same one that Warren Buffett called the 'best book ever written on investing.' If you have any would-be or should-be value investors on your shopping list, this book is a 'must' buy.
Any business school students on your holiday list should have their stockings stuffed with a copy in the hopes it offsets the silly theories they will learn in school about stocks and markets.
Martin Whitman's classic The Aggressive Conservative Investor
This title is another potentially life changing book for investors. The book outlines the approach that Martin Whitman used to compile his extraordinary record at Third Avenue Funds. The book outlines how to evaluate securities to find the type of safe and cheap opportunities that can build wealth over your lifetime with an emphasis on asset value rather than quarterly earnings.
Sam Zell said that, "The updated version of The Aggressive Conservative Investor is very much a value-added proposition." It may be the least read great book on the stock market of all time and would be a fantastic gift for serious investors or those hoping to be serious, successful investors.
Value Investing by James Montier is another worthy gift idea
Mr. Montier clearly explains why the value approach is the only sensible one for long term investors and shatters the myths they teach in most universities. Seth Klarman is one of the most successful investors in recent memory and he said of this book, "Buy this book for yourself, and for anyone you know who cares about their capital." Anyone on your list how wants to earn more money in the stock market is a candidate for this book as the best gift they will ever receive.
Victor Niederhoffer's The Education of Speculator
This title may not be a classic value investing book but it is an incredible read with valuable information about looking at the stock markets. He weaves a great tale involving gambling, board games, music and markets to tell his story. No matter how you approach the markets this is a great read that contains valuable information of use to even no speculative value types.
The Net Current Asset Approach by Victor Wendell
This book lays out the case for investing in stocks trading below net current asset value. He shows the returns, the pitfalls and mistakes one can make in this specialized endeavor. It is a valuable addition to the value investor's book shelf.
Howard Marks' The Most Important Thing
This book was an instant classic when it was released last year. Mr. Marks is one of the clearest thinkers about valuation, risk and markets of the last fifty years. Be sure to buy your investor the Illuminated version issued by Columbia Business School. It contains notes and commentaries throughout the book from investors like Joel Greenblatt, Seth Klarman and others that really enhance the readers understanding of the concepts and ideas expressed.
When a book's jacket contains high praise from Warren Buffett, Jeremy Grantham and John Bogle you know that it is worth reading and has application across wide range of investment approaches. This book will make you a better investor and alter your thinking about how markets work and how best to approach them in search of profits.
This holiday season instead of giving another tie or bottle of perfume that will never again see the light of day give the gift of knowledge that can actually improve the life of the recipient.
Instead of giving the recent graduate on your gift list a membership to the 'beer of the month' club this year give them the gift of a philosophy towards money and markets that can help them along the path to success in the financial markets.
Tags: Ben Graham howard marks James Montier Martin Whitman The Aggressive Conservative Investor The Education of Speculation
Posted in: Education General Best of Benzinga