Learn How To Profit From Candlesticks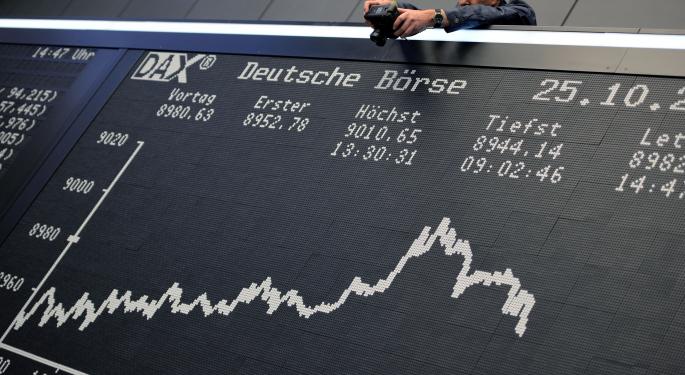 On Wednesday, November 20 and Thursday, November 21, Marketfy will host its inaugural Holiday Trading Summit.
The event will bring together six of the world's most brilliant traders, including candlestick expert Stephen Bigalow.
During the event, Bigalow will explain how the 12 major candlestick signals can help traders understand when a reversal is coming.
"I started doing candlesticks about 20 years ago on accident," Bigalow told Benzinga. "When I started looking at them, they just made sense. I tried to learn every single candlestick signal there was, about 50 or 60 of them."
As Bigalow attempted to learn all of the signals (he backtested charts just by looking at them to see what was happening at the tops and bottoms), he discovered that most of them were a "big waste of time and energy."
"There are only about 12 that were the ones that you would constantly see, and those were the ones that were going to produce the biggest profits for you," he said. "So I developed those into the 12 major signals."
Bigalow said that the nice thing about candlesticks is that they show traders a graphic depiction of what happens when there is a change in investor sentiment. They also describe what is going on in the psychology of the investors to create that change.
"So basically, when you see a candlestick signal and you see it working with good confirming indicators, you had a high probability that there was a reversal and you understood why that reversal was occurring," said Bigalow.
While most traders don't like to talk about past mistakes, Bigalow is quick to admit that he was "one of the worst investors in the world until candlesticks came along."
"I was always one of the panic sellers at the bottom, and one of the exuberant buyers at the top," he said. "Now I know what the psychology is in a market trend, so now I'm looking for the buy signal in the oversold area.
"When everybody else is talking negative about an industry or a sector or a specific stock, and you start to see buy signals, it does not matter what people are saying or what the analysts are implying, you're watching the chart to see what actual investors are doing. It boils down to the candlestick signals of the accumulative knowledge of everybody buying and selling during a specific time frame, so you're seeing exactly what decisions are being made at that point."
Bigalow said that if it's a 'buy' signal, he makes "tons of money" buying stocks that everyone else is selling.
"When everybody else becomes enthused or exuberant about a stock position, and I start to see sell signals, I know to start taking profits," he said.
Traders have a lot to learn from Bigalow and the other experts hosting Marketfy's Inaugural Holiday Trading Summit. But they also have a lot to give.
Benzinga, eSignal, and OptionsHouse have sponsored the event and made it possible for Marketfy to donate a holiday meal to a child in need when you register to attend.
More registrants means more meals, so tell everyone else you know to sign up now!
Posted-In: Stephen BigalowEducation Interview General Best of Benzinga
View Comments and Join the Discussion!