How Twitter Reacted To Ray Rice & The NFL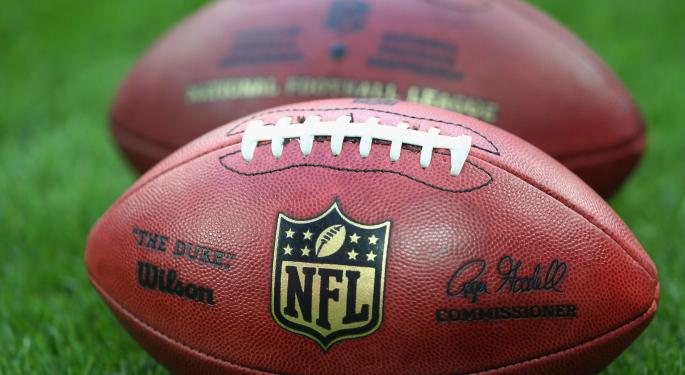 Roger Goodell was once thought to be the best commissioner in all of sports.
The NFL has produced billions of dollars in revenue, and that only grows more each year. The concussion controversy began to put a dent in that shield. The domestic violence situation with now-former Baltimore Raven Ray Rice has damaged Goodell's, and perhaps the league's, reputation even further.
Related Link: 3 Benefits Of The Detroit Red Wings' $650 Million Arena District
Many people's first instinct in highly-emotional cases like this take to Twitter to vent their anger and frustration. Several used the platform to express the good that can come out of the situation. Others were not afraid to hide their opinions.
.@TheJHF's response to the Ray Rice assault - an important read for anyone wondering how to change things. http://t.co/fa1mIcEE8J #NOMORE

— Mariska Hargitay (@Mariska) September 12, 2014
This dad turned his daughter's Ray Rice jersey into a "Be Nice To Girls" jersey: http://t.co/6Hmam2G6xG pic.twitter.com/OVhFmafZZe

— ABC News (@ABC) September 12, 2014
Women who continue to wear Ray Rice jerseys: You are an embarrassment.

— Katie Pavlich (@KatiePavlich) September 12, 2014
Im happy the Ravens terminated the contract & the NFL suspended Ray Rice for domestic violence. A man should NEVER put his hands on a woman.

— Earvin Magic Johnson (@MagicJohnson) September 11, 2014
Current and former players also weighed in, creating a dicey situation as the NFL season kicks off:
That man should be thrown out the the nfl and thrown into jail. Shame on those deciding his punishment. Smh

— Terrance Knighton (@MrKnighton2u) September 8, 2014
NFL players get fined for avoiding the media and Q&A sessions. Goodell hand picks an interviewer and network. #hypocrite

— John Skelton (@johnskelton19) September 10, 2014
Being a leader is not a part time job. If Goodell holds the players to a high standard, he should be held to that same high standard!

— Brian Westbrook (@36westbrook) September 10, 2014
Even stock market experts tried to address the issue:
Is anything really invincible? RT @ReginaGilgan: Moonves to @davidfaber - "The #NFL is basically invincible." @CNBCClosingBell

— Jim Cramer (@jimcramer) September 10, 2014
NFL lucky it's not publicly traded stock. If it were, Ackman, Icahn, Loeb or other shareholder activist would be calling for Goodell's head.

— Paul R. La Monica (@LaMonicaBuzz) September 11, 2014
The popularity of the #NFL is falling faster than $MCD 's stock price. Both generational shorts IMO cc @LaMonicaBuzz

— MarketShot (@MarketShot) September 10, 2014
Perhaps the biggest outlier of Goodell's future -- NFL sponsorships -- could ultimately decide his future:
NFL sponsor FedEx statement on league's handling of Ray Rice pic.twitter.com/1bxpAgDz2R

— darren rovell (@darrenrovell) September 11, 2014
Comment from NFL sponsor, Campbell Soup Co. pic.twitter.com/Iw17E6HObF

— darren rovell (@darrenrovell) September 12, 2014
Posted-In: nfl Ray Rice Roger Goodell social media curation twitterCrowdsourcing General Best of Benzinga
View Comments and Join the Discussion!