Mergers, Acquisitions And A Tax Cut: Why This Biotech ETF Can Rebound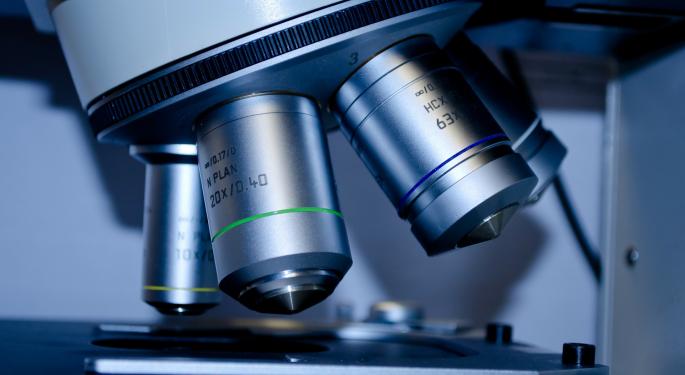 Biotechnology stocks and related exchange traded funds have been drubbed recently. Coming into Monday, the SPDR S&P Biotech ETF (NYSE: XBI), one of the largest such ETFs, was sporting one-week and one-month losses of 5.51 percent and 12.58 percent.
Over the past several years, nearly all of the substantial biotech declines have been buying opportunities. While there can be no guarantees that history will be repeated, there are some points suggesting that XBI and rival biotech funds could bounce back and do so soon.
"After notching a dismal year in 2016, resulting from fears of higher regulation against a backdrop of high-profile price gouging headlines, biotech stocks have rebounded since President Trump took office, registering a 46-percent return since the start of 2017," State Street Global Advisors said in a note.
The health care sector notched a negative performance on an annual basis in 2016, the first time the group has done so since 2008.
Reasons To Consider XBI
XBI follows the Biotechnology Select Industry Index, which is an equal-weight benchmark. That means XBI has more leverage to mid- and small-cap biotechnology names relative to cap-weighted biotechnology ETFs.
There are advantages and drawbacks of increasing exposure to smaller biotech stocks. For example, XBI is usually more volatile than its cap-weighted rivals. On the other hand, XBI can provide more upside to Food & Drug Administration approvals for smaller biotech companies while also providing investors a destination that is littered with potential takeover targets. Indeed, biotech merger and acquisition activity is a legitimate catalyst.
"One reason biotech stocks may continue this march higher is the fresh wave of M&A activity that has been spurred, in part, by the tax bill," said SSgA. "The new tax law cuts the corporate tax rate from 35 percent to 21 percent, and encourages companies to repatriate overseas income held as cash at a tax rate of 15.5 percent instead of 35.5 percent."
Why Now For XBI?
With biotech consolidation on the upswing, data suggest XBI's equal-weight methodology could reward investors. The ETF allocates about 85 percent of its weight to mid- and small-cap names, while the cap-weighted Nasdaq Biotechnology Index has mid- and small-cap exposure of just 38 percent.
"Because M&A target companies are not usually large conglomerates, equal-weighted index strategies with a deeper and more diverse market cap profile should likely capture more of this price jump, because smaller companies comprise larger portions of the portfolio than they would in a market cap-weighted index," according to SSgA.
Related Links:
This Mid-Cap ETF Could Be A Winner
Posted-In: Biotech Long Ideas M&A Sector ETFs Health Care FDA Top Stories Trading Ideas Best of Benzinga
View Comments and Join the Discussion!