Turing Board Could Appoint Founder Martin Shkreli As CEO Or Chairman, But He Has No Interest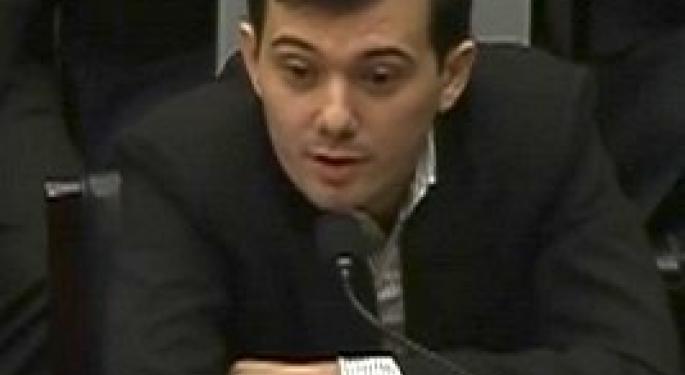 Even under proverbial shackles, Martin Shkreli continues to flex his powerful muscles. The founder and former CEO of Turing Pharmaceuticals could reclaim corporate leadership ahead of the June 26 start to his securities fraud trial.
The board of Turing met Wednesday and shareholders voted to elect Shkreli's slate of board nominees, a source close to the matter told Benzinga. Shkreli could then be appointed Turing chairman or CEO, the source said.
Shkreli had resigned from corporate leadership following his 2015 arrest and indictment on securities fraud by the Federal Bureau of Investigation.
The board allegedly approved his rise in order to ward off a company buyout, for which it entertained offers in excess of $100 million. Shkreli, whose consent was required, had been opposed to any such sale.
Update: Shkreli told Benzinga he has "no interest in returning to Turing" and is "very happy running with my investment in Turing and running Godel Systems."
The Turing Tale
After its founding in February 2015, Turing gained notoriety for its controversial acquisition and subsequent price hike of Daraprim, whose formulation was unmatched by any market competitors. Patients who previously paid Impax Laboratories Inc (NASDAQ: IPXL) $13.50 a dose for the toxoplasmosis treatment suddenly shelled out $750 to Turing.
Amid public outrage, Turing halved the drug's price, which remained well above its international value of $1 or $2 per pill as marketed by non-Turing distributors. Turing rejected a $100 million bid for Daraprim in May.
Related Links:
4 Crazy Wall Street Stories That Hollywood Should Pounce On
Exclusive: Why Martin Shkreli Feels He Has Been Vindicated
Image: By House Committee on Oversight and Government Reform [Public domain], via Wikimedia Commons
Posted-In: DaraprimBiotech News Health Care Rumors Management Exclusives General Best of Benzinga
View Comments and Join the Discussion!