Exclusive: Corium CEO Gives The Scoop On His Company's Latest Alzheimer's Data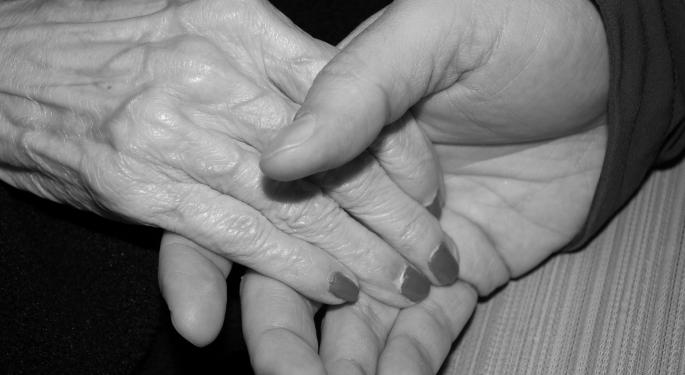 Corium International (NASDAQ: CORI) shares have been white hot over the past 10 days, rising more than 30 percent since the company reported positive preliminary results in the clinical study of its Corplex Donepezil Alzheimer's Disease (AD) product candidate.
The Data
In a pilot bioequivalence study, Corplex met its primary endpoint of bioequivalence to oral Aricept — a Pfizer Inc. (NYSE: PFE) Alzheimer's treatment already approved by the FDA.
In bioequivalence studies, the burden and cost to a biotech company can be substantially less than a traditional clinical program, as efficacy of the drug has already been established and all that must be proven is that a unique, proprietary preparation or delivery method would be expected to be the more or less the same as the original.
The Drug And How It Works
Corplex is a transdermal treatment, a patch that was shown in the pilot study to be well tolerated with a favorable safety profile, which is capable of delivering a once-weekly dose of Donepezil, the most commonly prescribed treatment for all stages of AD.
Donepezil, put simply, works by increasing the brain's levels of acetylcholine. One of the features of AD is a lower than normal amount of acetylcholine. By preventing the action of a compound that normally breaks down acetylcholine, donepezil increases the activity of acetylcholine in the brain, which can lead to improved cognition, memory and daily functioning.
Peter Staple Speaks
Corium CEO Peter Staple took a few minutes to discuss the Corplex data in a recent telephone interview.
"We need to show the FDA that we've got a patch that's delivering biologically equivalent blood concentrations as the oral dosage form," Staple told Benzinga.
The Pivotal study will be conducted at the same study site as the Pilot study. This is not only less costly for Corium, but also helps mitigate risks associated with moving to a new site, training new personnel, etc.
"It's almost like we've already done the Pivotal study (with the Pilot study), but we're doing it again after the dress rehearsal. We know with a high degree of confidence that we have a bioequivalent product. The reason we still have to do a Pivotal study, which will support registration, is the FDA requires you to make product in a batch size that supports that you can manufacture reliably on a commercial scale."
With right around $41 million in cash on the balance sheet (as of the end of Q2), Staple reiterates a point he made on the company's Q2 conference call: Corium is focused on forming a partnership, this year, to achieve non-dilutive financing to push Corplex through its Pivotal study and retrieve data.
"A deal's a deal when you finally get ink on the paper," Staple emphasized, "With this data we believe we've got an excellent chance of getting an attractive deal done. We do see an increased level of interest from more parties just in the last week since we released the data."
Corplex' Benefits
Patches can carry a number of benefits over oral forms of treatment, including bypassing the GI tract, passing directly into the blood stream.
"Among the most commonly cited side effects for Aricept are gastrointestinal (GI). nausea, vomiting diarrhea and some constipation."
Staple said the main difference in Corplex versus oral Aricept was in nausea, where a four-fold decrease was seen compared to the oral alternative.
Patches can also be a godsend to caregivers of those who suffer from Alzheimer's, a point Corium takes seriously enough that it commissioned a survey of 300 such caregivers.
"These are people who are typically family members who take care of patients on a regular basis," Staple said. "We got a very positive response, primarily based on the once weekly dosing. They liked the fact that it was a patch, they liked that they didn't have to get the patient to take a pill every day. They didn't have to worry about whether it was taken with food or not. Easy to tell if the patient was on the medication — just look to see if the patch is still there."
The response was overwhelmingly positive, with 87 percent of caregivers surveyed said they'd definitely or probably fill a prescription for Corplex if they had one. In a survey of prescribers, 73 percent said they would prescribe it, also pointing to the once weekly dosing as the primary reason.
Shares of Corium closed Thursday at $6.90, up 9 percent.
Related Links:
FDA Approval For Endologix's Nellix Likely Pushed To At Least 2020
Posted-In: Biotech News Health Care FDA Top Stories Exclusives Interview General Best of Benzinga
View Comments and Join the Discussion!