Exclusive: Recro Pharma CEO Talks Meloxicam, Alleviating Investor Concerns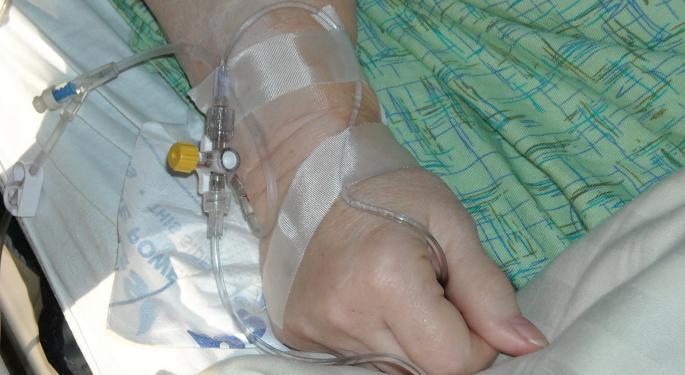 Recro Pharma Inc (NASDAQ: REPH) is a clinical-stage pharmaceutical company that engages in the development of products for the treatment of serious acute pain. The company's lead product candidate is called meloxicam, which is an IV intravenous product for relief of serious pain that is nonaddictive.
Benzinga had the opportunity to speak with Recro Pharma President and CEO Gerri Henwood who has been with the company since it was founded in 2008.
Where The Company Stands Today
Henwood explained that the company has finished both of its phase 3 pivotal studies of its meloxicam therapy. On July 26, 2016, the company reported its first of two pivotal trials met its primary endpoint and the company followed up with a second report on November 28, 2016.
Today the company is completing a big safety study requested by the U.S. Food and Drug Administration involving 700 patients. Henwood said she expects to complete and roll in patients by the end of March or the first week in April and will then have a 30-day follow-up visit after which the data will be compiled.
A new drug application is expected to be filed before the end of the summer.
How Recro Pharma Fits In
Henwood said opioids will always play a role in pain medication, but doctors performing every day surgeries would prefer not giving their patients opioids.
"So, if we think about orthopedic procedures, which there are a lot of, those are often same day surgeries nowadays because you've got your knee replaced or your hip replaced, but you're being sent home in many cases to have your physical therapy and other things dealt with at your home," the executive explained. "The doctor is worried about getting you covered for serious pain during that first 24 hours, so you had the surgery, you left the hospital, you've got to get through that night into the next morning, by which time usually your stomach is a little bit more settled, you might be able to take and keep down the pain medications they gave you, but they don't want you to suffer through the worst period of pain, that first 12 to 24 hours after surgery."
Henwood continued that her pain medication is very useful for patients undergoing intra-abdominal procedures. Specifically, opioids slow the bowels down more than the surgery and this creates a new market for the company.
Meanwhile, Henwood said she has received "very enthusiastic reactions" for anesthesiologists and from surgeons about the number of patients they think would find this product to be very useful.
Alleviating Investor Concerns
Henwood was asked what investors biggest concerns are moving forward.
She answered that investors are always concerned that the FDA may introduce unexpected issues that surprises the market although the executive said she is not aware of any potential issues.
Another main concern stems from the uncertainty of how a product will get commercialized, what will the company's uptake be.
Potential Partnerships
Henwood noted that as part of any future launch process it will need to carefully consider many options, including the potential for partnerships or even acquisitions.
"I think that we recognize people could come our door with the disproportionate value proposition, and we'll have to pay attention to them on behalf of our shareholders and make sure that we're making careful, right decisions," she said. "But I also think there is disproportionate value that can come from prudently taking commercial and fulfilling that and we, fortunately had the opportunity in a prior life that my last company to launch a product, yet it adopted, and that product and subsequent product that we licensed went on to do very, very well for shareholders.
"We would hope to have a similar opportunity here. Of course, we have to get through the approval process before we can have that. But we have said to investors that we need to be prepared to launch in any case because even if someone approach us we need to be able to drive value in any such equation by showing them how the map is for formulary adoption, how we would approach the market, what the market research how about product potential in a very detailed way."
Henwood added that in the meantime, her main focus is preparing the company for its future even if nobody comes to the door. Nevertheless, she did say it is "a little bit early" for any U.S. partnering potential discussions as the company has not yet received the kind of safety data that potential partners would want to see beforehand.
Posted-In: Gerri Henwood Pain MedicationBiotech News Health Care FDA Interview General Best of Benzinga
View Comments and Join the Discussion!