Highlights From ISIS Pharmaceuticals At Goldman Sachs Healthcare Conference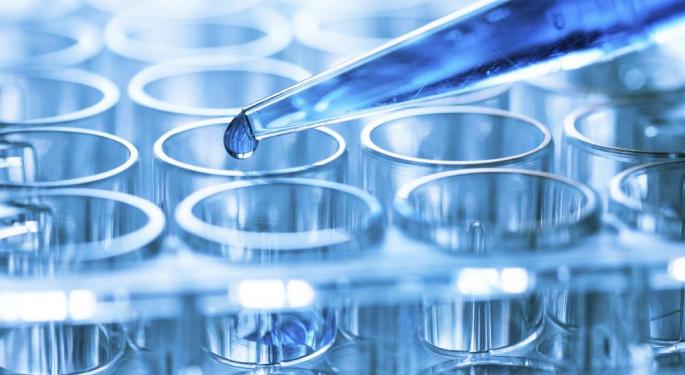 ISIS Pharmaceuticals, Inc. (NASDAQ: ISIS) presented at Goldman Sachs' annual Global Healthcare Conference on Wednesday. VP of Corporate Communications and Investor Relations D. Wade Walke discussed the drug maker's advanced technology, business model, and current pipeline.
Antisense Technology
Walke first addressed the unique opportunities created by ISIS's trademark "antisense technology." According to him, drugs created with this technology bind to RNA instead of proteins, which have been the focus of the drug industry for the past century. Walke pronounced ISIS the world's leader in RNA-targeted drug discovery and development.
The exec touted the benefits of focusing on RNA instead of proteins, saying that the method renders virtually all diseases targetable. He said that the technology allows new genomic information to be translated directly into drug therapies.
Walke also mentioned the efficiency of the antisense technology, which he claimed has allowed ISIS to expand to a current pipeline of 38 drugs with fewer than 400 employees. This profile is rapidly expanding, with the company adding three to five new drugs per year.
These treatments, according to Walke, can be administered via injection, oral tablet, inhalation, and other methods.
Business Model
Walke outlined a business model which emphasizes strategic partnerships to maximize product value. He told investors that ISIS pairs up with biotech companies—such as Biogen Inc (NASDAQ: BIIB)—and other pharmaceutical corporations—such as AstraZeneca plc (ADR) (NYSE: AZN) for the development of individual drugs when needed.
Walke also highlighted Akcea Therapeutics, ISIS's new captive development and commercialization subsidiary.
According to Walke, ISIS partners with other companies to help with licensing, development, and distribution. He said these partnerships can begin anywhere from the earliest stages of drug development to the final stages of testing, depending on when ISIS needs extra resources.
The strategic partnership business model allows the drug maker to focus on its core technology while often leaving commercialization and late-stage development to others.
A Wide Pipeline
Walke took time to discuss three ISIS drugs currently in phase III testing—Volanesorsen, ISIS-SMNrx, and ISIS-TTRrx. All three drugs treat rare diseases for which no effective treatments are currently available.
All three are also slated to hit the market within the next two years. An explanation of the drugs and the testing process can be found on the slideshow here.
Walke said that ISIS was planning to release a bulk of new testing data over the course of the next year, signaling that many of the company's projects are progressing well. He was confident about the vast commercial opportunities that would be available to ISIS because of their wide and expanding pipeline of drugs.
Investors seem to have responded well to Walke's remarks, as ISIS's stock was trading up by as much as 7 percent on Thursday.
Posted-In: AstraZeneca Biogen Isis Pharmaceuticals Inc.Biotech News Management Top Stories General Best of Benzinga
View Comments and Join the Discussion!