What All Business Owners Need During Civil Unrest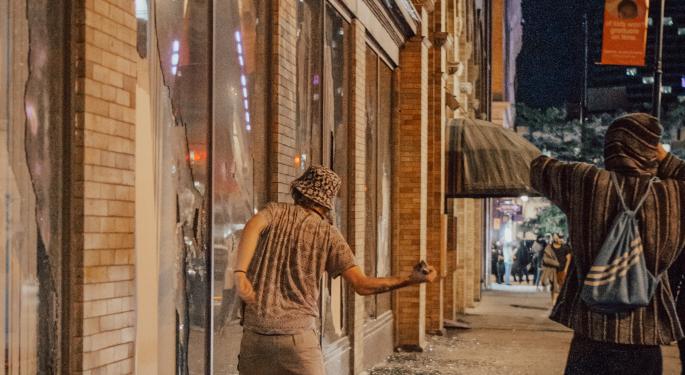 If you think that the worst of 2020 is over, think again.
Protests are still happening all over the country in tandem with COVID-19 outbreaks, but that's not the only thing to be worried about. Experts say that we could relapse into another full episode as late as 2021. This is not the only scenario that could negatively affect your business.
The truth is that 2020 has changed the way we do business for good. If you want to protect what you have built and what you will build, you must change with it. Here are some helpful tips from The Hartford to ensure that you can weather the storm.
Civil Unrest Insurance
The first step in protecting your business is making sure that you can maintain solvency during any civil unrest. You need to prepare for a prolonged battle with traditional business processes — yours and those of your clients and supply chain. You may be in for some turbulence as everyone figures out how to readjust internally, then present their new face to their business partners.
Here are some of the ways that you can protect your business and give it the best chance to grow during civil unrest:
Readjust your insurance priorities: civil and political unrest has forced many businesses to do more business remotely, some even completely eschewing the need for commercial real estate. While on the other hand, many companies are discovering the advantages of virtual commerce. As a result, you may have more or less of a need for business property insurance and more or less for business interruption coverage, for example.
Reorganizing the terms of engagement with your insurance company: Although we have more data every day, no one really knows how the business landscape will look once things go back to "normal". You need to make sure you are doing business with an insurance company that is willing to be flexible with you. The Hartford has built its business on such flexibility because the only constant in life changes.
Understanding the types of insurance you need: Depending on the form your company will take, you will need a new understanding of insurance. It is essential for you to create an open dialog with your insurance company. You need to know what kind of policies they offer if there is any flexibility and how their policies interface with your business.
Flexibility is the name of the game as the business community works its way during civil unrest. There is another set of priorities to consider once the smoke has cleared.
Post-Civil Unrest Business Insurance
The relationship that you have with your insurance company is just as important to the future of your business. The insurance that you have will help to define how easily you can move forward.
A revised Business Owner's Policy (BOP): You may need to go through a few iterations of your BOP before finally settling on a post-civil unrest insurance package. Does your insurance company allow for all necessary protections within your BOP, or do you need to get expensive supplemental policies?
Keeping you in compliance: Depending on the state you live in, your business may be responsible for new types of liabilities. Certain types of coverage also may not be available in your state. This is information you must be aware of.
New tools for new times: Unprecedented times call for new tools. Your insurance company is responsible for cultivating the products and the agreements that will protect you fully.

The Hartford Business Insurance gives you a company that can stand by you during and after any civil unrest period. Let's take a look at how this works.

Business Insurance for Property Coverage

The Hartford has a history of protecting clients through the worst economic, social and financial epidemics of the past 200 years. The last 30 years have been especially turbulent — the 90s dot com bubble, Y2K, 9/11 and the Great Recession all occurred within a single generation. The current generation of business professionals may remember all of those events well. Although there were many low points, some of our greatest achievements came out of those years.

After each recession or low point, the business community was the solutions provider and came back roaring. Each new resurgence of commerce brought the economy to new highs with new innovations. The bottom line: Companies that find a way to deliver people solutions will receive the support that will keep that business resilient through any market.

As a Fortune 500 company, The Hartford has protected thousands of companies and individuals through its decades-long American Association of Retired Persons (AARP) partnership. Protecting the business community protects the jobs within that community, which gives birth to new business ideas from up and coming young entrepreneurs. The leadership at the Hartford understands just how important this relationship is with each family and business within a community. As a result, they are able to keep pace with the changing needs of these businesses in real-time, staying on the leading edge of business protection during tough times.

Whether you are starting a business in 2020 or trying to stay in business, it is always best to partner with people who have experience. When you trust your business to The Hartford, you build upon hundreds of years of proximity to companies in crisis.

Visit The Hartford website to see exactly how they can protect you during and after periods of civil unrest. Time is of the essence — don't let a changing situation sneak up on you.
View Comments and Join the Discussion!
Posted-In: General