In The Cannabis Industry, Data Is 'More Valuable Than Fertilizer'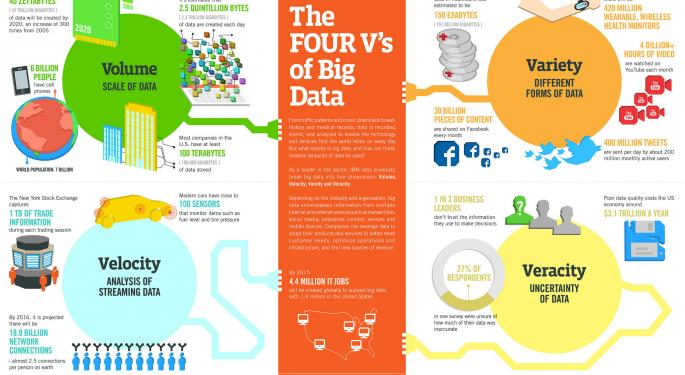 Every move you make in the cannabis industry creates data. Most of it occurs unnoticed. As a business and as a consumer, you create data every time you adjust the thermostat, turn on the grow lights, hire a budtender, place and fulfill an order, complete a transaction, and so on. All data holds information, but accessing and using it effectively is a challenge. And, the bigger the big data is, the bigger the challenge to find something meaningful in it.
What Big Data Means To The Cannabis Industry
"Data is the modern equivalent of gold; huge companies make fortunes simply out of collecting, buying and selling data," Hilart Abrahamian, COO of leading end-to-end dispensary and cultivator platform WebJoint, told me in a written interview. Accurate data can tell us what we don't know we don't know, creating new opportunities for business. All along the supply chain, smart companies are using data to improve their operations, make things more efficient, and increase their bottom-line profit margins.
"Good data for retailers specifically can make all the difference in their profitability. It's in their best interest to identify buying patterns such as when people are buying, what they are buying, and what type of advertising or marketing is most effective," Abrahamian continued.
According to MarketWatch's Kathleen Burke, "When it comes to growing a plant-based industry, big data and technology may be more valuable than fertilizer." Data furthers accountability. It enables targeting, measuring, and informed decision-making.
Given the sheer volume of data flowing in each cannabis industry operation — from suppliers to growers to processors and packagers to dispensary and customer — owners and their stakeholders need to optimize the content. For instance, there's:
Financial Accounting: Cannabis principals need real-time analysis of cash flow, profit projections and current performance against previous history.
Actionable Analytics: Data contains evidence of customer behavior in decision making, time, product and so on. Such numbers improve futures thinking and needs-to-improve policy and performance.
Tracking Reports: Big data holds the detail for the high demand reports to track seed-to-sale. Technology shapes and enables the reporting formats and content.
Industry Performance: Your data benchmarks and your performance against that of competitors reporting in the industry.
Due Diligence: Big data resources feed your accounting and auditing compliance. It will integrate with your best business practices and GAAP requirements.
Predictive Analytics: With descriptive analytics in hand, you're better positioned to anticipate the social and economic results to future business decisions.
Big Data And The Cannabis Entrepreneur
Individual cannabis entrepreneurs need advice and technology to support and read their big data. Analytics is not everybody's strength. It's time and talent-intensive and takes attention away from entrepreneurial energy. At the same time, big data and analysis of it provides the cannabis industry the opportunity to operate, market, and regulate better than it does today.
The cannabis industry is no longer limited to the U.S. or Canada, over 40 countries globally are looking at it for viable markets. "Knowing how to decrease operational cost to afford expansion, how to discontinue low-performing products or services, to maximize profits, and how to best align one's offerings with growing opportunities outside of one's current market, will be deciding factors on who is able to grow and ride the expansion wave, versus will may be drowned in it," Giadha Aguirre De Carcer, New Frontier Data Founder and CEO wrote me.
Supply Chain
Supplying the cannabis demand begins among many sources. Breeders produce strains. Growers use seeds, soil, lights, fertilizers and facilities. So, the tracking is multi-layered complicated by the variety of potencies, THC: CBD ratios, dosage and benefits. Big data will track these dynamics, but it'll also describe the customer demand. With different products accessible and favored in certain regions or dispensaries, the information will help profile customers and supply their demand.
Product Profile
As the industry grows and legalization spreads, products will identify with the place of origin. Just as there are wine and apple growing regions determined by soil, climate and ecosystem, marijuana will be linked to certain farms and growers. Big data will track production sources and customer demand for favorite brands and farms. But, it will also help investors locate favorable locations in terms of facility and energy costs.
Customer Profile
Recreational cannabis users and medical marijuana users create behavioral patterns in the data they create by shopping for your product or at your location. "Data solutions that monitor the correlations and causalities that both drive and are driven by human behavior are crucial for the development of well-informed communication, sales strategies, products, and policy for the cannabis industry," Jason Giles, CEO of data targeting and analysis firm Zefyr, explained to me in a written interview.
Data gathered on adult-use allows owners to supply, stock and promote customer-favored strains, products and accessories. But, for medical cannabis dispensaries, it provides the sort of profile that helps budtenders distribute cannabis with archived info on the patient's ailments, purchases and preferred results.
Big Data Leads To Big Business
Successful businesses know what to do with big data, and failed businesses often have ignored or mishandled it. There's still time for business to plan for the future in these early phases of building cannabis industry information technology infrastructure. Industry experts advise to plan early and plan big.
"The majority of companies forget to plan to scale in the amount that the cannabis industry will grow," Adam Cesarevic, CTO of WebJoint told me in a Skype interview. He argues these companies have potentially 5-10 years to become the next Microsoft, Oracle or Amazon, and they need to be able to scale quickly to do so. "If you have to redo the system from scratch, the longer you are keeping the current system running and not switching to big data, the more it will cost," Cesarevic surmised.
As the cannabis industry matures, data solutions must be developed with an understanding of the varying degrees of acumen of the people who need it. The challenge is, few in this burgeoning industry has the know-how of a data scientist or a business analyst. "There is a huge demand for easy-to-use, reliable, comprehensive, and real-time data-driven solutions that provide valuable, approachable, and actionable insight," Giles wrote.
The smallest mom and pop dispensaries and the family-owned farms risk the opportunity banked in big data. Growing and established cannabis businesses must optimize their big data opportunity. And, big business interests will capitalize on big data to attract venture capital, market online and support advocacy.
"As more seasoned and sophisticated investment entities enter the space, which today include private equity funds, publicly traded venture capital firms, and a variety of cannabis-focused smaller institutional funds, cannabis big data has transitioned from a 'nice-to-have' to a 'must-have,'" Aguirre De Carcer wrote me. "Not only as previously noted to navigate the new stressed competitive environment, but also to have any chance to raise capital, both as a new entrant, and as a business looking to grow."
At the end of the day, big data's not the problem. Using it well is the challenge for the cannabis industry.
The preceding article is from one of our external contributors. It does not represent the opinion of Benzinga and has not been edited.
View Comments and Join the Discussion!
Posted-In: General Best of Benzinga