How Kevin O'Leary's Beanstox App Helps Unlock Financial Independence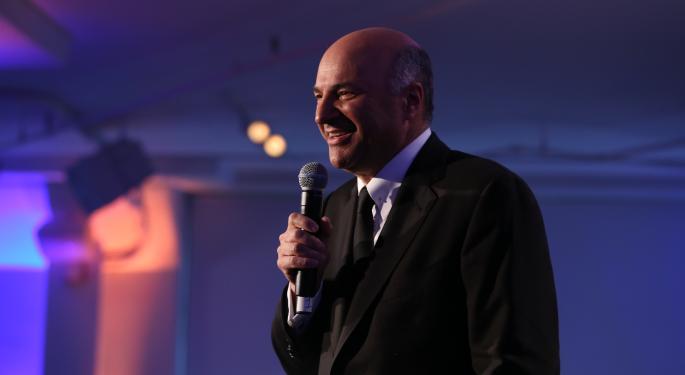 One-third of the population has no plan for retirement.
That's according to famed investor and businessman Kevin O'Leary, who spoke with Benzinga about his experiences during the coronavirus pandemic — and financial literacy initiatives for 2021.
In March, when the nation went into lockdown, businesses were forced to close and rethink operations. This led to the catastrophic loss of work for millions with little funds to cushion their absence of income.
The pandemic disrupted the operations of over 50 private companies in which O'Leary is invested, he said.
"When we were applying for the PPP loans for these companies — the first round — it was based on payroll records," he said in reference to his efforts helping thousands of employees remain on the payroll.
"That's when I found out that the majority of my employees had nothing saved or invested. They are in their 20s and early 30s with no strategy for retirement. They had two weeks of salary in their bank account."
In light of his discovery, O'Leary sought solutions that would provide his employees the wherewithal to survive crisis and to retire.
Looking To Fintech: O'Leary's long-term investment philosophy comes from his mother, who would take 20% of her salary and invest in both bonds and the S&P 500 from an early age.
"I remember the day she passed away. The next morning, the executor called and said, 'you're the oldest brother, you have to come down here. Your mother died a very wealthy woman.'"
Given the success his mother achieved with compound investing over 50 years, O'Leary said looked to solutions that would incorporate a similar philosophy and push investors to remain consistent with their contributions.
That's when O'Leary decided to launch Beanstox, an automated, internet-based investment advisory service.
For $5, Beanstox will develop ETF-focused model portfolios that address investors' goals and risk tolerance.
The core benefits of the platform include intraday trading, low fees and tax efficiency, diversification and reduced risk.
"My philosophy with Beanstox was to build an app that I could go to my employees, and everybody else, and say, 'Look. You know how to use a phone. This is a part of your life. Download this app, put $100 a week aside in the same investment philosophy I have — quality dividend paying stocks, very diversified.'"
Putting It Together: O'Leary presents Beanstox as the go-to personalized and automated investing gateway for the 95% of investors who don't actively trade.
"The only reason I built it from scratch was I found nothing that invested in my style," O'Leary said.
"Everything was trading, and that's not of interest to me. I'm not a day trader. I'm a long-term investor."
Though the market's been very efficient in generating apps that fit different trading styles, Beanstox is one of few that encourages investors to start seriously investing a target amount.
"I suggest $100 a week. Beanstox is really for first-time investors that want to solve this problem where they don't have a plan for when they hit 65," he said.
Going forward, Beanstox envisions helping users amass the funds to maintain financial stability during periods of crisis and in retirement.
O'Leary's work with the app is just the beginning of a 2021 financial literacy journey that will stress the importance of independence through long-term investing, he told Benzinga.
"I'm very happy with what we've developed, and we will continue to work on it. It reflects my philosophy — really my mother's — and I think it fits in the market for people who need to start thinking about their future."
To learn more about financial independence with Beanstox, click here.
Kevin O'Leary. Benzinga file photo.
View Comments and Join the Discussion!
Posted-In: Beanstox Coronavirus Covid-19Fintech Bonds Exclusives Markets Interview Best of Benzinga