Metromile Increases Auto-Insurance Pricing Transparency With New Technology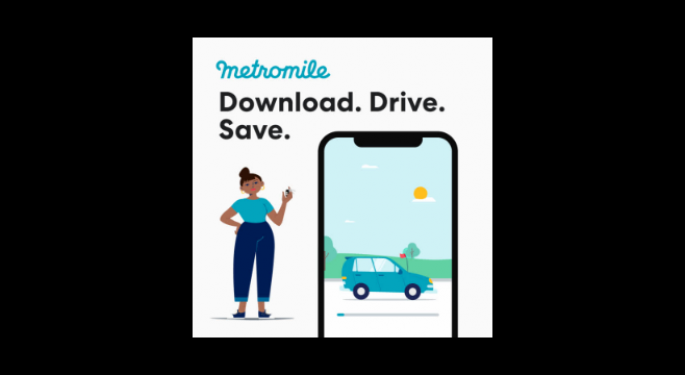 Metromile, an insurance-focused fintech powered by data science and machine learning, on Wednesday announced the launch of Ride Along, a tool to increase rate transparency for drivers.
What Happened: Founded in 2011, Metromile leverages big data and intelligent systems to adjust auto insurance rates based on driving behavior.
As part of a vision to give consumers further control over their mobility, Metromile announced last month, in a conversation with Benzinga, an ongoing initiative to reduce costs and make car ownership more unified.
In line with its vision, Metromile's newly launched Ride Along feature allows drivers to monitor driving behavior and see how much they can save at no cost.
"Drivers can begin a Ride Along after downloading the Metromile app and entering some basic information," the company's press release said. "Drivers go about their routines and have their smartphone in the vehicle when they drive. After about two weeks, drivers will see how much they drove and their expected monthly bill."
After the monitoring period, drivers can immediately lock in their behavior-based insurance rates and switch to Metromile.
What Does It Mean: Metromile's proprietary telematics technology makes insurance coverage more personal.
"We use our technology and sensors in the vehicle to realize how people are driving," said CTO Paw Andersen. "Are you driving in commutes? Are you doing weekend trips? Which areas are you driving in?"
"We use that data to provide you with a discount when you behave safely and we give a much more seamless and automated claims processing experience. We know when you're standing at a red light and somebody hits you from behind. You don't have to explain or defend what happened. We can immediately process your claim."
Going forward, the firm aims to benefit users in more ways than just low insurance premiums: "We will be looking at data sets that show how safe you're driving. This includes things like how you are using safety features such as lane keep assistance and adaptive cruise control."
View Comments and Join the Discussion!
Posted-In: Metromile Paw Andersen Ride AlongFintech Travel General