Understanding The Biggest Economic Events In December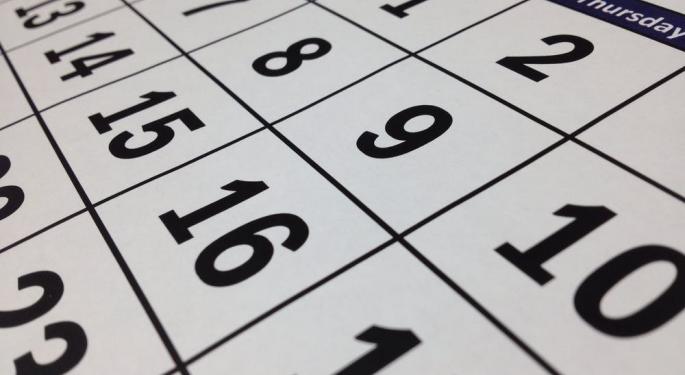 With the markets hitting 2018's homestretch, there are still quite a few boxes to check before traders can feel comfortable closing the book on the year.
Between some vital economic numbers leading up to the much-anticipated December meeting of the Federal Open Market Committee, there's no telling just where the market might be headed in the few weeks. This is particularly interesting since quite a few major indexes, including the S&P 5000 and the Dow Jones Industrial, are within 5 percent of their January 1st price, and they might well end 2018 in the red.
Using stock research platform Finscreener's economic calendar, we can get a comprehensive survey of the major economic releases leading up to the final Fed interest rate decision of the year. We'll also take some time to see how each might impact either the market and the Federal Reserve's ultimate ruling.
First, we can deselect other countries whose economic calendars might impact global markets.

To limit our scope, we'll only look at releases with a high market impact, which we can tweak by clicking the "Impact" column in the top row.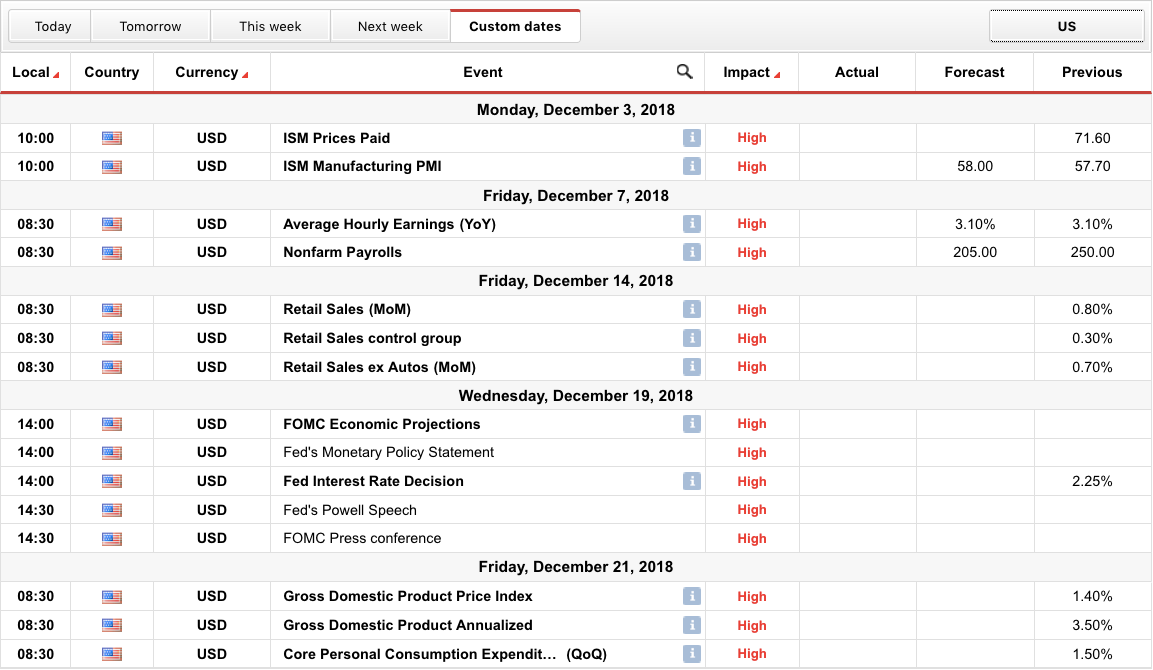 With our calendar properly filtered, we can start by looking at the monthly ISM manufacturing survey results, set to be released at 10 am on Monday, Dec. 3. These figures are seen as a key indicator of national productivity and supply-side inflationary pressure. The index itself draws from survey data from purchasing managers on their estimation of current company costs, with values over 50 indicating growth and values under 50 indicating contraction.

Looking further into the week, Nonfarm payroll and wage data are set to release Friday, Dec 7. Both numbers are strong inflationary gauges and, while employment gains within anywhere near the 205k estimate would likely receive a pretty mild reception, meeting that 3 percent wage level for the second month in a row would likely set some traders to selling for fear of even more interest rate hikes in 2019.
To get a better sense of why a jump in wage gains is such a big deal, we can click look to a historical chart, which shows just what a dramatic spike October's results were and how meager wage growth has been in recent years.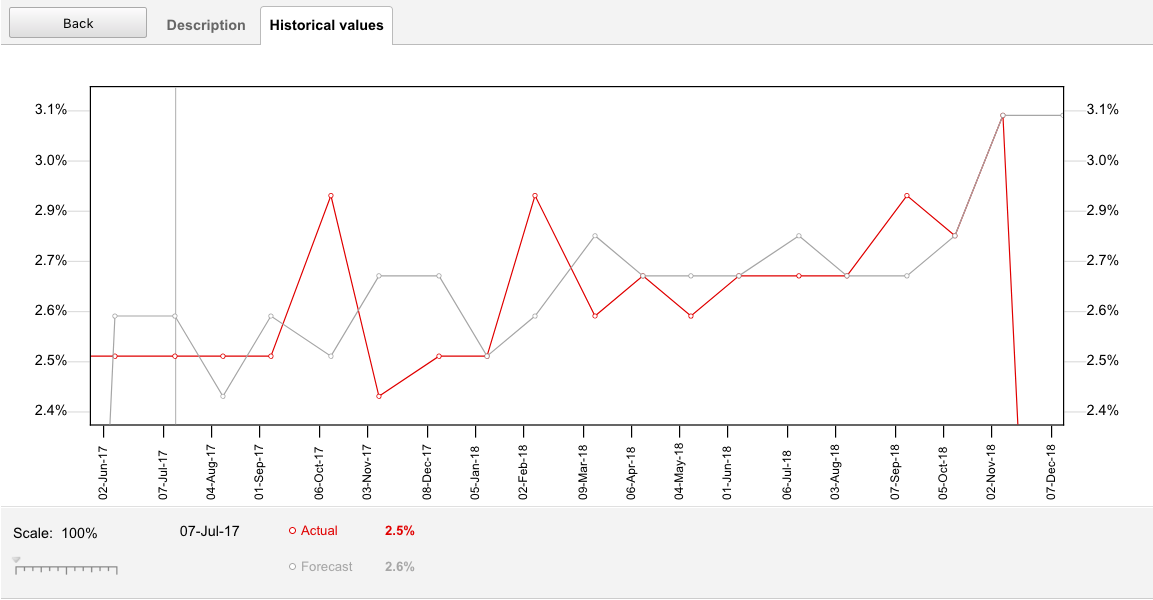 The final release on monthly retail sale — which aims to show exactly what you might expect: retail sales over the course of November — isn't expected to hold many surprises for either the market or the Fed. Any positive change would again be met mildly, although the difference between the overall sales growth and the total excluding auto sales will likely add to speculation about how drastically the auto market might cool off in the coming months after several years of record sales.
Finally, there's the December Fed decision. The market has spent the past couple of months wrestling with the perceived inevitability of a final rate hike this year. While it is still seen as highly likely that rates will rise by 25 basis points, negative surprises in any of the upcoming economic releases could color the Fed's ultimate decision, as well as it's tone going into 2019. Further, if the previously mentioned releases show a drastically slowing economy, the Fed might back off from another increase, although that's highly unlikely.
What the Fed and most traders are likely to see this December is a gradually cooling private sector and a consumer starting to weigh his or her spending options in the face of rising prices and borrowing rates. Should the numbers meet their estimates, the Fed won't fail to deliver one last interest rate hike right before Christmas.
Finscreener is a content partner of Benzinga
Posted-In: FinscreenerFintech News Education Events Markets General
View Comments and Join the Discussion!