Sail Cannabis CEO Prad Sekar Is Bringing Medical Cannabis Into Mainstream Health Care For Better Patient Care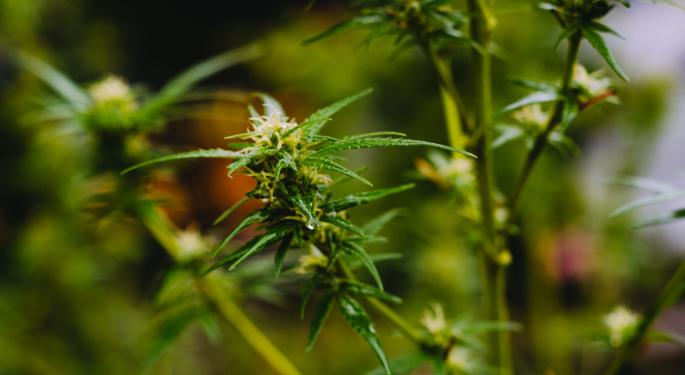 Cannabis investors can't afford to miss the Benzinga Cannabis Capital Conference, a premier gathering of investors and entrepreneurs painting an honest picture of the opportunities and challenges in cannabis investing. Space is limited—get your tickets before they sell out.
Ahead of the conference, we're interviewing the speakers who will deliver key insights on the cannabis space at the BZ Cannabis Capital Conference. This installment features Prad Sekar with Sail Cannabis.
Quickly give us your background, why are you passionate about cannabis?
My background is rooted in both tech and healthcare. In the past I've worked alongside licensed producers to provide improved access to patients by creating tools for physicians.
Currently, there is a problem with many medical cannabis frameworks across the globe. Patients have limited access to an alternative medicine due to a cannabis knowledge gap experienced by physicians. Many health professionals are hesitant to prescribe cannabis for a number of reasons; however their medical school education didn't include any literature on this new medicine. My passion, specifically with Sail, is to close this cannabis knowledge gap, helping doctors dose and prescribe medical cannabis, ultimately helping patients access a medicine that can treat a long list of conditions, while being much safer and less addictive than treatment with opioids.
What is the most exciting opportunity in the cannabis space right now?
The cannabis industry is constantly evolving. New products, new ideas, new companies and voices are constantly inserting themselves into the industry. It's an exciting time for everyone.
I think it's incredibly exciting to see new clinical research being published in medical journals supporting the efficacy of cannabis. The more literature published on the topic of medical cannabis, the better, ultimately supporting my own goal of the normalization of medical cannabis across the globe. Ten years ago research on the topic of medical cannabis was extremely limited. Today, anyone can explore how cannabis can treat chronic pain, PTSD, mood disorders, along with rare forms of childhood epilepsy.
Sail's platform introduces research tools that further explore the efficacy of medical cannabis, offering a way for doctors to dose and prescribe cannabis with confidence. We are removing the guesswork involved with dosing cannabis to patients, and with Sail's software and research, we can advise on consumption methods, cannabinoid profiles, and other medical products that can promote healing and wellness. The information we collect at the point of care regarding a patient's cannabis journey has never been more valuable. This data gives the physicians we serve extended insight into how specific cannabis products can treat a condition.
There are still massive challenges for the nascent cannabis space to overcome, what is the most pressing of those challenges?
The cannabis industry is ultimately shaped by the legal frameworks that govern their respective market, both recreational and medical.
There is a lot of buzz surrounding the topic of recreational cannabis, and rightfully so. However, the medical market is in a prime position to guide the recreational market. The medical cannabis industry is more experienced in many respects, and the recreational market should look to the medical market to leverage the knowledge and learn from the growing pains that the medical market has already experienced. This medical market has learned hard lessons about supply and demand, consumers, production, and distribution; the recreational market being so new, they have much to learn and will face many similar challenges. As for the challenges that the recreational market will experience, the medical market continues to show its value in these times, ultimately being able to guide the recreational market into this complicated and highly regulated industry.
Furthermore, upon recreational legalization, new dispensaries might find challenges in having users inquire about the medical applications of cannabis, answering questions that should be answered by a doctor or pharmacist. The industry might see users deciding to self-medicate with cannabis, which is a scary thought for patients and doctors. Thus, there is a need for the medical market to grow, lead by example, and ultimately strengthen the recreational market.
How should the industry advocate for a cannabis regulatory framework, that will allow for safe, sustainable growth?
I'd say that that industry needs to work together, or collaborate on this topic, advocating for a cohesive body. As I mentioned before, the two markets need to work together. Certainly, the recreational market can learn from the medical market, especially on product types, distribution, and supply and demand. There is so much insight from the medical industry that can inspire a cohesive industry in which both entities learn and grow from one another
What big surprises do you predict occurring in cannabis in the next three years? Will a big legacy tobacco or alcohol incumbent invest in the space, or something else remarkable?
Well, we've seen that already, just take Constellation's investment in Canopy. We will likely see even more big players in the alcohol, tobacco, and pharmaceutical companies insert themselves into the cannabis industry. Insurance companies covering medical cannabis is a constantly developing conservation as well.
We will likely see the medical industry further establish themselves as a premier voice in the industry, with developments in pharmaceutical distribution, along with LP consolidation, and new incentives and rewards programs.
Any other thoughts?
Cannabis is in a unique position across the globe, and I hope to ultimately see cannabis normalized as a medicine. I hope to witness the stigma attached to cannabis dissipate completely, and instead be embraced as a medicine by doctors throughout the world.
View Comments and Join the Discussion!
Posted-In: Benzinga Cannabis Capital Conference Opioids Prad SekarCannabis Fintech Health Care Interview General Best of Benzinga