TradeStation Wanted To Break The Mold, So They Died Their Hair Blue And Stopped Buying Ads On CNBC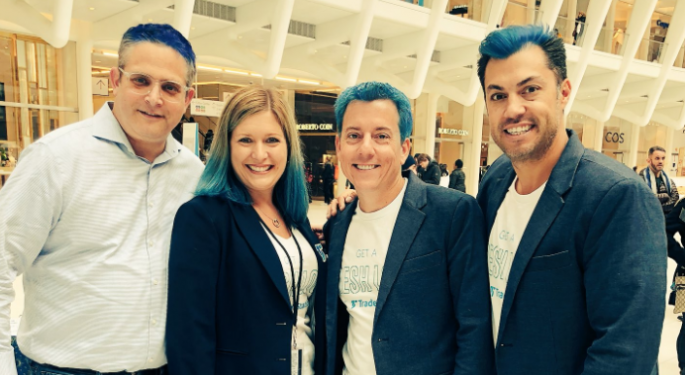 When you're not the largest player on the field, how do you separate yourself from the pack?
That's Jodi Fronczke's job as the vice president of marketing at TradeStation. While they've long since established themselves as one of the strongest players in the brokerage space, TradeStation is still relatively small compared to some of its competitors.
"We're a fintech company, but we're also a niche broker, we go against big dogs," she said. "We can't compete in terms of budgets, I can't out-Schwab Schwab. So TradeStation, as a niche firm, needs to find a way to get our voice heard in a different way than the bigger brands with the bigger voices. So it's about finding out-of-the-box ways to stand out."
She does that by trying to "break the mold that says financial services has to be boring." The company recently unveiled a complete site, logo, and pricing redesign in an attempt to gain market share (the redesign was launched at a pop-up barbershop in New York's Oculus building).
Part of that also includes going against the conventional wisdom, like deciding to stop running ads on CNBC.
"Most people wouldn't think to do that. We just felt it wasn't the best use of dollars. We invested a lot more into TV partnership with Cheddar. Now we have a platform integration on Cheddar, we have two programs in which they pull up our charts, they're placing trades on our platform."
Fronczke will be speaking at the 2018 Global Fintech Awards on the "Telling A Fintech Story: The Marketer's Perspective" panel along with Casey Hurbis, chief marketing officer of Quicken Loans, Andy O'Rourke, CMO of Direxion Investments, and Dale Sperling, CMO of Stash Invest.
To buy a ticket to the 2018 Global Fintech Awards, May 15-16 at New World Stages in New York City, click here!
View Comments and Join the Discussion!
Posted-In: Benzinga Global Fintech Awards TradeStationFintech Movers & Shakers General Best of Benzinga