Fintech Is Everywhere Now—And TableSafe Is Bringing It To Restaurant Tables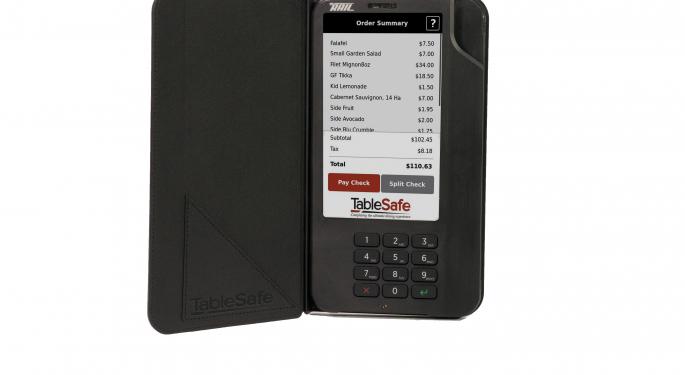 The Benzinga Global Fintech Awards are a yearly showcase of the best and brightest in fintech. In preparation for its biggest installment yet in May 2018, we're profiling the companies competing for the BZ Awards.
Our next feature is on TableSafe.
What does your company do? What unique problem does it solve?
Gordon Gardiner, TableSafe CEO: For years, full-service restaurants have been a hotbed for fraudulent payment activity – from card information theft to instances of fraudulent card use. TableSafe has addressed this issue by transforming the way full-service restaurants and other venues complete their hospitality service. The company has developed a secure pay-at-the-table platform that enables the restaurant guest to fully execute the payment process on their own, allowing them to maintain control of their payment information at all times.
TableSafe's RAIL™ payment platform is a low-profile device presented inside a billfold that replicates the traditional leather folio commonly used by full-service restaurants to deliver the guest's check. Once the billfold is delivered to the table and opened, this payment agnostic platform enables the guests to securely self-pay with their credit card and soon will offer the ability to pay with contactless cards or other mobile apps, including Apple Pay® and Android Pay® using contactless EMV technology. It also allows guests to auto-calculate tips, split the bill multiple ways, and receive email receipts.
Unlike other pay-at-the-table technology, TableSafe's platform doesn't require the wait staff to stand at the table while payment is made, making the customers feel like they are being rushed to get out of the restaurant, or that their tipping and payment progress is under surveillance. The RAIL is intended to be left at the table and allows guests to pay at their own pace and convenience.
TableSafe also allows restaurants to support emerging and future mobile payment options without having to invest in a new POS or multiple devices or software add-ons. The company's platform provides restaurants with the versatility to securely accept virtually any form of payment directly at the table.
Who are your customers?
TableSafe's technology is being used in five different Landry's brands, several Fogo de Chao locations, 71Above (Los Angeles), Takami Sushi (Los Angeles), Bluewater Grill (several locations in Southern California and in Phoenix), and Emory's on Silver Lake (Everett, WA). The RAIL will also soon be introduced at a number of other highly-visible full-service restaurants in the coming weeks.
How long have you been in business?
TableSafe developed the first generation of the RAIL in 2010. The technology quickly garnered broad interest and industry buzz, but just as it was going to market, EMV technology was introduced in the United States. Motivated by the rising costs of magnetic stripe-based credit card fraud, the major card brands (Europay, Mastercard and VISA) mandated that all retail merchants provide a method of accepting EMV-based transactions, or liability for fraud will shift to the merchant. This change made merchants processing cards liable for fraud when they used systems that were not able to process EMV credit cards (chip cards). It also caused TableSafe to reevaluate their product and ultimately decide to pull their first generation out of the market and redesign the platform.
In October 2017, TableSafe launched the first EMV-certified and PCI compliant pay-at-the-table platform for full-service restaurants and the broader hospitality industry. The RAIL is fully integrated with leading POS systems and is now approved to process chip and signature payments, but also designed to accept future NFC and QR-based payment options as the consumer use of these alternative methods develops.
In November 2017, Bluewater Grill Restaurants, which has several locations throughout Southern California, announced it was the first to adopt the RAIL Payment Platform throughout the family of restaurants.
Where are you located?
TableSafe is headquartered in Kirkland, Washington - just outside of Seattle.
Who is your company's leadership? What kind of experience do they have?
Gordon Gardiner is TableSafe's CEO and a Board director. Prior to joining TableSafe, Gordon was the company's Executive Chairman and also Managing Partner of Swiftsure Capital, a private investment firm based in Seattle. Gordon is also Chairman of a manufacturing business and is a director of both an energy business as well as a technology company unrelated to TableSafe. Previously Gordon was Chief Operating Officer of a Seattle-based investment bank and CFO of two technology companies. He began his career with JP Morgan working for 15 years in U.S. and foreign assignments. Gordon has a B.A. from Harvard University and has completed an executive program at Stanford Business School.
Steve McKean, TableSafe's President, joined TableSafe in 2013, prior to which he was a partner with Deloitte Consulting for 12 years. While at Deloitte, Steve was the Advisory practice leader for the PNW and all Consumer Business sectors for the West region. As such, he led the creation, implementation and management of multiple market-facing consumer programs and many others for large enterprise clients. Steve has worked with many well-recognized consumer brands in the retail and hospitality sectors directing or advising on their operational, financial, recruiting or technology projects.
Michael Weaver, TableSafe's Chief Technology Officer, joined the company in 2014 and is the architect of TableSafe's platform technology. Previously Michael had founded and led Applied Discovery as CEO and CTO, where he developed the core technology and patent portfolio used today by the electronic discovery and broader enterprise search market. In 2003, Michael sold Applied Discovery to LexisNexis in a landmark industry transaction. He was the winner of the 2003 E&Y Entrepreneur of the Year (Consumer and Business Services).
Who are your investors, if any?
TableSafe is backed by an exceptional group of high net worth investors, many of whom have had successful careers running their own businesses.
Is there anything else Benzinga should know about your company?
If you'd like to see TableSafe in action at 71Above, check out this recent news report from KTLA-TV in Los Angeles.
To check out companies like TableSafe for yourself, grab a ticket to the Benzinga Global Fintech Awards May 15-16 in New York.
Posted-In: Benzinga Global Fintech Awards TablesafeFintech Restaurants General Best of Benzinga
View Comments and Join the Discussion!