IonTuition Is The Student Loan Repayment Facilitator Of Choice For The Private Sector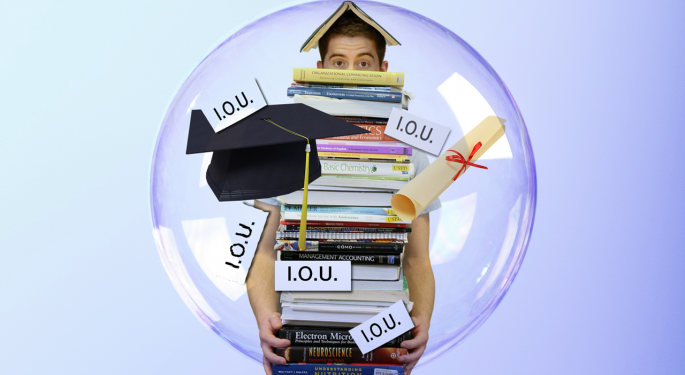 The Benzinga Global Fintech Awards are a yearly showcase of the best and brightest in fintech. In preparation for its biggest installment yet in May 2018, we're profiling the companies competing for the BZ Awards.
Our next feature is on IonTuition.
What does your company do? What unique problem does it solve?
IonTuition is the leading provider of student loan assistance benefits. We provide employee-centric support throughout the student loan borrowing and repayment lifecycle.
Student loans are now the second-largest form of consumer debt in the U.S. after mortgages and the average college graduate now enters the workforce with more than $37,000 in debt. Younger employees facing this repayment challenge are increasingly putting off home ownership, retirement savings and other vital future-facing expenses as a result.
Employers offering IonTuition help address this problem, improving their recruiting and retention edge by directly contributing to their team's most pressing financial needs. The rapidly increasing popularity of these benefits is not surprising given recent surveys showing that a majority would prefer student loan assistance over 401(k) matching, and some even over healthcare.
Our student loan management platform includes sophisticated tools for student loan repayment planning, dedicated counselor concierge service, employer student loan payment contributions, financial literacy resources and a variety of family-focused features to extend the value to an employee's entire household.
Click here to learn more about IonTuition's offerings for employers.
Who are your customers?
IonTuition serves employers, brokers, membership organizations, and higher education institutions throughout the U.S. We are the most established provider in the field today, supporting over 1.6 million borrowers with over $4.5 billion in student loan debt.
Most recently our services have been picked up by several large international pharmaceutical companies, financial institutions and manufacturing organizations seeking to offer the most relevant modern benefit portfolio.
Click here for the latest news about IonTuition.
How long have you been in business?
IonTuition has been in business for over seven years.
Where are you located?
The IonTuition headquarters is located in Rolling Meadows, Illinois. Our web-based services are available throughout the U.S. and are accessible from any device with an internet connection and a web browser.
Who is your company's leadership? What kind of experience do they have?
IonTuition is led by Balaji Rajan, our CEO, and a leadership team composed of dedicated student loan experts. Collectively, our executive team has more than 200 years' combined experience working for federal and private entities providing student loan management and repayment services.
Who are your investors, if any?
IonTuition is a wholly-owned subsidiary of Ceannate Corp., an organization dedicated to improving the student loan management and repayment process across the entire student loan lifecycle. Information about the Ceannate Board of Directors can be found here.
Is there anything else Benzinga should know about your company?
Student loans are a problem that affect nearly all employees today, whether due to their own debt or that of a family member. We are dedicated to easing that financial burden for every employee.
To accomplish this, we leverage unmatched expertise built across more than three million student loan counseling sessions. That represents more than 636,000 hours of time on the phone helping people with their repayment. We are the largest certified third-party student loan servicer in the private sector.
There is an affordable repayment option to take the stress off for nearly any borrower in need, and our platform and counseling team provide the best ways to find the right fit.
To check out companies like IonTuition for yourself, grab a ticket to the Benzinga Global Fintech Awards May 15-16 in New York.
View Comments and Join the Discussion!
Posted-In: Benzinga Global Fintech Awards IonTuitionFintech Education Personal Finance General Best of Benzinga