Could The IRS Court Win Against Coinbase Be The First Dent In Crypto's Armor?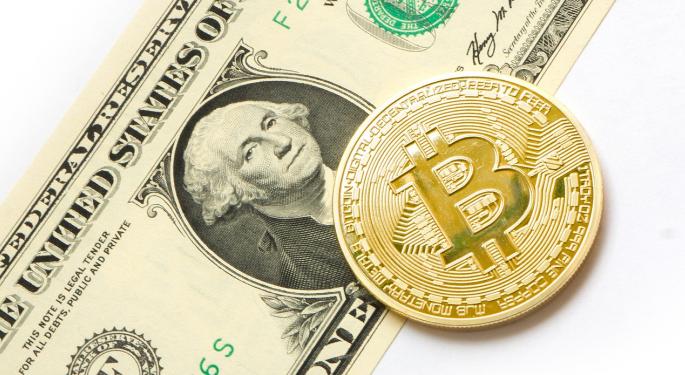 Crypocurrencies like bitcoin could soon lose one of their most appealing characteristics. On Thursday, a California federal court ruled in favor of the IRS in a case against Coinbase, ruling that the cryptocurrency exchange must release personal information — including names, birth dates, addresses, taxpayer IDs and other records — of more than 14,000 users who handled at least $20,000 in digital assets in 2017.
Anonymity and lack of government oversight have long been two of the most desirable parts of bitcoin for many users, but the Coinbase ruling may be the first signal that the Wild West era of cryptocurrency is coming to an end.
Investors seem to be taking notice of the potential implications of the Thursday ruling, sending shares of the Bitcoin Investment Trust (OTC: GBTC) down more than 7.3 percent. The court ruling sets a clear precedent that the government will not allow anonymous, tax-free bitcoin transactions outside of the typical exchange protocol.
"Many Coinbase users may not be reporting their bitcoin gains," U.S. Magistrate Judge Jaqueline Scott Corley wrote in her ruling. "The IRS has a legitimate interest in investigating these taxpayers."
In a statement, Coinbase noted a moral victory in limiting the mandated IRS disclosures to only 3 percent of the customers included in the original summons.
Coinbase will not be required to turn over communications between the company and its customers, and it has not been ordered to turn over keys to digital wallets or provide account access.
For now, cryptocurrency investors will be watching closely to see how much of a role the government plays in the future of bitcoin and other currencies and how much of an impact that role could have on their popularity.
Related Links:
Does Bitcoin Actually Hold Any Value At All?
View Comments and Join the Discussion!
Posted-In: BitcoinCryptocurrency Fintech News Legal Best of Benzinga