3 Fintech Veterans Sign On To Speak At Benzinga Fintech Summit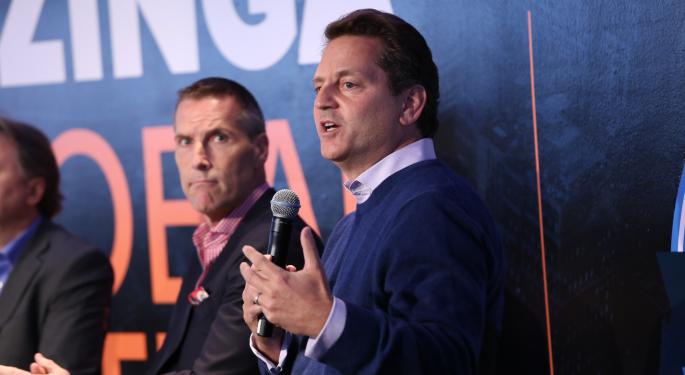 Benzinga announced last week that DocuSign chairman Keith Krach, former Prosper president Ron Suber and Ripple executive chairman Chris Larsen will join a speaker's roster that already included "Shark Tank" host Kevin O'Leary at the Benzinga FinTech Summit on September 28th in San Francisco.
These leaders all pioneered fintech in their careers long before the term came into vogue, and will share insights learned from building the first wave of fintech to a new generation of startup entrepreneurs.
Other previously unannounced speakers include noted former Apple Analyst and current Venture Capitalist Gene Munster, Acorns Chief Commercial Officer Manning Field, MyVest CEO Anton Honikman and Affirm Chief Risk Officer Rob Pfeifer.
A ticket to the Benzinga Fintech Summit is more than just an entry pass: Attendees will have the opportunity to network with Founders, C-Suite executives, directors of the newest and hottest FinTech companies, brokerages, banks, quants, hedge funds, VCs, and more. Attendees will experience live demos from fast-growing tech startups, incredible networking opportunities, panels and acclaimed keynote speakers.
The event will focus on the changing face of the financial services industry and the future of how people interact with their money, the future of the lending industry, the impact of AI technology on financial services white-collar jobs, and how to fight inherent biases when designing machine learning algorithms, with perspectives from the New York banking and San Francisco fintech industries represented.
Savvy event-goers will keep their eyes glued to the Benzinga Fintech Awards Twitter account @BenzingaEvents and the Benzinga Fintech Focus newsletter for deals and promotions.
If you're looking for cool fintech start-ups and access to top financial institutions, and are sick of attending stuffy corporate conferences, the Benzinga Fintech Summit is the event for you. Visit www.bzsummit.com for more details.
Connect with us on social media — use the hashtag #BZsummit and #Fintech to spread the word!
View Comments and Join the Discussion!
Posted-In: Benzinga Fintech SummitFintech Entrepreneurship Movers & Shakers Events Success Stories Startups General Best of Benzinga