How Do Fintech Startups Actually Win Industry Awards?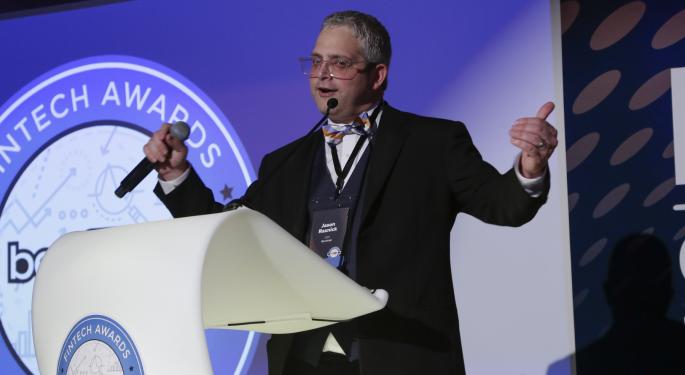 Brands constantly trumpet their industry accolades, from J.D. Power Awards to the Benzinga Global Fintech Awards. But what do companies have to do in order to win these awards? It's more than just constantly being in the press or having the biggest brand, says Joy Schoffler, a fintech PR guru and judge of several fintech startup competitions.
Schoffler has been the principal of fintech-focused public relations firm Leverage PR since founding the company seven years ago. She serves as a board member for SXSW Fintech, the AARP Livepitch fintech awards, as executive chair of the Fintech Professionals Association, and has judged about a dozen different fintech competitions on multiple continents.
She's submitted hundreds of awards applications and assessed about as many. Schoffler's clients have been placed on KPMG's Hot 100 Fintech list and won Fintech Africa Awards, among other honors.
In short, Schoffler knows how to win fintech awards competitions, and has advice for startups with their eyes on prizes.
"As a judge for multiple fintech competitions, I regularly see things that really make companies stand out or things that hurts a company's chances," she said in an interview with Benzinga.
With the application deadline for the Benzinga Global Fintech Awards days away, we sat down with Schoffler to get her thoughts on what brands big and small could do to stand out among their peers when going for the gold.
See Also: How To Reach 10 Top VCs With One Click
How To Get Noticed
Schoffler emphasized that a quality written application is the first step towards winning an industry award.
"You don't get invited in if you don't come through the door appropriately," she said. "So many people write applications quickly, using abbreviated terms, not accurately describing the value add of their company, or using a tagline instead of explaining why what they're doing is impactful."
One particular distinction Schoffler points to in writing awards applications is to remember that applications aren't meant to sell products, but the company as a whole. Many applications are written in "sales language," using industry jargon that obscures what the company actually does.
"Competitions want to know the same things that investors want to know—what's unique and cool about what you're doing and why should people care?" Schoffler said. "If you don't answer that, people won't read much further."
Technical issues like unfinished websites often hurt early-stage startups when applying for awards, as well. If judges can't see what a company does online, or the company website doesn't work, it's hard for them to take the company seriously unless the company has major traction with customers, says Schoffler.
Basic Mistakes
Finally, startups applying for awards need to be thinking at the low level just as much as the high level. Schoffler says poor spelling, grammar mistakes and incomplete applications often sink applicants before they're even really considered.
Companies would also do well to highlight the career history of founders and investors, plus relationships investors have within their industry that will be material to the company.
If your company doesn't have a lot of these things, Schoffler says not to worry. If that's the case, your company might be too early-stage to start submitting for awards in earnest.
"Whether your goal is media coverage, an award or a speaking engagement, companies must remember they need to be ready for the spotlight. It can amplify both the good and the less desirable aspects of one's business," adds Schoffler. "Applying for awards also takes a lot of time and energy that you could put into building your product and service. Invest your time on the front end and the rewards to your business will go way beyond the placard on the wall."
Although you are likely to have one of those too if you do both, Schoffler said.
Leverage PR is a Caliber Corporate Advisors company.
If you're looking for cool fintech startups and access to top financial institutions, and are sick of attending stuffy corporate conferences, the Benzinga Global Fintech Awards is the event for you. From its first year in 2015, the competition grew to over 250 applicants and over 500 attendees in 2016.
Connect with us on social media — use the hashtag #BZAwards and #Fintech to spread the word!
Posted-In: Benzinga Global Fintech AwardsFintech News Events Top Stories Success Stories Startups Tech Best of Benzinga
View Comments and Join the Discussion!