How Does A Fintech CEO Plan His Day To Disrupt The Wealth Management Industry?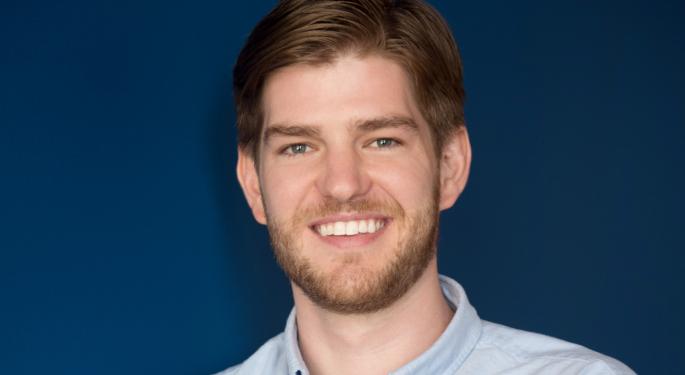 To get you prepared for the 2017 Benzinga Global Fintech Awards, Benzinga will profile the daily schedules of select fintech leaders whose companies have applied. For this installment, we spoke with M1 Finance CEO Brian Barnes.
Read the first installment of this series here.
A Day In The Life
BZ: What's a day in the life of a fintech CEO like?
Brian Barnes:
6:15 a.m. — I get out of bed after hitting the snooze once or twice and start my day off with an egg scramble and coffee.
6:45 a.m. — Drive to gym and listen to a podcast on the way – Planet Money, Waking Up, or the Jocko Podcast are a couple of my favorites for the car.
7 a.m. — Work out while listening to an Adam Carolla & Dr. Drew podcast.
7:45 a.m. — Shower, get dressed and head into work.
8:15 a.m. — Check analytics for M1 Finance from day before, upload them to office TV screens, check email, create list of to-dos for the rest of the day (try for three main items and other smaller ones).
9 a.m. — Try to focus on first task and get it completed.
11 a.m. — Meetings with team members to review priorities and progress.
Noon — Have lunch (I use a prepared meal delivery service called Kitchfix since I'm no good at making my own food…).

Click here to see how other fintech leaders spend their day.

12:45 p.m. — Check email, and try to knock out a couple lower priority items.
1:30 p.m. — Focus on second task and get it completed.
3:30 p.m. — Second meeting with other team members to work through issue.
4:30 p.m. — Focus on final item and get it completed.
6:30 p.m. — Drive home, cook (microwave) dinner from same meal delivery service.
7:30 p.m. — Answer emails, try to finish up any small items I didn't get done today.
9 p.m. — Do something to relax – read a book, watch a TV show, or browse Reddit.
10 p.m. — Go to bed.
BZ: What is your morning routine?
I have an alarm set for 6 a.m. and I usually hit a 5-minute snooze one to three times. After getting up, I make an egg, ham and veggies scramble and cup of coffee. I grab a gym bag with clothes I packed night before and head out to the gym.
BZ: When do you first check email?
I check it over breakfast to delete emails I don't need or check for emergencies. I don't read and respond until I get into the office around 8:15 a.m.
BZ: How many meetings do you have a day?
I try to have two to three max, so I can block out longer periods of time to focus and be productive.
BZ: What gets you excited about what you're doing?
How people manage their money dramatically influences their quality of life. Investing is the most tried and true way of maintaining and building wealth. Yet, current brokers and robos out there are clunky, manual, and limit options. Our mission to make that process easier and ultimately help improve people's lives is what gets me out of bed every day.
BZ: What do you do to relax?
I need to burn off some energy working out or I'll go stir crazy. I love listening to podcasts and reading books.
Photo credit: M1 Finance
Interested in a Benzinga CEO profile? Send an email to events@benzinga.com.
Want to get involved with the 2017 Benzinga Global Fintech Awards? Submit your company here.
View Comments and Join the Discussion!
Posted-In: A Day In The LifeFintech Entrepreneurship Success Stories Startups Tech Interview General Best of Benzinga