A Model 3 Miss, Capital Questions And Factory Shutdowns: What Wall Street Says About Tesla's Q1 Deliveries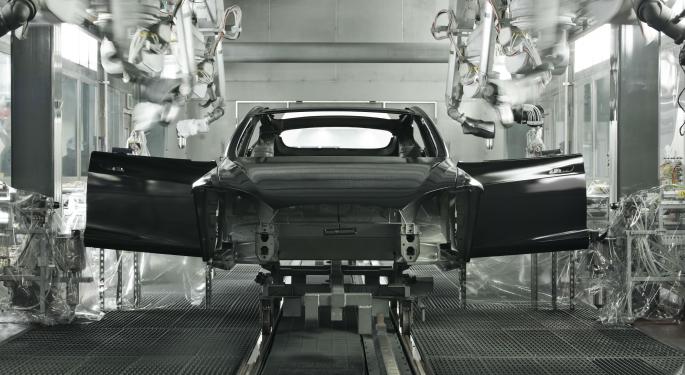 ​Despite missing Street delivery estimates and exceeding production expectations, Tesla Inc (NASDAQ: TSLA) reiterated annual guidance on Model S and X deliveries and a second-quarter production target of 5,000 Model 3s per week.
Not only that, but Tesla said it could achieve its goals without a debt or capital raise.
Here's what analysts had to say about Tesla's first-quarter update.
The Rate Miss Wasn't That Bad
The firm closed the quarter producing 2,020 Model 3s per week against guidance of 2,500.
"Mar-18 is the third out of three quarters that they have failed to meet this important target," Loup Ventures managing partner Gene Munster said in a note. "Investors are up in arms over these misses and have lost confidence in Tesla's production guidance."
The miss wasn't as bad as anticipated and shouldn't be cause for concern, Munster said. The bigger story, he said, is that production is ramping for a difficult-to-produce and potentially important electric vehicle.
Nonetheless, Baird Equity Research expects critics to attack the close rate as "manipulated," considering the disparity between a 2,020 seven-day rollout and 9,766 quarterly total, but the firm's analysts consider the difference permissible.
"Importantly, TSLA has always indicated the production ramp would not be linear, and we believe the recent increase in production is in-line with TSLA's production plan," Baird analysts Ben Kallo and David Katter said in a note.
Where The X, S And 3 Rank
Tesla reported that the Model 3 is its highest consumer-rated product, boasting a 93-percent customer satisfaction score. Bernstein sounded a cautious note on poor Model 3 visibility, but Baird said the ranking is a positive, particularly as rollout delays drive cancellations.
"We view the continued demand for the S and X as a positive, and believe demand for the Model 3 will increase as more cars are produced, additional reviews are released and more consumers have access to the vehicle," Kallo and Katter said.
The 13-percent year-over-year declines in deliveries of Models S and X is troublesome to KeyBanc Capital Markets.
"Part of our Sector Weight thesis longer term has been the view that at some point, investors might start to care that a significant portion ... of the company's gross profit pool was no longer growing, and so while investors largely care about Model 3 for the moment, that S/X continue to point toward these trends makes multiple expansion arguments more challenging," analysts Elliot Arnson and Brad Erickson said in a Wednesday note.
Capital Raises Could Still Come
To Baird, Tesla's resistance to 2018 capital raises negates a leading bear argument, but peer analysts aren't convinced the strategy will stick. Morgan Stanley anticipates a $2.5-billion equity raise in the third quarter to support bullish production and delivery goals.
"Investors with whom we spoke positively interpreted the company's commentary around 'high volume, good gross margin and strong positive operating cash flow' in Q3, although [they] were somewhat skeptical that the company would actually realize these goals or avoid an equity or debt raise," said Morgan Stanley's Adam Jonas.
At the same time, Bernstein noted that Tesla has previously raised capital after stating it was unneeded.
Model 3 Goals Are Ambitious
Tesla aims to achieve a Model 3 production rate of 5,000 per week within the next three months, a feat Morgan Stanley expects no sooner than the fourth quarter. KeyBanc said it just needs to happen.
"As the number continues to climb to something approaching 4,000-5,000, we think Model 3 gross margins should turn profitable, which doesn't indicate it will meet long-term targets, but should prove to be better than the more bearish expectations of the car being EBIT-negative, even at scale," Arnson and Erickson said.
Loup Ventures projects 4,000 Model 3s produced per week in the second quarter and 10,000 in mid-2019, while Bernstein has little confidence Tesla will meet its objective.
"We've heard this story before," analyst Toni Sacconaghi Jr. said. " ... Tesla's production run-rates haven't scaled linearly thus far (production appears to have been mired around 800 per week until the end of March), and IR clarified that further factory shutdowns were expected throughout Q2."
A Final Thought
Ultimately, Tesla's first-quarter performance satisfied the automaker's most bullish analyst.
"While on a bumpy road, we believe Tesla remains exceptionally positioned for the future around EV, autonomy and sustainable energy," Munster said, predicting profitability in 10 quarters.
Related Links:
Jefferies Upgrades Tesla On Probability Of 'Drastic Action'
Tesla's Cash Burn Could Double With Expected Model 3 Delays, Says Deutsche Bank
Photo courtesy of Tesla.
​
View Comments and Join the Discussion!
Posted-In: Adam Jonas Baird Equity Research Ben Kallo Bernstein Brad EricksonAnalyst Color Top Stories Analyst Ratings Best of Benzinga