Sorry, Mickey: Why This Analyst Is Reducing Disney's Q4 Earnings Projection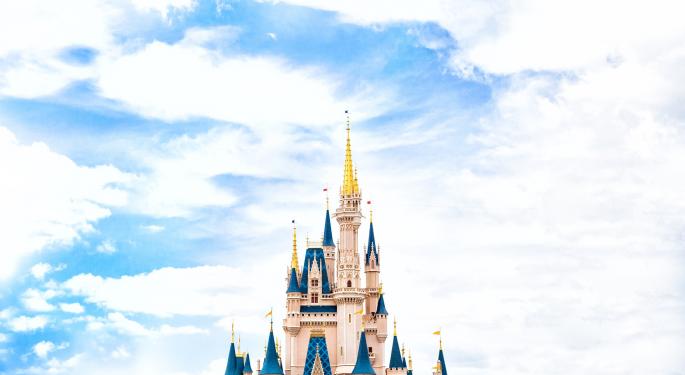 Loop Capital Markets rolled back its fourth quarter earnings projections for Walt Disney Co (NYSE: DIS) after previously reducing estimates Sept. 9.
The research firm's Q4 non-GAAP earnings per share estimate was reduced from $1.21 from $1.12. On Sept. 9, analyst David Miller had trimmed his earnings estimate for Disney from $1.32 to $1.21.
Loop maintained a Hold on the shares of Disney with a $104 price target.
Shares of Walt Disney closed Thursday down 1.64 percent at $96.93.
Why The Muted Guidance?
Loop's September estimate reduction for Disney was based on comments by CEO Bob Iger at a competitor's media conference in Los Angeles, where he said 2017 non-GAAP earnings would come in "roughly in line with 2016," Miller said in a Thursday note. (See Miller's track record here.)
In 2016, the company earned $5.71 per share on a core basis. The consensus estimate at that time was $5.89 per share, according to Loop.
Iger blamed the changed guidance on tough movie comparisons, NBA rights costs, additional operating costs associated with Disney's 75-percent stake in BAMTech and impact of Hurricane Irma, Miller said. Irma's impact on Disney was two-pronged, Miller said: It caused both cancellations of existing reservations and the closure of Disney's Orlando theme park.
The Potential For Disney's First Negative Year Since Recession
Immediately after Iger's September comments, Loop trimmed its Q4 earnings per share estimate by $0.11 to $1.21 per share. The consensus estimate, which was earlier $1.32 per share, fell to $1.21 per share, as the sell side reacted to the CEO's informal guidance.
As Iger referred to earnings per share — not earnings — his comments suggest 2017 could be a negative earnings year for the Mouse, Miller said. It would be Disney's first negative earnings year since 2009, when the U.S. was still in its worst recession in 79 years.
Disney's $10 billion stock buyback program reduces the outstanding shares from 1.68 billion in 2016 to $1.56 billion in 2017, equating to a change of $0.28 per share on 2016's net income of $9.37 billion, Miller said.
Performance Boils Down to Multiple Market Pays
Among Disney's businesses, parks alone will see meaningful revenue growth, EBIT growth and margin expansion in 2017, thanks to surge pricing initiatives kickstarted by Disney in 2015, according to Loop.
"The performance of Disney going forward really comes down to what multiple the market is willing to pay for a [fiscal 2018] earnings bogie," Miller said. The figure continues to decline due to a combination of margin pressure in Disney's media networks segment and the expenses required to launch two over-the-top streaming products.
Loop reduced its 2018 non-GAAP earnings per share view by another $0.05/share to account for the expectations of lower advertising revenue at the media networks unit and further subscription losses.
Related Links:
Wall Street Has Absolutely No Idea What To Make Of Disney
Netflix's Subscriber Numbers Will See 'Very Little' Impact From Disney Deal Cancellation
Posted-In: David Miller Loop Capital MarketsAnalyst Color Analyst Ratings Best of Benzinga
View Comments and Join the Discussion!