Few Surprises In Ho-Hum Jobs Report, And Now It's Back To Fed Watch
Friday's jobs data came in near expectations, but might not have much impact considering a Fed rate hike is pretty much baked in and a new administration takes office next month. With the report out of the way, focus could return to the Fed, the presidential transition, and holiday sales numbers.
Non-farm payrolls grew by 178,000 in November, pretty much in line with market expectations for job growth of 175,000 to 180,000. It's the first time in recent memory that jobs data have come in so close to estimates. The unemployment rate fell to 4.6%, the lowest in nearly a decade, and a large drop in the number of unemployed was a very encouraging part of the report. It was also good to see strong growth in construction jobs. The one concern is a 0.1% drop in hourly wages, which had been growing for a while. This is just one month, so we'll see if the wage dip turns out to be an anomaly.
The overall data show moderate jobs growth that's arguably not too hot or too cold, and certainly nothing that would seem to give the Fed much pause ahead of its Dec. 13-14 meeting. Instead, it's more of a temporary distraction and just one more really nice data point for the Fed as the meeting approaches. The outcome of the presidential election and the new administration coming in next month also tend to lessen the impact of economic data, as nothing about these numbers is likely to change any policy.
At this point, a Fed rate hike seems pretty much a foregone conclusion. Fed funds futures now project a more than 93% chance. Meanwhile, holiday sales seem off to a good start, judging by what we saw on Black Friday and Cyber Monday.
Before the jobs data early Friday, many markets seemed to lose some of the sizzle from their fierce post-election rallies. Stock futures, the dollar, oil, and bond yields all moved slightly lower, and both stocks and the dollar have shown signs of leveling off over the last few days. Some bond market watchers see 2.5% in 10-year Treasury yields as possible resistance, and that's a level the market approached this week as the Fed's meeting drew near.
Stock indices have moved in different directions the last day or two, with the Dow Jones Industrial Average (DJIA) propelled to new record highs Thursday on a tailwind from the booming financial sector, while the S&P 500 (SPX) and Nasdaq indices fell back a bit, hurt by weakness in both technology and biotech.
And as some indices move lower, volatility charged up a bit from recent lows, with the CBOE's VIX rising to $14.32 early Friday, perhaps reflecting some choppiness ahead of the jobs report. The VIX remains low by historic standards, but is up from below $13 earlier this week.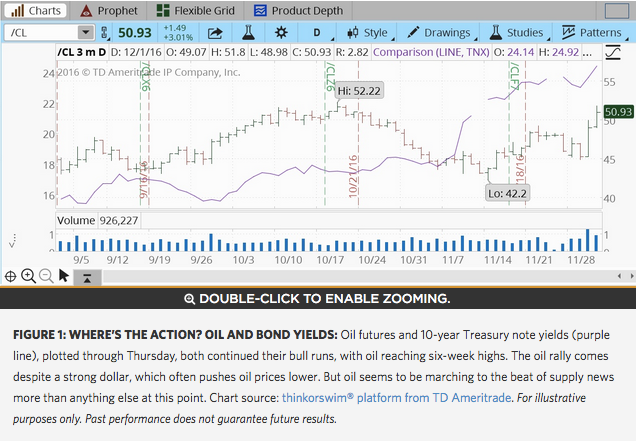 Might OPEC Members Need a Proctor?
Though OPEC agreed to cut production by 1.2 million barrels a day in January, that's by no means assured, as OPEC members in the past have sometimes declined to go along with plans. We'll have to carefully watch OPEC production in coming months to see if output actually falls, and keep an eye on U.S. production as well. Some energy experts told the media that if oil prices rise above $55 a barrel for any extended period, U.S. output could spike, a potential bearish development for both oil futures and possibly energy sector stocks as well. In sum, the continuing soap opera that is the oil market doesn't seem in danger of losing its place in prime time.
Europe, China Data Look Solid
China's official PMI report for November came in 51.7, up from 51.2 in October and the highest reading since July 2014. The Caixin PMI, which measures responses from purchasing managers at small and mid-sized firms, was 50.9, down slightly from 51.2 in October but still indicative of expanding activity with the reading holding above 50.0, Briefing.com reported. Meanwhile, the eurozone PMI stood at 53.7, unchanged from the preliminary reading, which marked the highest reading since January 2014.
Year-End Sector Rotation Watch
As the end of the year approaches, it could be worth monitoring possible rotation from stronger sectors and stocks into weaker ones, which often occurs when investors choose to take profit on winners before year-end. Sector leaders in the last month include financial, energy, materials, industrials, and consumer discretionary. On the opposite end are sagging utilities, info tech, health care, consumer staples and utilities. Adding to possible pressure on the high-flyers could be the mid-month Fed meeting, with a rate hike all but telegraphed by various Fed speakers over the last few weeks, as well as the climbing U.S. dollar, which could hurt export-focused companies. It's certainly possible that there's more rally left in some of these sectors, but it might make sense to be prudent here in the coming weeks, especially considering how fast and far some stocks have come.
Posted-In: Analyst Color Biotech Eurozone Commodities Treasuries Econ #s Federal Reserve Markets
View Comments and Join the Discussion!