'Serial' Podcast And Ticketfly News Gives Pandora Stock A Lift, But Is The Move Justified?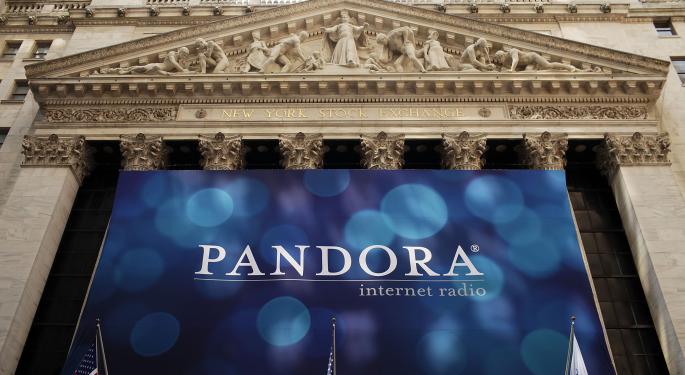 Shares of Pandora Media Inc (NYSE: P) were higher by more than 4 percent Monday morning.
Pandora said on Monday it will be the exclusive streaming partner for "Serial," the quickest podcast to reach five million downloads and streams in Apple Inc. (NASDAQ: AAPL) iTunes' history.
Pandora also announced pricing information regarding its acquisition of Ticketfly, resulting in a mixed outlook by Wall Street analysts.
Pandora announced it has secured the rights to be the exclusive streaming partner for "Serial," a breakout podcast.
"Serial," a podcast that was first launched in October 2014, is a spinoff of the radio program "This American Life." The podcast explores nonfiction stories and was the fastest podcast to reach five million downloads and streams in iTunes' history.
"Serial Season One was a phenomenon and we at Pandora are among the many eagerly anticipating Season Two," said Brian McAndrews, CEO of Pandora in the press release. "We think our listeners will love Serial and look forward to helping build its growing number of fans."
The announcement did cause some confusion, as many people seemed to think that "Serial" would only be released on Pandora. The podcast will be available on its website, iTunes, and various podcasts apps, as well as Pandora.
Season One will be made available in its entirety on November 24, the company added in its press release. Season Two's release remains "highly guarded" but will be released every Thursday at 6:00 a.m. ET – the same time they became available through the podcast feed.
Separately, Pandora announced it has completed and finalized the acquisition of Ticketfly earlier than expected.
Analysts Mixed On Both Announcements
Rich Tullo ,a media analyst at Albert Fried that covers Pandora's stock, told Benzinga that a Pandora-"Serial" deal "makes sense," and positions the company "closer to being relevant" in the car. The analyst also suggested that Pandora closing its acquisition of Ticketfly also contributed towards the outperformance in shares Monday morning.
An analyst at Barrington Research said Pandora's decision to stream "Serial" shows management will use its platform to monetize more than just songs. The analyst suggested that Pandora's stock performance on Monday is attributed to the closing of the Ticketfly deal. The analyst added that the deal won't have a financial impact in the near-term, but sees its implications as being "positive" over time.
On the other hand, Wedbush's Michael Pachter told Benzinga that Pandora's acquisition of Ticketfly "will be a disaster" as his estimates suggests Ticketfly users overlap only 3 percent with Pandora users.
Pachter also said shares of Pandora were acting like a "dead cat bounce" on Monday, as the company's agreement to stream Serial "has no fundamental impact" on the business.
Posted-In: Barrington Research Brian McAndrews Michael PachterAnalyst Color News Top Stories Analyst Ratings Tech Best of Benzinga
View Comments and Join the Discussion!