Are Pundits Wrong About Apple Watch Demand?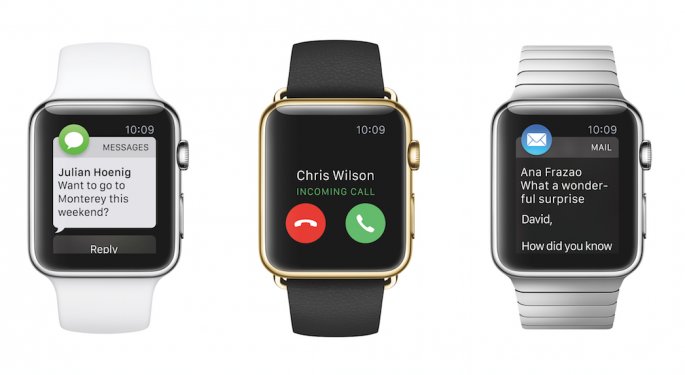 After months of anticipation, Apple Inc. (NASDAQ: AAPL) is nearly ready to release its long-awaited smartwatch. The insurmountable hype ensures that some investors will be disappointed, but there's still a question that must be asked: Are the pundits wrong?
"I think the first batch of watches will sell out just fine and will cause a positive reaction," options expert Nic Chahine told Benzinga.
"Then there will be many negative reviews of it and will likely reverse the pop. Then markets will josh for position into Apple earnings, which will be outstanding once more."
See Also: Early Apple Watch Pre-Order Estimates Are In
Thomas Carr, founder and CEO of DrStoxx.com, believes that some investors are underestimating the Apple Watch's sales potential.
"I think the pundits are wrong about demand for Apple's new watch," Carr told Benzinga. "They are underestimating the 15 [to] 21-year-old demographic that knows nothing but Apple products. ChangeWave Research shows 8 percent higher pre-launch demand for the iWatch than the 2007 launch of the iPhone.
"Why else would Apple be buying up 1/3 of the world's gold if not to meet the expected demand of one million units per month of the Apple Watch 18k-gold edition?"
'Music Is The Killer App'
Albert Fried & Company Director of Research Rich Tullo reiterated his belief that music is the killer app for Apple's first smartwatch. "Music is the killer app for that!" Tullo told Benzinga.
"People like to see their heart rate when they exercise and how many miles and all those things, and that's really wonderful. The other thing they do when they exercise is listen to music. And if you don't exercise, guess what: you're listening to music. If you're commuting, you're listening to music. It's the killer app for that device."
Tullo said he'd like to see Pandora Media Inc (NYSE: P) develop a device to show people that music is the killer app for wearables. He believes music could help Apple sell a lot of watches.
"Why people are not getting there on that is beyond me, when it's on the end of the nose of their face," Tullo added.
Related Link: Apple Watch Reviews: 10 Things We Learned From The Critics
Big Sales
Tullo said the Apple Watch will sell "a ton of units" just because it's from Apple. "Even if it's unsuccessful, they'll sell a million," he said.
The semi-negative reviews (which basically tell consumers to save their money) did not change his opinion -- none of that matters if the device "provides the user with a great experience."
He also said that consumers cannot judge it as a watch. "It's not going to be a great watch, just as the first iPhone wasn't as good as the RAZR in a lot of different ways.
"BlackBerry was a horrible phone…but it was enormously popular. Why? Because it did one thing really well and it provides the user a great experience to use email. That's what the iWatch needs to do. And if they can't do that, it won't be successful."
Tullo believes that experience, no matter how great, must include music. "It's gotta have music," he concluded. "It's gotta do music superbly well."
Disclosure: At the time of this writing, Louis Bedigian had no position in the equities mentioned in this report.
Image credit: Apple
Posted-In: albert fried Albert Fried & Company Apple Apple Watch ChangeWaveAnalyst Color Top Stories Tech Best of Benzinga
View Comments and Join the Discussion!