Apple Store Popularity Could Be Dwindling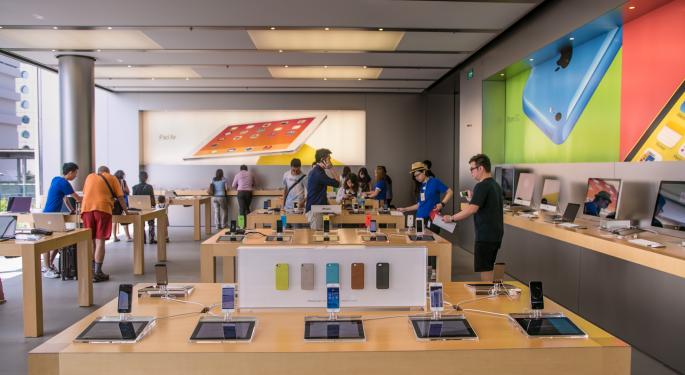 Apple (NASDAQ: AAPL) once had one of the coolest stores one could find at the mall.
During the holiday shopping season, dozens of consumers crammed into the hundreds of Apple Store locations at any given hour. This traffic was heavily fueled by the release of new products.
Even during the off season, Apple Stores still tended to be very popular. But that might be changing.
Trip Chowdhry, the Managing Director of Equity Research at Global Equities Research, frequently attends conferences and visits retailers to gauge a company's success with consumers. He visited more than seven domestic Apple Stores (all at random times) over the past 15 days and found that there were typically more employees than customers at each location.
Related Link: Apple's iWatch, Google's Android Wear Are Not A Guaranteed Success
Chowdhry blamed this on the lack of new products. He said that there's been "nothing new" from Apple in the last three years. And while he had high hopes for the iPhone 5S, Chowdhry is very concerned about the company's future. He fears that Apple may not meet revenue expectations in the United States.
Global product sales could pick up the slack, but Chowdhry has not monitored store traffic in other regions.
A Growing Problem?
Chowdhry is not the only one who noticed that Apple Store employees outnumber customers in some locations.
One Yelp user was equally surprised by the small number of customers she saw at the Brea Mall location in California.
A Lifehacker reader also saw more employees than customers at the Chermside location in Australia.
Customers in Indianapolis and San Francisco have also written about the surprising employee to customer ratio.
"We have not experienced such a phenomenon [for] probably five or six years," Chowdhry told Benzinga. "It could be an aberration only for the last two weeks. [But] it's not very encouraging."
Apple has endured this issue before, however. And it happened during a massive product launch.
In 2012, The Register reported that Apple Store employees outnumbered the line of customers waiting to purchase the newest iPad.
Disclosure: At the time of this writing, Louis Bedigian had no position in the equities mentioned in this report.
Posted-In: Apple Apple Store Apple Stores comments Global Equities Research Trip ChowdhryAnalyst Color Tech Best of Benzinga
View Comments and Join the Discussion!