Pfizer's Blockbuster Drug Celebrex To Lose Patent Protection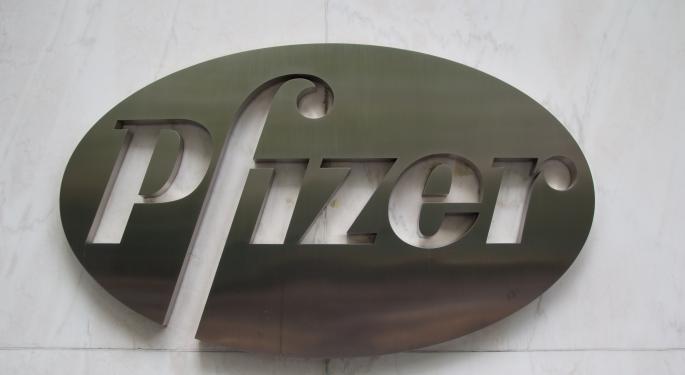 In the pharmaceutical and biotech space, giant moves in a company's stock isn't exactly news and in this case a decline of 1.4 percent shouldn't be much of a story...but when the company is Pfizer (NYSE: PFE), a 1.4 percent loss means something big probably happened.
And it did. Wednesday, a U.S. federal court refused to extend patent protection for Pfizer's big money-maker, Celebrex—a drug used to treat arthritis.
The ruling is a big blow to Pfizer. In the company's latest earnings release, Pfizer reported quarterly revenue from Celebrex at $800 million.
Analysts estimate that the ruling could cost Pfizer up to $3 billion by the end of 2015. Celebrex is Pfizer's fourth-largest seller for the company that has total revenue of about $52 million.
In its 2014 profit forecast, Pfizer believed that Celebrex would maintain exclusivity through December 2, 2015, based on the method of use patent, according to Reuters. A method of use patent covers the use of a drug to treat a certain disease or condition.
Related: Pfizer vs. Eli Lilly – Which Is The Better Investment?
Wednesday's ruling opens the door for generic manufacturers to begin marketing generic versions of Celebrex once the chemical patent runs out on May 30 of this year. Companies including Teva Pharmaceuticals, Mylan Pharmaceuticals and others sought approval to sell cheaper versions of the drug. They filed suit to invalidate the method of use patent.
In a research note, Sanford Bernstein analyst Tim Anderson said, "It seems likely that odds are in favor of generics launching early."
Morningstar analyst Damien Conover said that courts don't often uphold method of use patents. He was surprised that Pfizer counted on the case coming out in their favor to the point of basing forward looking projections on Celebrex's exclusivity until the end of 2015.
For its part, Pfizer has said that it will appeal the ruling. "Pfizer disagrees with the ruling and will pursue all available remedies, including an immediate appeal of the court's decision," the company said.
The patent in question was issued to Pfizer on March 5. Teva, Mylan and others immediately challenged the reissue.
Pfizer is the world's largest drug company. Its most notable drugs include Lyrica, Celebrex, Viagra, and Zyvox.
Disclosure: At the time of this writing, Tim Parker had no position in the companies mentioned.
Posted-In: Celebrex mylan Pfizer Teva PharamaceuticalAnalyst Color News Legal Best of Benzinga
View Comments and Join the Discussion!