Ford, General Motors Report Mixed February U.S. Sales Results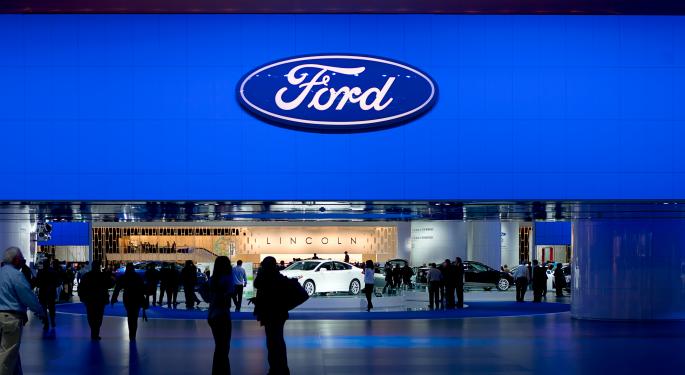 Several auto manufacturers on Monday released their sales reports for the month of February. Many manufacturers blame the massive winter storms that have breached the U.S. this year for losses in sales, but have also commented that they plan to gain balance again after the weather finally passes through.
Ford F-Series Stays Strong
Ford (NYSE: F) reported its U.S. sales figures for February and showed a slight decline. Sales were off by six percent, totaling 183,947 vehicles.
Ford's John Felice, vice president, U.S. Marketing, Sales and Service, commented on the short fall, "sales surged in the final week, providing us momentum after a slow start to the month. Ford Fusion continued its strong retail sales performance in the West, outpacing the mid-size sedan segment. F-Series and Lincoln also continued to perform well."
Ford's F-Series, which features the best-selling truck in the U.S., posted its best sales in eight years in February with 55,882 vehicles.
Sales of Ford's Lincoln brand increased a whopping 36 percent off the strong performance from its Sedan, the Lincoln MKZ and the MKX. Sales for the Lincoln brand totaled 6,661 vehicles. Ford has said that this gain represented Lincoln's fifth consecutive month that sales gains were positive, with double-digit gains in four out of the last five months.
Related: Apple Announces A Rebranding Of Its 'iOS in the Car'
"February's cold weather limited Ford's overall sales, pulling down retail and fleet activity for several car models even as its best-selling F150 truck hit an eight-year high," said Karl Brauer, senior analyst at Kelley Blue Book. "The inconsistent nature of February's numbers, with trucks, crossovers and SUVs generally doing well, confirm the ongoing demand that exists in the marketplace.
"Ford has enough new or refreshed product, either in showrooms already or soon to arrive, to suggest the automaker's sales will lift as spring temperatures climb in the coming weeks and months."
Shares of the automaker are down 1.80 percent or $.30 per share. Ford is expected to released its first-quarter earnings in late April.
General Motors Slighlty Down
General Motors (NYSE: GM) delivered 222,104 vehicles for the month. GM said that sales were down one percent compared to a year ago, though that beat some analysts expectations.
Kurt McNeil, GM Vice President of U.S. Sales, said that "weather continued to impact the industry in February, but GM sales started to thaw during the Winter Olympic Games as our brand and marketing messages took hold. Car and crossover sales were particularly strong at Buick and Chevrolet, and we continue to have a strong mix of pickup sales."
Chevrolet's Sonic, Cruze and Malibu each reported double-digit sales growth, with the Cruze having completed its best February sales ever.
"While several automakers relied heavily on truck and SUVs sales last month," said Brauer, "GM saw sufficient growth across several segments, keeping its overall sales volume nearly flat in a month when many competitors were down between 4 and 14 percent. However, with inventory levels growing and a new round of incentives in place for March GM will have to ensure a healthy sales rate going forward without compromising profitability."
Shares of GM are down $0.05, or 0.17 percent, to $36.14 per share.
Posted-In: auto sales FordAnalyst Color Earnings News Guidance Global Economics Best of Benzinga
View Comments and Join the Discussion!