Gap's Q4 Comps Rise But Investors Are Underwhelmed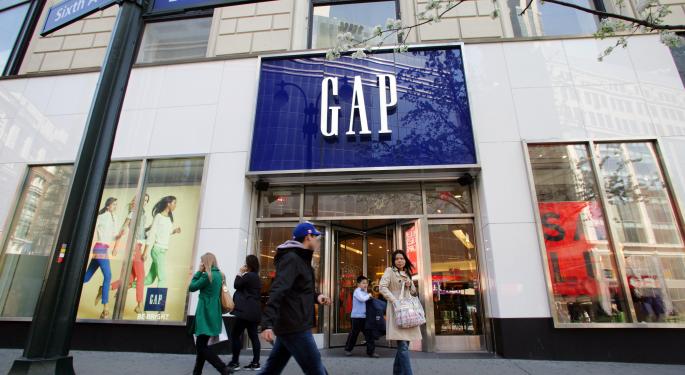 Gap Inc. (NYSE: GPS) ended 2013 on a high note -- perhaps higher than some expected.
The retailer's comparable sales increased one percent during the quarter and were up two percent for the full fiscal year.
This was inline with the firm's third quarter, which also saw comps increase by one percent. Comparable sales increased more significantly during the second quarter, rising five percent.
During the first quarter, comps rose two percent.
"The [winter] quarter has gotten off to a tough start for everybody," Stifel Nicolaus analyst Richard Jaffe told Benzinga Thursday afternoon. "Everybody who has reported has pointed that out and taken, based on February, one or two numbers down.
Thus far, Wall Street does not seem to be overly amused by Gap's results. The stock is down more than one percent in after hours trading.
Gap reported a Q4 EPS of $0.68 versus the Street estimate of $0.66. This may be a win for the company, but earnings per share were still down seven percent from the year-ago period.
Revenue arrived at $4.58 billion, which was just below the Street estimate of $4.6 billion. Sales were down three percent-year-over-year.
"We are pleased to deliver another year of profitable growth for our shareholders," Glenn Murphy, chairman and CEO of Gap Inc., said in a company release. "Engaging customers across our multi-channel portfolio of brands positions us well on our path to winning in the global marketplace."
Gap's full-year prospects were also below the Street estimate. The company expects to report a FY2014 EPS between $2.90 and $2.95, but Wall Street thought it would be closer to $3.03.
Ups And Downs
Shares of Gap were all over the place in 2013.
The retailer experienced steady growth throughout most of 2012, rising more than 94 percent through the first 10 months of the year. After that, Gap hit a few snags and dropped more than 14 percent. But the company still ended the year with a total gain of roughly 67 percent.
Those end-of-year declines might have been what deterred some investors in 2013. While the company ended the year with a total gain of more than 24 percent, shares of Gap were up more than 48 percent through August 2. During those first eight months, Gap grew steadily with only minor dips in between.
The company has performed fairly well in 2014. At market close on Wednesday, February 26, Gap was up more than 13 percent year-to-date. The stock closed down 2.3 percent on Thursday, bringing it down to $42.90.
The Big Picture
Jaffe told Benzinga that he is more concerned about Gap's future than the current quarter.
"What they have to do and what we have to see is not only that they can continue to manage and succeed with Gap, Old Navy, [and] Banana, but a lot of the new things that have been put in place that don't really matter yet can start to matter," Jaffe told Benzinga. "And whether that's getting traction from 400 franchised stores that are gonna become 500 franchised stores this year."
Jaffe wants to know if online ordering and in-store pickup can drive both store traffic and e-commerce traffic above his expectations. He wants to know if the intermix of Piperlime and Athleta really means something, or if any of the company's initiatives are beginning to gain traction.
"I think everybody agrees they've done a great job," he said. "The balance sheet is in great shape and momentum is strong and the spring assortment looks good and things are going really well. But that's not enough. It's not enough to get multiple expansion. It's not enough to make this a $50 stock, much less a $60 stock."
Verdict: Wall Street Wants More Than Slow Growth
Gap may prove to be a slow and steady gainer, but that may not be enough for investors who expect more from the retail giant.
Disclosure: At the time of this writing, Louis Bedigian had no position in the equities mentioned in this report.
Posted-In: GAP Glenn Murphy Richard JaffeAnalyst Color Earnings News Retail Sales Analyst Ratings Best of Benzinga
View Comments and Join the Discussion!