Longbow To Investors: Don't Get Excited Over Green Mountain's Keurig Cold Machine Until 2016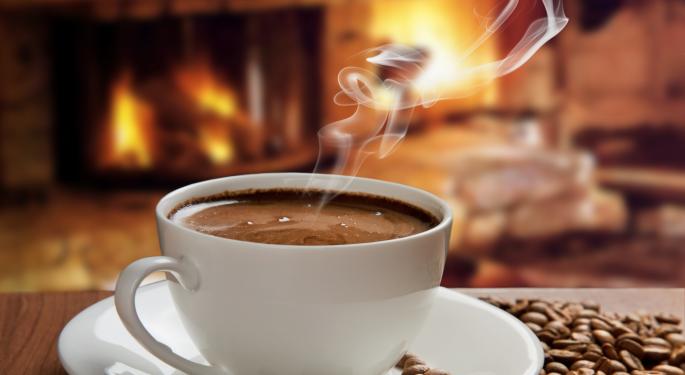 Philip Terpolilli, analyst at Longbow Research, On Wednesday downgraded Green Mountain Coffee Roasters (NASDAQ: GMCR) to Neutral with a price target of $123.
Terpolilli explained that the at-home soda consumption market is a $40 billion domestic and $260 billion global market, which is roughly four times the size of the at-home coffee market.
Given SodaStream's approximate two percent household penetration rate achieved in four years of selling domestically, it is reasonable to assume that Green Mountain's Keurig Cold device could achieve penetration rates at roughly two to four times that of SodaStream.
Longbow Research cited Green Mountain Coffee's estimates that the average household consumes on average 3.45 carbonated soft drinks per day, which is roughly twice that of the at-home coffee consumption rates. According to Beverage Digest, Coca-Cola products hold over 40 percent market share of the total domestic market.
Sounds great for Green Mountain after announcing a partnership with Coca Cola, right?
Not so, says Terpolilli who wrote. "If Green Mountain were to achieve a relatively small 2% domestic share in the first 18 months of launch this would equate to $0.25+ of earnings accretion. This does not factor any international opportunities, which we view as likely but are not yet baking in."
Related: What Is The Tell From The Coca-Cola Deal With Green Mountain?
Terpolli also argued that Green Mountain's Keurig platform will be a "premium" offering with a much higher selling price. The average cost per single-serve soda beverage would be in the $0.60 to $0.75 range, a 40 percent to 50 percent premium to traditional soda, and more than double SodaStream's roughly $0.33 cost per serving.
Terpolli's research concluded that Keurig Cold's inputs are higher than those in SodaStream, as the Keurig Cold device is rumored to feature a chemical/pellet based system versus Co2 canisters that SodaStream uses.
"It is therefore prudent to believe for now that the Keurig Cold system single-serve packs have a similar low-50s margin to that of the legacy K-Cup business," Terpolli wrote.
Interestingly enough, assuming that Green Mountain earns a 50 to 55 percent gross margin on its Keurig cold K-Cup devices, this falls below Coca-Cola's historical 60 to 65 percent margin, but above SodaStream's roughly 33 percent gross margin rate.
Terpolli estimated that the likelihood of Green Mountain launching its Keurig Cold device in the current fiscal year is unlikely, given the fact that Green Mountain already announced it will begin shipping its Keurig 2.0 (next generation coffee and hot beverage machines) in the second half of fiscal 2014.
Investors hoping that Green Mountain's Cold machine would have an impact in the near-term are likely to be disappointed.
"Including initial costs associated with a launch and the likely lag between soda maker purchases and subsequent razor blade sales, we therefore expect Keurig's Cold platform to be most meaningful to GMCR's bottom line beginning in FY16 and beyond," Terpolli argued.
Terpolli is forecasting fiscal 2014 revenue growth of 10.5 percent to $4.8 billion, fiscal 2015 revenue growth of 16.9 percent to $5.6 billion and fiscal 2016 revenue growth of 15.7 percent to $6.5 billion.
Terpolli is modelling Green Mountain's March-ending quarter EPS to be $0.97, full year fiscal 2014 EPS to be $3.86, fiscal 2015 EPS to be $4.42 and fiscal 2016 EPS to be $5.30. The fiscal 2015 projections assumes limited to no earnings benefit from Keurig Cold.
Longbow Research has a Neutral rating on Green Mountain with a price target of $130 that factors in a conservative, but successful cold machine launch. A "bull case" scenario, in which the Keurig Cold device performs twice as successful as projected, would merit a price target roughly above $150.
Longbow Research maintained a Neutral rating on SodaStream with no assigned price target and does not cover Coca-Cola.
Posted-In: Beverage Digest Coca-cola Keurig 2.0 Keurig Cold Keurig K-Cup Longbow ResearchAnalyst Color Analyst Ratings Best of Benzinga
View Comments and Join the Discussion!