Brian Sozzi's Retail Roundup, Part 1: JC Penney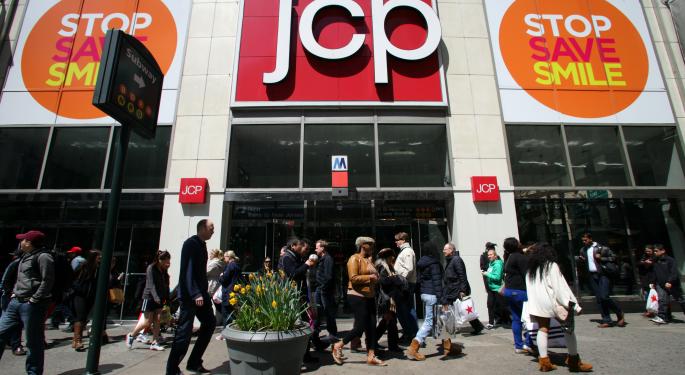 Brian Sozzi, CEO and Chief Equities Strategist at Belus Capital Advisors dropped by on Benzinga's PreMarket Prep on Wednesday to discuss retailers.
J.C. Penney (NYSE: JCP) has been a hot topic as of late.
On February 4, the company announced for the first time since the second quarter 2011 that its same-store sales during the fourth quarter reported a two percent increase.
Sozzi said that J.C. Penney management must be out of touch with reality, as they think they are announcing positive news, when in fact it is not.
In a note to customers on February 4, Sozzi wrote, "In its most important quarter of the year, where cash is raised through inventory liquidation, JC Penney's "in excess of $2 billion in liquidity" guidance compared to the $1.71 billion available advertised in the last 10-Q. For the holiday 2012 quarter, JC Penney generated $645.0 million in operating cash flow from its business. Rough math has a meager quarter over quarter increase in cash (and lower year on year on an operating basis) for the company's most critical quarter, on a +2% comp (that slowed from November…)."
So did JC Penney generate about $300 million in cash in holiday 2013 versus $645 million in holiday 2012? $JCP

— Brian Sozzi (@BrianSozzi) February 4, 2014
Related: Sozzi: Amid Lowered Poison Pill Threshold, JC Penney Highlights Apparent Disconnect Between Value And Assets
Sozzi re-iterated his comments during the Benzinga morning show and emphasized the fact that J.C. Penney generated less operating cash in the holiday quarter and is still burning cash significantly.
He finds it hard to imagine a scenario in which J.C. Penney will emerge profitable, although he said it is possible. Sozzi may believe in the company if it starts putting mid-high, same-store sales by the second quarter to give the sense that it could return to profitability by this year's winter holiday season.
Sozzi pointed out that the preferred shares of J.C. Penney are selling off at similar rates as the common shares, which is a negative sign that the market is concerned about getting paid - if the company does end up in bankruptcy.
Finally, when asked if the company could be a potential takeover target, Sozzi said that no one has shown interest when shares were trading at $10 and even at $5. The company's recent amendment to its poison pill lowered the level at which the provision activates to 4.9 percent from ten percent, making it an unlikely takeover target.
If shares drop to $3 to $4 and the company is still burning cash, it is possible that management can reach out to anyone who is willing to listen to explore a potential deal.
View Comments and Join the Discussion!
Posted-In: Belus Capital Advisors Brian SozziAnalyst Color News Retail Sales Analyst Ratings Interview Best of Benzinga