The Fall Of FXCM In 9 Pictures
FXCM Inc (NYSE: FXCM) is the largest currency broker in the U.S.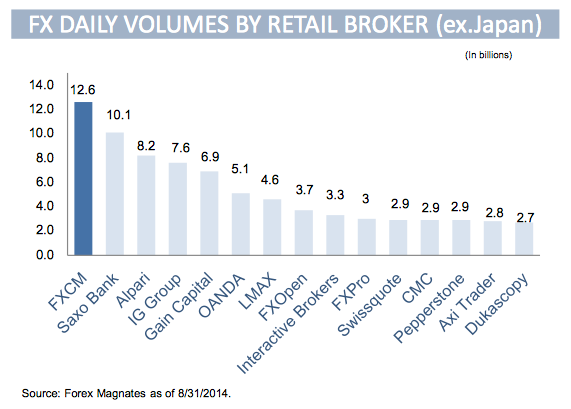 After closing this Thursday with a stock price of $12.63, shares fell to as low as $1.49 on Friday morning…an 88 percent decline.
Why did investors lose faith?
Heavy selling began after the company issued this press release:
What happened?
It started on Thursday, when the Swiss National Bank surprisingly decided to eliminate its currency peg with the Euro.
The Swiss franc is up 19 percent against the U.S. Dollar since then.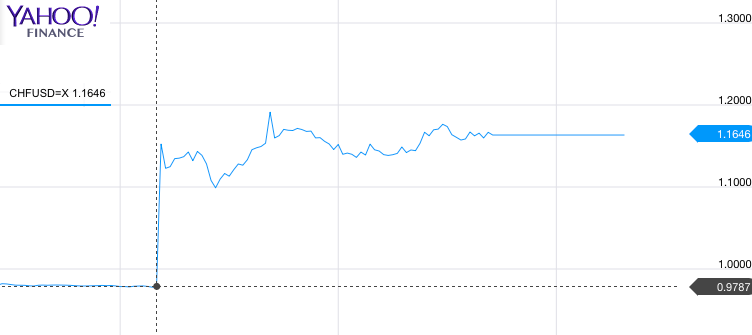 That volatility led FXCM users to lose millions.
Thankfully, Leucadia National bailed the company out with a $300 million loan on Friday afternoon. The stock rose from its pre-market low to above $4 per share.
Still, Citi is projecting lower earnings at FXCM.
The bank is forecasting a loss in 2015 and significantly lowered 2016 EPS estimates.
It now holds a $5 price target on the stock.
FXCM's valuation is also more expensive than its peers.
What's next?
Well, sentiment on Stocktwits is positive.
But statistical modeling paints a different picture.
Eidosearch shows FXCM's drop is similar to the price action of 32 other small-cap financial service companies over the past three decades (with a minimum similarity score of 75 percent).
This peer group returned an average of 1.7 percent over the next month.
Will the industry change?
Experts say it's now possible the entire forex marketplace will have to reconsider how it calculates and regulates risk.
CMC Markets' Michael Hewson had this to say when Benzinga asked whether regulations could strengthen:
The answer appears to be yes.
© 2021 Benzinga.com. Benzinga does not provide investment advice. All rights reserved.
---