There's Stellar Dividend Growth Found In Japan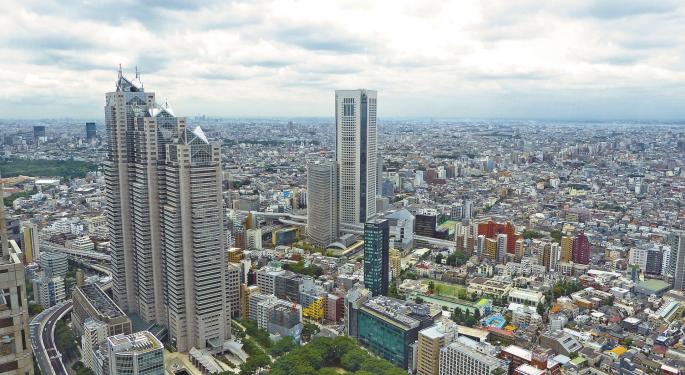 Income investors searching for consistent dividend growth often focus on U.S. large-caps and when they venture outside the U.S., the destination often winds up being Europe. However, nearly half the world's dividend-paying stocks are found outside the U.S. and a significant portion of those are not European equities.
In recent years, Japan and the related exchange traded funds, including the WisdomTree Japan Hedged Equity Fund (NYSE: DXJ), have displayed impressive dividend growth. That represents a positive change from Japan's lengthy history as a low-yielding market where cash-rich companies often deployed capital in myriad ways other than dividends.
Over the past several years, the trajectory of Japanese dividend growth has been impressive.
"The five-year numbers come in at almost double digits—very close to the U.S. markets, while for the latest three years, Japan actually came out with a dividend growth figure higher than the U.S.," said WisdomTree in a recent note. "On a longer-term perspective, over the last 10 years—and that is a period that includes the financial crisis that caused dividend levels to sink across the globe—eurozone regional indexes still show lower overall dividends in 2017 than they did in 2007, but the three-year dividend growth shows a meaningful pickup recently."
Yes, DXJ Is A Dividend Play
Home to $8.44 billion in assets under management, DXJ is one of the largest U.S.-listed Japan ETFs and one of the largest currency hedged ETFs of any variety. While DXJ is often associated with being one of the premier avenues for being long Japanese stocks while exploiting yen weakness against the dollar, one of the ETF's mandates is that it holds dividend-paying stocks.
DXJ's underlying WisdomTree Japan Hedged Equity Index sports a trailing 12-month dividend yield of almost 2.5 percent. That's well above the equivalent yield on the S&P 500, 10-year U.S. Treasuries and negative-yielding Japanese government bonds (JGBs). Fortunately, investors don't need to pay up on valuation to take advantage of Japan's dividend growth.
"From a valuation perspective, the WisdomTree Japan Hedged Equity Index was already among the lowest priced indexes that WisdomTree calculates for developed world exposure—and the index rebalance did not change those statistics noticeably," said WisdomTree. "The price-to-earnings (P/E) ratio before and after was right around 13x earnings, and the dividend yield was 2.5%. Interestingly, that is approximately 25% higher than the 2% dividend yield on the S&P 500, and we saw dividend growth levels for Japan rivaling the increases in dividends we see in the U.S."
Looking Inside
Up 27.1 percent over the past year, DXJ allocates about 60 percent of its combined weight to the consumer discretionary, industrial and financial services sectors. In Japan, companies in those sectors historically generate free cash at an impressive rate, potentially positioning buyback and dividend growth among DXJ components to outpace U.S. and developed market benchmarks.
Related Links:
Posted-In: JapanLong Ideas Dividends Currency ETFs Forex Markets Trading Ideas ETFs Best of Benzinga
View Comments and Join the Discussion!