Small-Cap ETFs Look To Keep The Party Going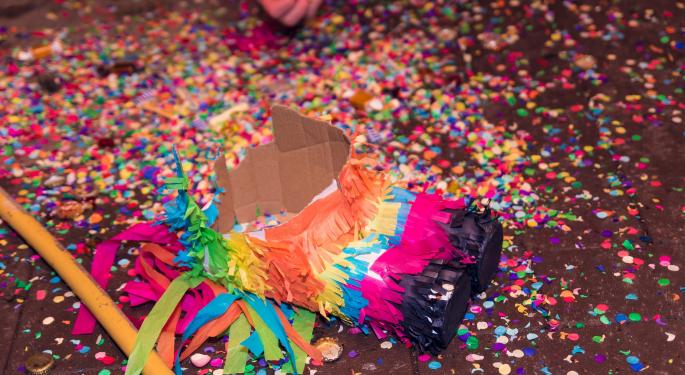 After several years of lagging their large-cap counterparts, smaller stocks broke out last year to offer significant out-performance of their larger rivals. For example, the Russell 2000 and the S&P SmallCap 600 Index returned 21.6 percent and 26.6 percent, respectively, in 2016 compared to a gain of 12 percent for the S&P 500.
With returns like those, some investors are right to be concerned about the near-term outlook for small-cap stocks and exchange traded funds, such as the SPDR S&P SmallCap 600 ETF (NYSE: SLY). As its name implies, SLY, tracks the widely-followed S&P SmallCap 600, an index that is currently home to 603 stocks, not 600.
Small-Caps And Trump
As has been previously noted, small-cap stocks and the related ETFs have been big beneficiaries of President Donald Trump's surprising ascent to the White House.
"Small caps are attracting increased attention as investors bet President Donald Trump's fiscal policy of increased infrastructure spending and tax cuts will boost these stocks," said State Street Vice President David Mazza in a recent note. "While the foreign revenue exposure for large-cap S&P 500® Index companies is 31.6 percent, it is only 19 percent for S&P 600 small-cap companies. Trump's protectionist tilt and anti-free trade policies could favor domestically focused small-cap stocks if the promises on the campaign trail are enacted."
Five sectors — industrials, financial services, technology, consumer discretionary and healthcare — receive double-digit allocations in SLY's lineup. The stronger dollar and Trump's efforts at tax reductions and reform are other macro catalysts that could boost SLY and rival small-cap ETFs.
Comparing To Large-Caps
"Small caps also stand to benefit more than large caps from Trump's proposed tax cuts. Currently, the average effective tax rate of S&P 500 companies is 28.6 percent, while the tax rate for S&P 600 small-cap companies is 36.9 percent. If the corporate tax rate is cut to 15 percent, it will be a bigger tax savings for small caps," added Mazza.
Small caps generate the bulk of their revenue within the United States, making them less vulnerable to the stronger dollar than large-cap multinationals and possible beneficiaries of any additional hawkish efforts by the Federal Reserve.
Passive small-cap ETFs, such as SLY, and related index funds are popular with investors of all stripes for other reasons, including the inability of many active small-cap managers to beat their benchmarks. For the year ended June 2016, just 4 percent of active small-cap managers outperformed the S&P SmallCap 600 Index, but the average annual fee on a U.S. active small-cap fund is 1.2 percent per year, or $120 on a $10,000 investment.
SLY charges just 0.15 percent per year.
View Comments and Join the Discussion!
Posted-In: David MazzaLong Ideas Broad U.S. Equity ETFs Small Cap Analysis Top Stories Markets Trading Ideas ETFs Best of Benzinga