No DryShips, No Soup For Shipping ETF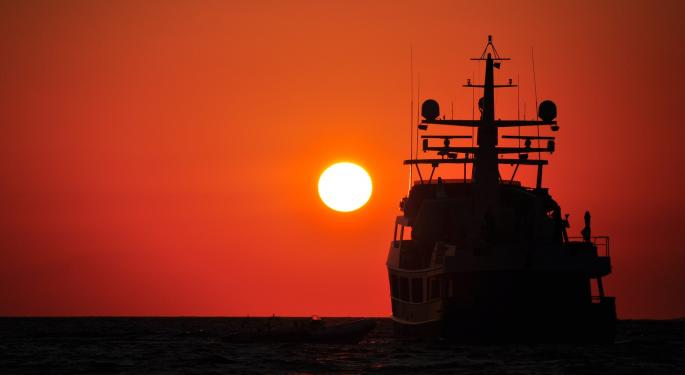 By now, traders not living in caves and under rocks have heard about the breathtaking rally in DryShips Inc. (NASDAQ: DRYS). The once moribund shipping company has seen its shares surge at breakneck speed over the past week, at various points delivering gains of well into four digits in just a few days.
Exchange-traded funds investors looking to access DryShips via ETFs have been left disappointed. Not many, perhaps not any, ETFs hold shares of DryShips. That's right. Not even The Guggenheim Shipping ETF (NYSE: SEA) features DryShips among its 25 equity holdings.
No DRYS For SEA
Although there have been times throughout SEA's six and a half years on the market that confusion pertaining to what corner of the shipping universe the ETF actually offers exposure has benefited the fund, the recent run-up in DryShips is not an example of such a scenario. SEA is up less than 3 percent over the past week, literally pennies compared to the surge in DryShips.
The reason for this is simple. When markets get excited about stocks like DryShips, as sporadic as that enthusiasm may be, the famous Baltic Dry Index, a measure of daily charter rates to ship a variety of commodities across the globe, responds in unison.
However, SEA follows the the Dow Jones Global Shipping Index, a basket of dividend-paying global shipping firms. Many of the stocks in that index and, by virtue, SEA, are not dedicated dry bulk shippers.
The Whimsy Of The Waves
This is not great news for anyone that bought SEA as a result of the recent surge in DryShips. However, this situation cuts both ways. For example, there have times when the Baltic Dry Index tumbles and SEA remains sturdy and even moves higher.
"The Baltic Dry Index was actually on the rise well before the U.S. election. The index was already up nearly 30 percent in the two months prior to the election on signs of improvement in the Chinese economy. The Baltic Dry Index is a measure of key ship leasing rates that are critical for shipping stocks," Benzinga reported earlier this week.
As that trade unwinds, SEA is not likely to suffer as much as individual dry bulk shippers. The equivalent of the Baltic Dry Index that is more impactful to SEA is the Baltic Dirty Tanker Index, which tracks transportation rates for oil and related commodities.
SEA holds American depositary receipts (ADRs), global depositary receipts (GDRs) and master limited partnerships (MLPs), according to Guggenheim.
Posted-In: Long Ideas Sector ETFs Short Ideas Top Stories Markets Movers Trading Ideas ETFs Best of Benzinga
View Comments and Join the Discussion!