August Has Been A Bumpy Ride For The Stock Market Lately
It's very difficult to say which direction the stock market will head in any given month. However, if recent history is any indication, investors should buckle their seat belts in the month of August.
As CNBC's Carl Quintanilla pointed out on Twitter, the S&P 500 has moved between 2 and 6.3 percent in each of the last seven Augusts.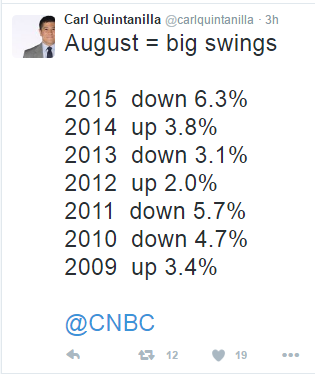 August 2015 was the market's biggest move when it fell 6.3 percent on fears that China's economy was cooling.
Since the beginning of August 2009, the SPDR S&P 500 ETF Trust (NYSE: SPY) is up 115.6 percent, yet the market has delivered negative returns during the month of August in four of the past seven years.
Despite the market's tendency for large downswings in August, Quintanilla followed up with an encouraging tweet.
"Since 1980, August is the 2nd worst month for the S&P. But in election years, it's the BEST month," he tweeted.
Related Link: Vanderbilt Study: High-Frequency '€œPhantom Liquidity' Is Not Hurting Retail Traders
Since 2009, the S&P 500 has averaged a 1.5 percent decline in August. However, as Quintanilla pointed out, it delivered a 2 percent August gain during the 2012 election year.
So far this year the SPY is up 6.2 percent. The SPY gained 3.3 percent in July, but has kicked off the month of August down 0.27 percent Monday.
Disclosure: the author holds no position in the stocks mentioned.
© 2020 Benzinga.com. Benzinga does not provide investment advice. All rights reserved.
---