STORE Knows How To Score (Dividends)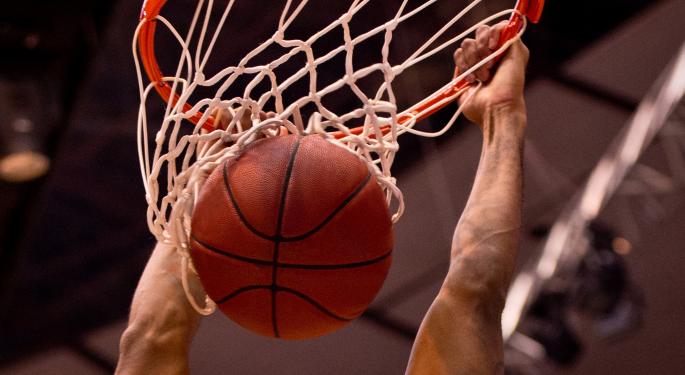 This article was originally published on iREIT Investor, a service from Brad Thomas.
Store Capital Corp (NYSE: STOR) recently reported its second quarter results, exceeding market expectations. The Scottsdale-based Net Lease REIT, which priced its IPO last November 18th, has outperformed all of the other 2015 REIT IPO's and, through August 13th had posted a total return of more than 21%, versus 3.9% for the MSCI U.S. REIT Index.
In terms of investment strategy, STORE, which stands for Single Tenant Operational Real Estate, is carving out a niche for itself. The company invests in "profit center" real estate, which management believes to be an asset class, making it the only Net Lease REIT to have this specific investment strategy. Today, its investments span the following: service industry (~73%), retailers (~15%) and industrial assets (~12%).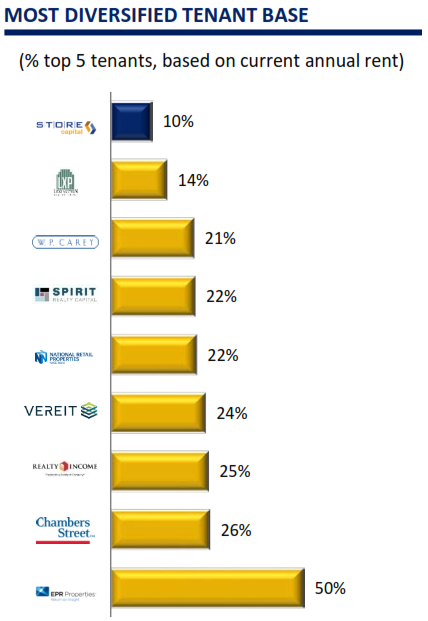 As a part of this strategy, the company receives store-level profit and loss statements for approximately 96% of its investment portfolio, which is unusually high. This is enabled because the company targets middle market and larger companies that are generally unrated and are willing to provide such information. It is also enabled because over 90% of STORE's investments entail leases that are on its own forms.
Over 75% of the company's investments are a result of direct outreach efforts and about a third of its business comes from existing customers. During the second quarter, the company realized record investment activity of $395 million which was significant. Also noteworthy is that the investment volume was derived from 45 separate investment transactions, meaning that the company closed about 3 deals a week. One result of this granular activity has been a portfolio that is more diversified than any other Net Lease REITs. Likewise, a clear result of the company's ability to be a direct relationship contract creation machine has been higher lease rates, more master leases, higher lease escalations and more frequent lease escalations than we typically see (or as compared with the peer group).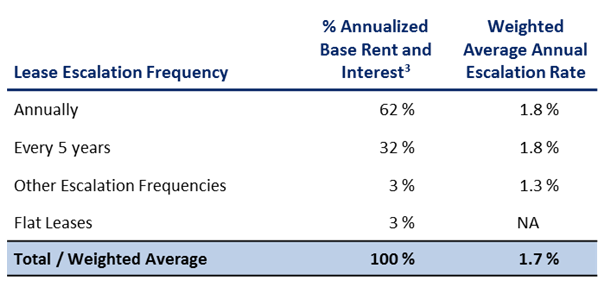 A Differentiated Approach: The STORE Score
One question is how much incremental credit risk the company is taking to generate its higher lease rates and attractive lease escalations?
That is hard to answer because Net Lease REIT disclosure practices are not consistent. However, STORE does provide investors with information regarding the credit profiles of its 275 customers through a histogram, making it the only net lease REIT to do so.
The median customer has an equivalent rating of Ba2, which is determined through a Moody's credit evaluation tool. With the receipt of unit-level financial statements for just about the entire portfolio, STORE then evaluates the degree to which credit risk is lessened as a result of store profitability. Here, STORE creates a lease contract rating, which it calls a STORE Score. Using this unique approach, the company estimates that more than 75% of its contracts were effectively investment-grade rated at June 30. In addition to this expansive disclosure, the company also discloses its investment amounts relative to replacement cost (81%) and its percentage of multi-unit transactions that employ more favorable master lease documentation (77%).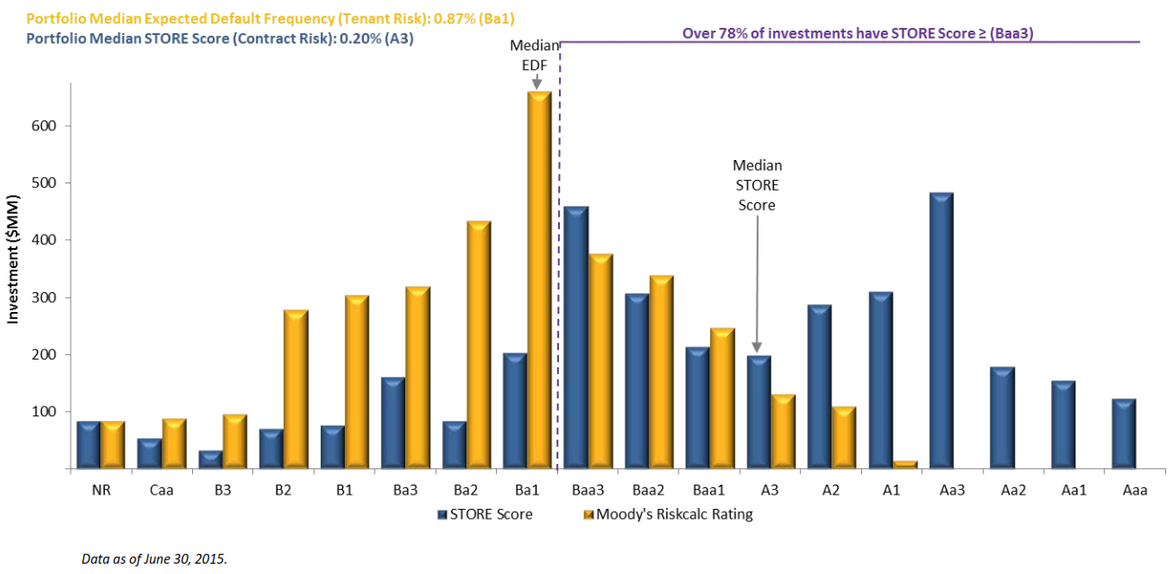 A Differentiated Balance Sheet Profile
In terms of STORE's capitalization, the company is also not cut from the same cloth as many REITs.
Rather than relying on a traditional unsecured borrowing strategy, STORE is one of three REITs to employ its own investment-grade asset-backed borrowing conduit. This technology was pioneered by STORE's leadership in 2005 to provide operating flexibility equivalent to an unsecured debt rating, as well as a high level of corporate financial flexibility. As of June 30th, the company had a favorable run-rate Funded Debt:EBITDA ratio of 6x, placing the company among the most solidly capitalized net lease REITs.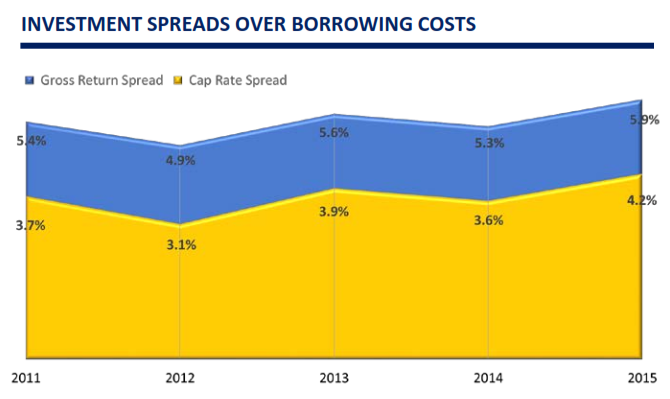 The leverage efficiency of its A+-rated Master Funding conduit has also enabled the company to accumulate over $1.1 billion in unencumbered assets as of June 30th, a number that will grow as the company makes continued investments in 2016. Apart from an unused $300 million bank credit facility, the company had no floating rate borrowings at June 30th and a well-laddered debt maturity stack averaging seven years, which is among the highest of its net lease peers.
With an equity capitalization of around $2.7 billion, STORE ranks as the eighth largest net lease REIT behind O, NNN, VER, WPC, SRC, EPR and GPT (with Chambers Street). That comparatively small denominator, together with impressive annual acquisition activity of over $1.1 billion in 2014 and a stated guidance of $1 billion for 2015 works in its favor to deliver on its growth potential. That growth potential is also helped by favorable investment spreads, as evidenced by the company's most recent quarterly presentation.
Differentiated Growth Profile
Adjusted Funds From Operations (or AFFO) growth should also benefit from STORE's rent increase profile of 1.7% annually, which places it high among Net Lease REITs. In addition, the company's AFFO payout ratio for the second quarter was 70%, ranking the lowest of the Net Lease REIT universe, which should both serve to achieve growth through cash free flow reinvestment and also to do something else very important: protect the dividend. Given the company's growth, the run rate AFFO payout ratio was estimated on its most recent quarterly conference call to be even lower, at 68%.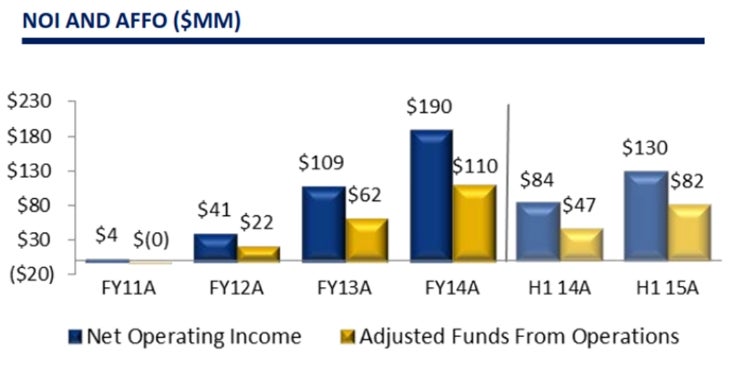 Differentiated Ownership Model
STORE has had a brief history as a public company, but the company has benefited from over three years as a private, institutionally-funded company. Upon going public, entities controlled by Oaktree Capital controlled substantially all of the company's shares. Today, after going public and after completing a follow-on equity offering in June, the Oaktree entities own approximately 57% of the company's shares.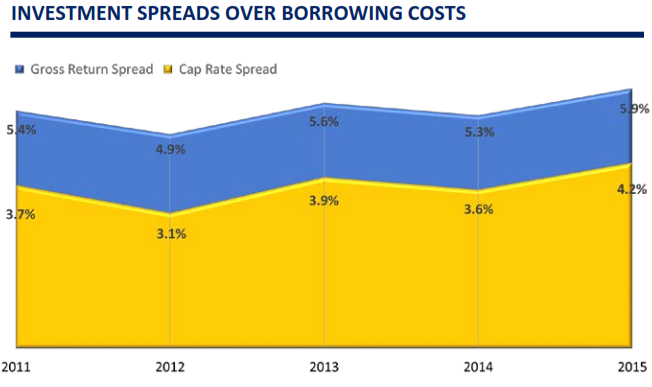 Importantly, STORE's leadership team has a longer tenure in the net lease arena than any other and previously operated two successful NYSE-listed net lease REITs that were sold in 2001 and 20007. That leadership experience, together with the company's well-staffed organization, were on display during the second quarter when four of five for-profit colleges held by STORE that were forced to close in April were relet or sold by the company, realizing a reported recovery rate of approximately 90%.
Importantly, the company estimated on its quarterly conference call that the resultant yield on the investment would exceed 8%, making the investment still worth more than it originally cost. I should point out that, inclusive of that vacancy, the company's portfolio was 99.5% occupied at the end of the second quarter. According to Chris Volk, STORE's CEO, the company seeks to have a margin for error in its investments that can make such high levels of recovery possible. As he stated on the company's quarterly conference call,
"The ability to realize margins for error is embedded in our investment strategy. That strategy is as follows:STORE seeks to invest in assets that our shareholders might not otherwise be able to find, at costs relating to replacement costs they might not see, at lease rates they generally can't get, with lease escalations they may not be able to realize, with lease documentation that closely aligns interests and with financial reporting requirements that they also might not see."
Howard Marks, a founder of Oaktree Capital who writes extensively on financial matters, would concur. Risk is measured in margins for error, which the leadership of STORE has decades of experience in managing. So, it is perhaps not surprising that STORE represents Oaktree's largest public company investment at the moment. To date, STORE has represented a continuation of its leaderships' history of REIT industry out-performance.
STORE Knows How To Score (Dividends)
Given its activities through June, STORE meaningfully raised its 2015 AFFO guidance, elevating the bottom end of the range by four cents and the top end of the range by two cents. The range now stands at $1.38-$1.42.
Given its accretive investment profile, the more important number to look to will be 2016, which will benefit from a full-year of the investments made in 2015. Analyst consensus is that 2016 AFFO percentage growth per share will be in double-digits, making the company among the fastest growing net lease REITs. On its recent conference call, the company announced that it would provide its own 2016 estimates on its third quarter call, which is expected to be in mid-November. Chris Volk stated that the company's 2016 outlook would guide the board with respect to an evaluation of the company's dividend policy.
The Bottom Line: Given the strong Q2-15 results as well as the prospects for the remainder of 2015 and 2016, I am beginning warm up to STORE and its ability to "score dividends".. The company's unique approach to sourcing deals and its own investment-grade asset-backed borrowing conduit provide me with comfort that the investment alternative offers attractive growth and income. However, with only a few quarters to rely on, I'm not upgrading shares to SWAN (sleep well at night) status quite yet.
However, given the successful performance to date, I am reiterating STORE as a BUY and moving my price target from $20.00 to $21.50. That means that the shares are trading within my comfort rage ($21.56) with a dividend yield of 4.6%. I believe STORE is prepared for rate liftoff and the REIT's considerable exposure with CPI-based lease contracts should enable the company to defend against inflation while continuing to put points on the board. After all, that's what's important: STORE Knows How to Score!
Sources: SNL Financial and STORE Investor Presentation.
Disclaimer: This article is intended to provide information to interested parties. As I have no knowledge of individual investor circumstances, goals, and/or portfolio concentration or diversification, readers are expected to complete their own due diligence before purchasing any stocks mentioned or recommended.
Posted-In: Brad Thomas REIT Store CapitalLong Ideas Trading Ideas Real Estate Best of Benzinga
View Comments and Join the Discussion!