What Are The Two Most Exciting 3D Printing Stocks?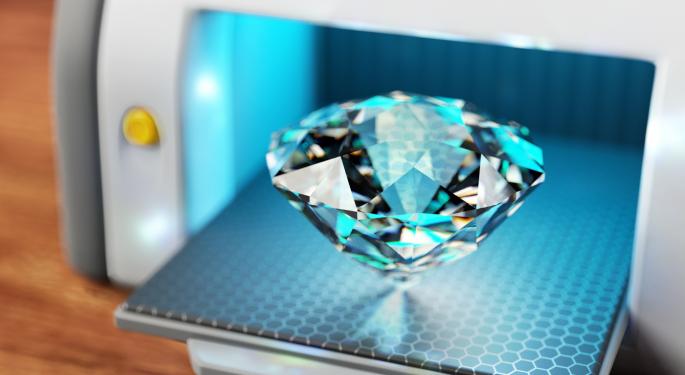 There are many startups and established corporations that are currently working on 3D printers.
From Hewlett-Packard and M3D LLC to Stratasys and Quintessential Universal Building Device, 3D printers are slowly becoming the new "it" product among tech manufacturers.
Apple and Google are rumored to be developing their own all-in-one 3D printers, which could dramatically change the course of the industry.
For now, 3DPrintingStocks.com founder Gary Anderson is focusing his attention on two companies: 3D Systems (NYSE: DDD) and Arcam AB (OTC: AMAVF).
Anderson likes 3D Systems because the company is a "leader in the space and have been contracted to 3D print smartphone components for Google's Project Ara."
"Arcam AB is the second company I find the most exciting at the current share price," he told Benzinga. "Arcam builds 3D printers for high value titanium-based components used primarily in the orthopedic implant and aerospace industries. Their 2013 Annual Report provides a great overview of their products, the high-growth metals market, and their organic growth rate, which is the fastest in the 3D printing space. The company has a key product launch underway, the Arcam Q20, for the aerospace and defense industries."
Related: Will Hewlett-Packard Dominate 3D Printing In 2014?
Anderson said Arcam uses a unique, patented technology called Electron Beam Melting. He noted components manufactured with this technology are stronger and lighter than those manufactured by conventional means.
"The bottom line on Arcam is that it's a smaller 3D printer OEM that's growing faster organically than any other 3D printing stock now with a key product launch that looks very promising," Anderson added. "Arcam is one of only two OEMs that are EPS positive on an International Financial Reporting Standards or GAAP basis, and earned .17/share for the trailing 12-month period."
Investor Fear
Three-dimensional printing stocks have been hit hard over the past few months. Both 3D Systems and Arcam have fallen more than 40 percent year-to-date.
"There was a great deal of media attention focused on 3D printing last year, much of it inaccurate unfortunately," Anderson explained. "Headlines like, '3D print anything you want,' and, 'The next industrial revolution,' etc., stoked [the] imaginations of investors, who then piled money into a handful of 3D printer manufacturers. This drove prices to unrealistic levels in a classic sector momentum rally. Shorts were forced to cover at higher and higher prices, which added to the move and the entire space went parabolic."
Related: Why Apple Won't Release a 3D TV
Anderson said those types of rallies don't usually end well once investors actually look at the fundamentals.
"We're seeing the after effects of that now," he continued. "It's obviously not a pleasant experience if you've bought at the top and didn't use a stop loss order for protection. Investors look at the charts now, and are understandably concerned that the 3D printing group may not be at a bottom yet."
So where do 3D printing stocks go from here?
"I believe the bottom is close in the shorter term, but it depends on overall market conditions and the Q2 and Q3 filings by these companies," Anderson affirmed.
"With their Q1 reports, there was a shared theme by the 3D printing group that they expect stronger results in the second half of the year in both top and bottom line growth," he added. "If that's what they deliver, then I think we're close to the bottom here. "
Anderson thinks the 3D printing space will remain "very attractive" in the long term. He cited research from Wohlers (an independent consulting firm), which stated that 3D printing is now growing at a 34.9 percent compound annual growth rate.
"There just aren't many sectors with that kind of growth rate out there," Anderson concluded.
Disclosure: At the time of this writing, Louis Bedigian had no position in the equities mentioned in this report.
Posted-In: 3D Printing 3D Systems Apple comments Gary AndersonLong Ideas Tech Trading Ideas Best of Benzinga
View Comments and Join the Discussion!