Consider This Small Cap Company for the Growing Home Services Sector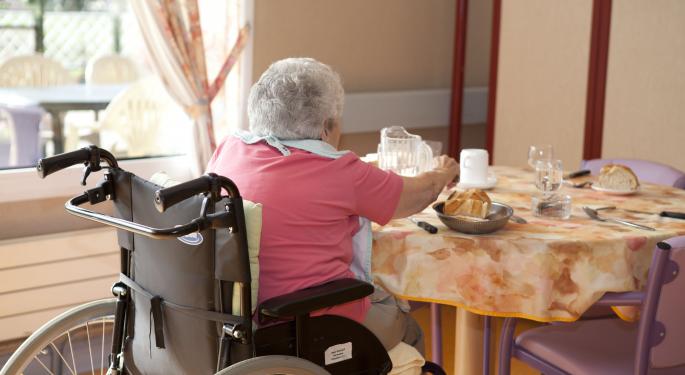 Shares of Addus Homecare (NASDAQ: ADUS) are up 257 percent year to date, despite falling nearly 20 percent this week on no fundamental data. Addus provides in home care for the elderly, chronically ill and disabled.
Market and Competition
According to a government sponsored Centers for Medicare and Medicaid study, $70.2 billion was spent on home health care in 2010. And that figure was estimated to reach 148.3 billion by 2012. This is 111.3 percent growth, or 8.3 percent annually. The study further projects 8.7 billion in out of pocket expenses, with the majority covered by Medicaid and Medicare.
In their annual report, Addus points out the market is highly fragmented with several small, privately held companies spread throughout the country.
Growth Strategies
With the population over age 65 expected to double by 2050, and huge growth expected in home care services, Addus has a large prospective client base.
In order to capitalize on this market, one of Addus' key growth strategies is to drive demand with via referrals and a strong reputation. The company also plans to grow its coordinated care model and expand in new and current markets with acquisitions.
Financials
Since 2008, revenue has grown every year for a net growth of 23.4 percent. However, income has been less consistent.
In 2010, net income was just over six million, and in 2012 income was roughly $7.6 million. Shares bottomed out below $3.50 in 2011 when the company posted a net loss of $1.98 million. However, investors need to keep in mind that this is not a normal operating loss, which many seemed to have overlooked. In 2011, the company took a $10.4 million dollar loss from the discontinued home health business.
For the most recent reported quarter, ended June 30th, earnings grew 66.1 percent year over year to $2.4 million. SG&A expenses, depreciations, and interest related expenses as a percentage of revenue were all notably lower.
Keep in mind that Addus is expected to report third quarter earnings on November seventh.
Related: Think Silver: Top Stocks Catering To Seniors
Valuation
Because Addus' potential customer base is expected grow extraordinarily, the company has a high PE ratio of 27.77. This is significantly higher than the industry average of 18.49. The price/sales ratio is also above the industry average of 0.77 at 1.16. Investors should also be aware that the price/book is 3.02, roughly 12 percent of the current share price.
Technicals
As noted earlier, shares of Addus are on a slide down, despite a lack of fundamental data. A key level to watch is $25, where there is a small gap to fill. Shares bounced off $25 on October ninth, and broke through that level on the 29th, but recovered to close at $25.52. If shares fall below $25, there does not appear to be much resistance until around $21.
Shares recently fell below the 50 day moving average of $26.17. The 200 day moving average is $17.43.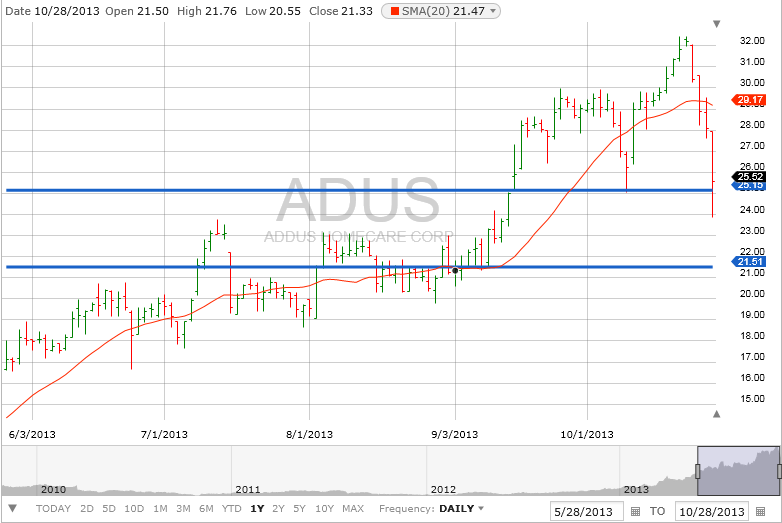 Insiders and Institutions
In 2013, several directors and the CEO made several non open market acquisitions. However, a director sold 28,400 shares in August for $22.63.
Institutions have been buying several shares of the company. Institutional ownership is up 9.95 percent this quarter, after growing 5.2 percent the previous quarter. Similarly, mutual funds have increased their stake by 37.23 percent.
Addus gave up 9.02 percent Monday to close at $25.52.
Posted-In: Home Care MedicaidLong Ideas News Guidance Short Ideas Small Cap Trading Ideas Best of Benzinga
View Comments and Join the Discussion!