'Flash Boys' Exchange's John Ramsay Talks Off-Exchange Trading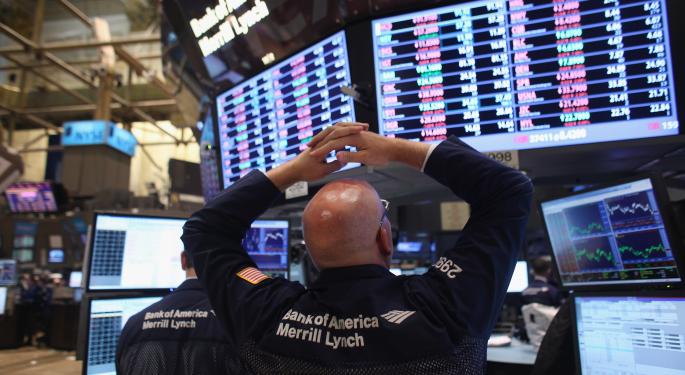 John Ramsay is the chief market policy and regulatory officer for IEX, an alternative trading system that is featured in Michael Lewis' New York Times best-seller, "Flash Boys."
Ramsay was recently a guest on Benzinga's #PreMarket Prep, where he explained why it is concerning that so much trading volume is migrating off the exchanges and going dark. He explained that he had expressed some of the concerns when he worked at the Securities and Exchange Commission.
Related Link: Angie 'Goddess Of Grain' Maguire Converses On Corn
"I think that the reason it exists is that the current market structure gives incentives for people to play arbitrage games between a lot of different platforms," he said. "There are advantages for certain people to being able to have that many different platforms to choose from, but it's not necessarily healthy from the standpoint of the broader marketplace."
Ramsay said, however, that there are perfectly legitimate reasons to engage in off-exchange trading.
"It's important to have platforms that provide an alternative, especially for institutional investors to be able to try to execute trades in relatively large size with relatively limited market impact," he explained.
We matched 110 million shares today –- a new record. Thank you for directing your trades to IEX. #votewithyourtrades

— IEX (@iextrading) September 10, 2014
Ramsay said that IEX, in particular, has experienced success in catering to that community and serving the function that dark pool platforms like this were meant to do.
However, there are now more than 40 alternative trading platforms that all have average trading sizes less than on regular exchanges, Ramsay said, and it's morphing them into something different than their original purpose.
Related Link: How To Trade Sports Like Stocks
"I do think that it's important to keep our eyes on how much trading is happening in the dark and to have appropriate incentives to have a certain amount of trading take place on the exchanges," he said.
Check out his full interview here:
Don't forget to tune in to Benzinga's #PreMarket Prep Monday-Friday 8-9:45 a.m. ET all of the premarket info, news and data needed to start the trading day.
Posted-In: Benzinga #PreMarket Prep Dark Pools IEX John Ramsay Off-exchange trading Securities and Exchange CommissionTrading Ideas Interview Best of Benzinga
View Comments and Join the Discussion!