HP Stream Vs. Chromebook: Can Hewlett-Packard Company Compete With Google Inc?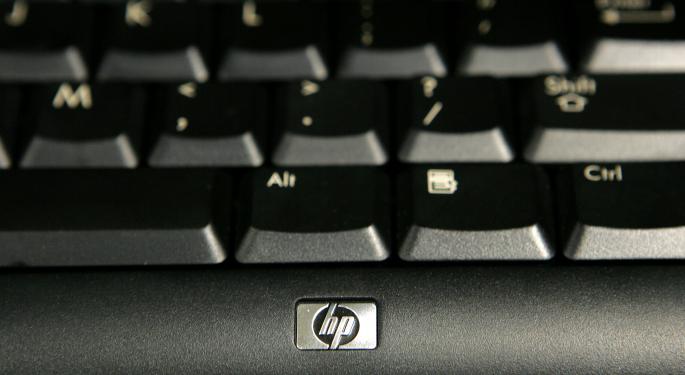 Google Inc (NASDAQ: GOOG) has spent the last three years tinkering with its Chromebook project, which consists of low-end, low-cost notebooks that focus on the cloud.
Hewlett-Packard Company (NYSE: HPQ), one of the biggest supporters of the Chromebook format, is about to release a competing Windows-based product called HP Stream. The low-cost laptops will retail for $199 (for the 11.6-inch model) and $229 (for the 13.3-inch iteration) when they're released in November.
"This is a product category I think they should go after," Sean Udall, CIO of Quantum Trading Strategies and author of The TechStrat Report, told Benzinga.
"This idea has been around for about two decades. It's pretty interesting. I think Oracle tried to do this a decade ago -- basically created a computer that didn't have a lot of the guts so they could sell it [at a cheaper price]."
Related Link: HP Chromebook 11 Sales Suspended To Fix Overheating Chargers Before They Melt
Changing Marketplace
The HP Stream is not the first device that HP tried to position as a low-cost alternative to more expensive products.
"The computer marketplace has been changing," tech industry expert and analyst Jeff Kagan told Benzinga. "It's been changing several times over the last several decades, and it's now a high-end market and a low-end market.
"It's not HP's first time at the rodeo. They tried to crack the code and be profitable at this several times. There is a big market for low-cost computing. As the cloud continues to grow, the devices can be dumb -- so they can be very inexpensive. They're continuing to make an effort to be a winner in this space, and this is a growing space."
Related Link: Will Hewlett-Packard Dominate 3D Printing In 2014?
Too Many Products
Rob Enderle, principal analyst at Enderle Group, fears that the HP Stream is yet another product that will clutter the company's lineup.
"The problem for HP -- one of the problems -- is having an awful lot of very different products and not having the bandwidth to focus the market on any one," Enderle told Benzinga.
"They have one of the strongest positions in the world. They've certainly got the backend to service these things. The question is, do they have the marketing wherewithal to make people see them for what they can do, or will this simply be something else that will sit on the shelf?"
Success Or Failure?
If Chromebooks failed to lure consumers, will HP Stream be any different? "I don't think the Chromebook has really been that successful," Tigress Financial Partners analyst Ivan Feinseth told Benzinga.
"You've either gotta go for a tablet or you're gonna spend a little more and go for a complete notebook. These Chromebooks… Most people are disappointed when they buy them 'cause they don't have the power to do other things."
Chromebook sales could nearly triple by 2017, however.
"I think Chromebooks have been relatively successful," said Udall. "I think Google went into that with sort of an experiment, like they do a lot of things. I think if you were able to see the total Chromebook sales from start to finish, I'll bet they're pretty good. I don't know what that number is, but I'll bet it's a bigger number than most people think."
Udall expects Chromebooks and Chromebook-style devices to become more prevalent in the near future.
Disclosure: At the time of this writing, Louis Bedigian had no position in the equities mentioned in this report.
Posted-In: Chromebook Google hewlett-packard HP Stream Ivan Feinseth Jeff Kagan Rob EnderleTech Best of Benzinga
View Comments and Join the Discussion!