Nasty Reviews Unlikely To Hurt Activision's 'Destiny'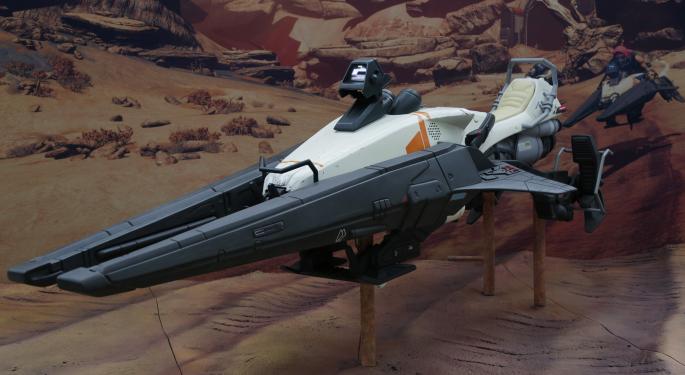 Activision Blizzard, Inc. (NASDAQ: ATVI) announced Wednesday that "Destiny" set a new record after having the "most successful new video game franchise launch" of all time.
The publisher -- which is famous for the "Call of Duty" franchise -- secured the "Destiny" series after signing a 10-year agreement with Bungie, the creator of "Halo."
Execution And Sales
Retail and first-party orders exceeded $500 million on September 9, the game's first day at retail.
"Don't mess with Activision in the channel," Brean Capital analyst Todd Mitchell told Benzinga. "Nobody manages it better. These guys execute extremely well. I haven't picked up any issues with server scaling or anything."
#Destiny is now available in-store and for digital download on next and last-gen worldwide! http://t.co/KHhW3CvqrB pic.twitter.com/TQez4mLbJl

— Destiny The Game (@DestinyTheGame) September 9, 2014
"Destiny" was sold in many different packages ranging from $59.99 (for the game alone) to $149.99 (which included a few collectibles and in-game bonuses). That makes it difficult to pinpoint how many copies were actually sent to retailers. At $500 million, Activision could have shipped as many as 8.3 million units ($60 game / $500 million = 8.3 million).
Related Link: Will Destiny Be The Biggest Game Launch In History?
Mitchell estimated that Activision would sell 6.5 million units at launch and a total of 9.5 million units by the end of the year. He now thinks his estimate is "a little light."
Wedbush analyst Michael Pachter had a similar estimate, predicting that "Destiny" would sell 6.75 million units in the September quarter. Pachter expected the game to sell an additional six million units in the following two quarters, reaching lifetime sales of 12.75 million by the end of March 2015.
He now expects Activision to sell a total of 14-18 million units. In July, Activision announced that "Destiny" had attracted 4.6 million players to its beta, setting a new record for console betas involving new game franchises.
The Reviews Are Coming! Should Investors Worry?
On September 5, Bungie published a warning about the potential for negative reviews.
"We fully anticipate seeing day one reviews from folks who decide to kick the tires, but don't have the time or patience to take our ride for a nice, long road trip," Bungie wrote, hinting that it anticipated some negative commentary.
"Destiny" reviews have been trickling out of the media this week, but the Metacritic score currently stands at 86 (out of 100).
Related Link: Wii U Launch Sales Disappointed Activision Execs
Pachter told Benzinga that he expected review score averages to be in the high 80s, "which is good enough to support this level of sell-in."
Mitchell did not have any review score estimates, but he said the game's quality is what matters most.
"This is not a niche product," Mitchell said. "This is a mass-market product. If you look at game reviews, there's two things. You have a bunch of fanboys who have an Internet audience and can sit around and complain about everything and bash Activision. Yeah, that can happen.
"I think that's what they were worried about offsetting. But the reality is that if the game is good, it's going to get good reviews."
Mitchell said that if a game has persistent and structural issues, negative reviews are an "indicator of a bigger problem." He is less worried if the negative reviews come from a specific group of people who weren't likely to be fans of "Destiny."
"The Internet allows anybody to complain," Mitchell added. "Some people are saying the narrative is a little dull. Let's see where that goes and see if that complaint comes from a highly refined game player… Let's see what the mass-market wants in terms of a critique of the content."
Disclosure: At the time of this writing, Louis Bedigian had no position in the equities mentioned in this report.
View Comments and Join the Discussion!
Posted-In: Activision Brean Capital Bungie Call of Duty Destiny Michael Pachter Todd MitchellTech Best of Benzinga