Warren Buffett's Conflicting Bitcoin Views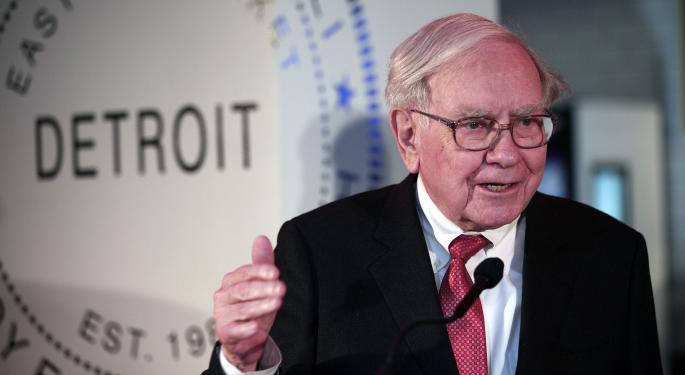 Business Insider recently reported Warren Buffett is warning investors to stay away from bitcoin.
Furthering his anti bitcoin position, Buffett has gone from skepticism, stating "I wouldn't be surprised if it's not around in 10 or 20 years." to labeling bitcoin "a mirage."
Warren Buffett was quoted saying, "Stay away from it. It's a mirage basically. It is a method of transmitting money. A very effective way of transmitting money and you can do it anonymously and all that. A check is a way of transmitting money too. Are checks worth a whole lot of money? Just because they can transmit money?"
Buffett is contradicting himself.
On one hand Buffett states bitcoin is a mirage, implying there is only the illusion of value and later states the idea it has intrinsic value is "a joke."
On the other hand, Buffett recognizes bitcoin is a way to efficiently transmit money.
These contradictory views show Buffett has perhaps not thought deeply about bitcoin. Berkshire Hathaway (NYSE: BRK-B) owns American Express, Bank of America, M&T Bank, SunTrust Banks, U.S. Bancorp, and Wells Fargo. Those investments prove Buffett thinks banks are valuable.
See also: How To Invest Like Warren Buffett
Would Buffett be unfazed if those banks stopped enabling customers to transfer money as his off the cuff statement regarding bitcoin implies? Taking away services like debit cards, credit cards, wire transfers, automated clearing house transactions and checks. Would he use such a bank? Would you? Moving a step further would it be a competitive advantage for a bank to offer a service enabling customers to receive value from anywhere in the world in ten minutes with no risk of fraud?
Bitcoin is outside of Buffett's comfort zone. He is a successful value investor advising people invest in what they know. However, with the exception of IBM, Buffett avoids technology investments.
He has not invested in Apple, Microsoft, Facebook, etc.
Based on his investment expertise, there is no reason he would consider a bitcoin investment. Bitcoin is a difficult to understand technology.
It should be no surprise Buffett has spent little time thinking about bitcoin and has an underdeveloped understanding of it's value. As evidenced by his investments in companies which derive large portions of their revenue from money transmission he therefore understands money transmission is valuable.
Since he recognizes bitcoin enables money transmission it stands to reason if Buffett thought about bitcoin more he would realize it has some measure of value and is not "a mirage."
Disclosure: At the time of this writing David Smith has a long bitcoin position.
View Comments and Join the Discussion!
Posted-In: American Express Bank of America Bitcoin M&T bank SunTrust Banks us bancorp Warren BuffettTech Best of Benzinga