#PreMarket Prep Guest List For The Week Of November 10, 2014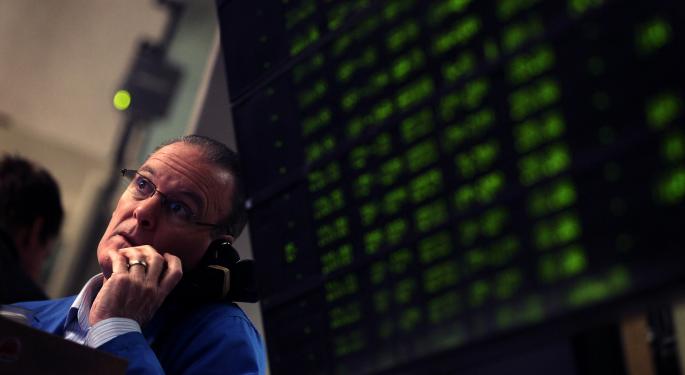 This week's #PreMarket Prep broadcast will include analysis of REITs, high-frequency trading and municipal bonds.
Be sure to tune in at 8:00 am EST Monday-Friday here to tune in.
Monday, November 10, 8:35 a.m.
Kenny Polcari (@KennyPolcari), Director of NYSE Floor Operations for O'Neil Securities
Kenny Polcari became a member of the New York Stock Exchange in August of 1985. With 30 years of experience in the markets, he's experienced the crash of 1987, the dot-com implosion, Regulation NMS, automation, high-frequency trading and fragmentation. He is also a CNBC contributor.
9 a.m.
Timothy Hooker (@TWHooker), Investment Adviser at Dynamic Wealth Solutions
Timothy Hooker provides comprehensive retirement plans, investment advising and portfolio management solutions for high net worth individuals and institutions. Timothy has a diverse background in entrepreneurship throughout Metro Detroit and has worked for several early-stage companies.
9:20 a.m.
Brad Thomas (@swan_investor), REIT Expert and Editor of The Intelligent REIT Investor.
Brad Thomas researches and writes on a variety of real estate-based fixed-income alternatives including both publicly-traded and non-traded REITs. As a lifelong student of Benjamin Graham, Thomas conducts all of his research, analytics and writing based upon Graham's principles and investment strategies.
Tuesday, November 11, 8:35 a.m.
Nic Chahine (@racernic), Creating Income With Options Spreads
Nic Chahine joins the show every Tuesday to discuss the week's options outlook.
9 a.m.
Sarah Potter (@shecantrade), Options and Futures Trader
Sarah Potter is the owner of Shecantrade.com and the author of "How to Trade Like a Pro."
9:20 a.m.
Cate Long (@cate_long), Financial Blogger and Founder of Puerto Rico Clearinghouse
Cate Long writes about the fixed income markets including municipal bonds. She has worked for a number of years with industry standards organizations, regulators and Congress to help craft a more transparent and fair framework for investors to participate in the fixed income markets.
Wednesday, November 12, 8:35 a.m.
Fari Hamzei (@HamzeiAnalytics), Founder of Hamzei Analytics
Fari Hamzei joins the show every week, bringing his wealth of knowledge on aggressive equity options and index futures trends.
9 a.m.
Tim Seymour (@timseymour), Founder of Emerging Money
Tim Seymour founded Emerging Money in 2009 to offer investors broader insight into the asset classes of emerging markets. He is also a co-founder and managing partner at Triogem Asset Management. In addition, Seymour is the emerging markets correspondent for CNBC.
9:20 a.m.
Jesse Clem (@jesseclem), Founder and CEO of Loquidity
Jesse Clem brings more than 15 years of experience as a senior leader at Fortune 500 corporations within the IT industry. He is a seasoned investor with more than seven years of experience investing in multifamily and commercial real estate.
Thursday, November 13, 8:35 a.m.
Adam Feuerstein (@adamfeuerstein), Senior Columnist at The Street
Adam Feuerstein joined TheStreet in 2001. Before that, he worked for other business publications, including Upside.com and the San Francisco Business Times.
9 a.m.
RJ Hottovy (@Morningstarinc), CFA & Consumer Strategist for Morningstar
RJ Hottovy has covered the consumer sector as an analyst and director of global consumer equity research for Morningstar since joining the company in 2008, and specializes in a broad range of consumer categories including restaurants, footwear and apparel retailers, fitness clubs, home improvement and furnishing retailers and consumer product manufacturers.
9:20 a.m.
Minyi Chen, EVP and Portfolio Manager for TrimTabs
Minyi Chen joined TrimTabs in 2008. He is the Vice President of TrimTabs Investment Research and Portfolio Manager of the TrimTabs Float Shrink ETF. He is responsible for the management of quantitative research, marketing, technology, sales and operations.
Friday, November 14, 8:35 a.m.
Joe Saluzzi (@JoeSaluzzi), Partner and Co-Founder of Themis Trading
Joseph Saluzzi is partner, co-founder and co-head of equity trading of Themis Trading LLC, a leading independent agency brokerage firm that trades equities for institutional money managers and hedge funds. He is also the co-author of "Broken Markets -- How High Frequency Trading and Predatory Practices on Wall Street are Destroying Investor Confidence."
9 a.m.
Harlan Pyan (@AllAboutTrends), Co-Founder of All About Trends
All About Trends is a subscription-based newsletter service focused on helping individuals secure consistent profits in the market by trading what they see, not what they think, hear or fear.
9:20 a.m.
Michael Lamothe (@MichaelGLamothe), Founder of ChartYourTrade.com
Michael Lamothe is the founder of ChartYourTrade.com LLC, which provides visitors with a sound investing routine that can work well with any trading methodology. He has been featured in Investor's Business Daily, the "Don't Talk About Your Stocks" Podcast, and is a co-organizer of the NYC IBD Meetup Group.
View Comments and Join the Discussion!
Posted-In: Benzinga #PreMarket Prep broadcast high frequency trading municipal bonds premarket data PreMarket InfoPre-Market Outlook Interview Best of Benzinga