3 Financial Apps that Every College Student Must Use!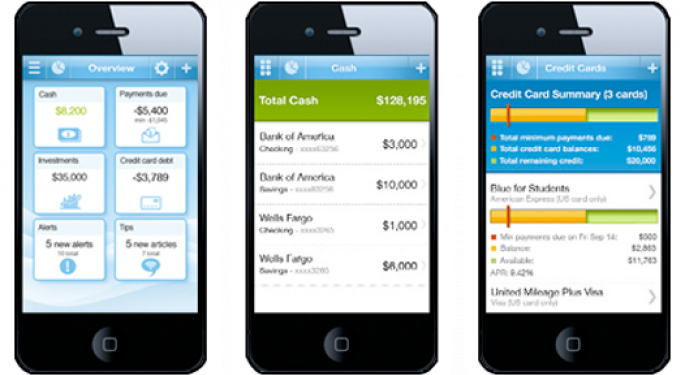 With college students heading back to school soon that can mean traveling out of stateand finding jobs on their own. For many first year college students this is the first time in their lives they will be solely responsible for their own money management.
Every year statistics begin to fill the news about the overspending that many college students are susceptible to. In addition to tuition, room and board, gas, and other necessary spending, students are surrounded by thousands of other students who are boiling with energy to go out and do things. As we all know, "things" cost money. So, before you send your child off to school, do them a favor and give them these great apps for college students that will assist them with their finances.
Mint
One of the most difficult things for adults, let alone college students, is the ability to budget your expenses. Whether people choose to pay or ignore their bills, everyone seems to have a good grasp of how much each important bill really is. Things like car loans, rent, and utilities are large and have scheduled payment dates. This makes it easier to pay them. But, what about those other purchases that people tend to shrug off with a, "It's only $5.00." These purchases, while only a small amount at the time of purchase, can quickly add up until you realize that the big rent bill will be $100 short. This discretionary type of spending can kill a budget. That is where the Mint (NYSE: MINT) app comes into play. While Mint has many more features, such as tracking the financial status of all of your accounts in one place, one of the best features for college students is the budgeting tool.
A college student can set a budget in Mint (NYSE: MINT), and add all of their financial institutions without doing anything except swiping a credit or bank card. Each student can then track their budget and "real" spending, and the app will notify you if you are going over budget. Plus the app can offer advice on spending by using a pie chart to allow students visually see where their spending is going every month. As the expression goes, "Knowing is half the battle."
Billminder
Mint is a great tool for budgeting and tracking your debts but with all of the new bills incurred by college students Billminder is one of the best apps for college students in helping them track their monthly bills. College students can easily have ten or more bills per month from utilities, rent, car payments, insurance, credit cards, and anything else they decide would be easier to pay in payments rather than all at once. With the amount of bills out there and the potential finance charges for late payments; it's important to be able to track when your bills are coming due, how much they will be, and prepare your budget around them. With simple data entry and tracking of bills due in 7 days, 30 days, overdue, or on a specific date, as well as push notifications, your college student would have a hard time not knowing a bill is coming due soon.
Pay Off Debt
So, your college student has been on their own for a couple years, but you notice they have been accruing extra debt through the hundreds of new credit opportunities available. With Mint they can budget their money, with Billminder they can manage their bills, and with Pay Off Debt they now have a tool to manage those expenditures that seem to have gone awry.
Credit cards can do a lot to boost a young person's creditworthiness for the time they finish college and move on to the next phase of life's big expenditures. Before they are out in the world of credit management it is important to pay off those debts they've accrued over the past three to four years. That is where Pay Off Debt comes in. Students who want to pay off their credit card debts and student loans in a way to minimize the financial damage interest charges can cause will find this app useful.
The main focus of the app is to prioritize debts. Students can prioritize from lowest to highest, highest to lowest, or customize the order to pay off their bills. The app tracks progress for each debt, including past payments, and overall summaries to give you a quick visual of your debt status.
While all parents worry about how their students will do when they start their adult life, these three great apps for college students can help minimize that worry. In addition to teaching students how to be financially responsible when it comes to spending, making payments and controlling debts, it is also important to start teaching them about maintaining their credit for the future.Teach your student how you get your credit reports and scores and the importance of paying on time, using less than 30% of their available credit, and managing the number of credit accounts they have.
With these apps and a good understanding of credit you can sit back and relax knowing your college student has the preparation to be financially successful as they leave home.
The preceding article is from one of our external contributors. It does not represent the opinion of Benzinga and has not been edited.
Posted-In: Personal Finance
View Comments and Join the Discussion!