Vetr's JD Singh Explains How To Curate Opinions Into Actionable Market Data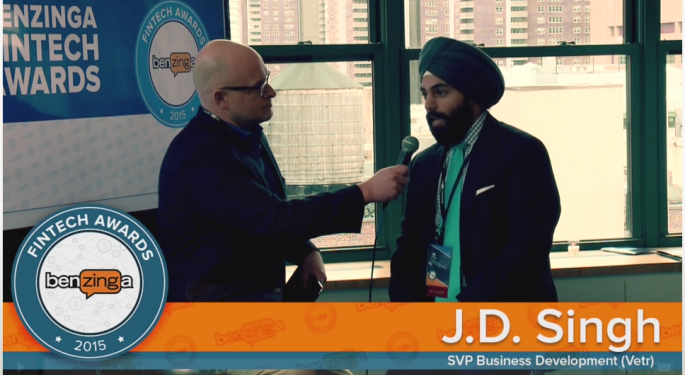 Financial expert and media personality Jeff Macke was the fireside chat host at the 2015 Benzinga Fintech Awards gala in New York on April 8.
Below is the video and full transcript of his talk with JD Singh, SVP of Business Development and Product Development at Vetr.
Jeff Macke: Alright, Jeff Macke here at the Benzinga Fintech Awards. It's a big moment for us all. JD Singh's here. His company's up for two awards. Tell me about it. JD, welcome, you look fantastic, I won't ask you who you're wearing, but tell me about the awards you're up for. Tell me what company you're with first of all. What are you guys doing, what awards are you gonna win?
JD Singh: Sure. So, we're with Vetr. What Vetr does is we actually aggregate crowdsourced investment ratings. And what that means is, individuals come onto the platform and they give their opinions on if a stock is going to go up or down. Let's say they say TESS is gonna go to $250. We take all those ratings and we combine them, and we visualize them in the form of a star rating. The star ratings are really simple to digest and understand. One star is a strong is a strong sell and five stars is a strong buy. And the awards that we're up for today- we're up for 'Best New Proprietary Data,' because no one's actually taking into account all the opinions of self-driven investors, and then the second award that we're up for is 'Best Use of the Crowd.' Obviously, we're crowdsourced content. And I think those categories match. We're really excited, we're really hopeful that we're gonna win this, yeah.
Jeff Macke: How do you stand out in a crowdsourced world? I mean, how do you find these guys? How do you surface the superstars out there? Is it just a matter of the quality of their picks? Or is there a certain amount of showbiz going on in the social media space?
JD Singh: So, we actually have a really cool algorithm that takes into account each individual's clout on the platform. Clout is measured by several different factors. One is obviously the performance of their past ratings. So, someone that has performed very well with their ratings, their future ratings will be weighed heavier than someone who just comes on to the platform or someone who hasn't been doing very well with ratings.
Jeff Macke: And to what degree do you think it's a popularity contest? This- it's really hard, I was noticing today, particularly with the Apple Watch, where you get a lot of non-critical reviewers out there, it's hard to take a contrarian stance, particularly in a crowdsourced funding. Do you believe, I guess, in the wisdom of crowds in this- if the market ever turns down? Because right now I'm seeing an awful lot of bulls out there, not many people willing to stand up and fight against this tape.
JD Singh: Absolutely, that's definitely a concern that many people have. And something that we did that's very interesting is we took- we actually had our community predict the price of oil. So we did this, we just finished up the competition at the end of last month, and we had them predict the price of oil futures. And this is over a four-month span. And the crowd was right within three dollars of the actual price of oil. And you- I'm sure you know how oil's been so volatile these last few days- er, last few months, at least. So, we feel like that's a really good proof of concept. And we have what we call a relevance model on our platform. So, when people post content, each piece of content is actually, goes through an algorithm that judges its relevance. And once again, we use crowd curation to do that- people liking it, people sharing it. Those types of pieces of content that people are liking and sharing goes up in value and is showcased. The non-contrarian, the wishy-washy content sort of goes to the bottom and gets flushed out.
Jeff Macke: Alright. Very cool. Are we in a bubble? Is this a tech bubble?
JD Singh: Could be a fintech bubble. Yeah.
Jeff Macke: The rest of these companies might be part of that [grumbles] garbage out there. Well, congratulations. You look fabulous. Good luck to you tonight, my friend. JD Singh. Hey, we're at the Fintech Awards. Check it out livestreaming all night, my friends. Stay tuned.
View Comments and Join the Discussion!
Posted-In: Benzinga Fintech Awards JD Singh Jeff Macke VetrOpinion Exclusives Interview Best of Benzinga