David Aferiat Of Trade Ideas Explains The Company's '7-Layer Dip' Offerings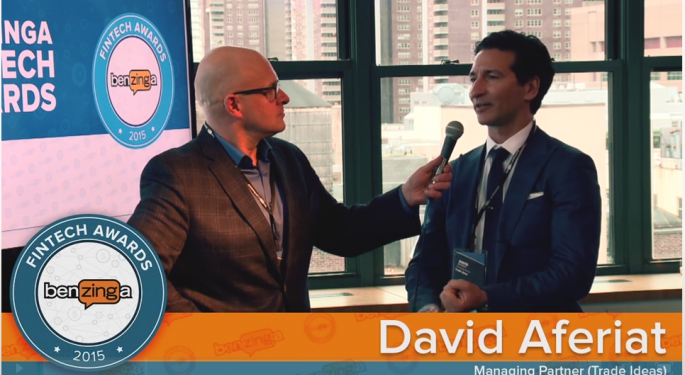 Financial expert and media personality Jeff Macke was the fireside chat host at the 2015 Benzinga Fintech Awards gala in New York on April 8.
Below is the video and full transcript of his talk with David Aferiat, Managing Partner at Trade Ideas, LLC.
Jeff Macke: Hey, I'm with David Aferiat. He's with Trade Ideas. He's up for two awards here tonight, my friends. Here to tell us what they're all about is the man himself. What are you up for tonight?
David Aferiat: We're up for two awards- one in research, and the other in stock scanning tool, under the idea generation umbrella.
Jeff Macke: And what does Trade Ideas do?
David Aferiat: Well, basically, a stock-scanning tool. But we're more than that in the sense of our ability to send out alerts based on technical analysis, fundamental analysis, non-structured data like social media. And we put it all together like a 7-layer dip, and then we serve it to our customers who are looking for unusual activity in the market. That's what we do.
Jeff Macke: So, any kind of unusual activity as they define it, basically sounds like a little mix of your own special sauce and user base driven information.
David Aferiat: It's exactly, combination of sauces. We kind of have channels, we kind of like present in a very new, innovative way that we present our data. We allow our customers to design what they're looking for, but then we also have kind of like a Netflix approach, where we have channels. So if you like options, here's interesting option activity. If you like glam power or cosmetics stocks, if you like China internet- all these different channels based on certain themes. And what you would choose to watch is based on the optimizations that we do, the strategies that we're presenting. So, if I'm looking at options data unusual volume activity, we present a probability of what the next alert is going to do in terms of a result on a trading plan.
Jeff Macke: And what's the most popular method right now? What are people using the most?
David Aferiat: Right now, we see a lot- We just added options data, so it's a large amount of feedback from our customers saying "We've been waiting for this, we wanna look for unusual options data combined with large volume searches." And it often pretends certain news events. So, those who are news traders will actually use Trade Ideas. And we sell to a variety of institutions for that reason. They want the extra tip-off before the news breaks.
Jeff Macke: Primarily institutional customer base, or retail investors?
David Aferiat: It's a good question. So, we sell back to the NASDAQ and NYSE, Briefing.com, we have various relationships to other institutions, but our biggest customers come from our integrations with the active trader platforms of E*Trade and Scottrade, who use our tool.
Jeff Macke: Alright. Very cool stuff. Hey, good luck tonight. Alright, hey. Benzinga Fintech Awards. Check em out, my friends. Let us know what you think.
View Comments and Join the Discussion!
Posted-In: Benzinga Fintech Awards David Aferiat Jeff Macke Trade Ideas LLCOpinion Exclusives Interview Best of Benzinga