#PreMarket Prep For The Week Of July 20: Experts For The Heart Of Earnings Season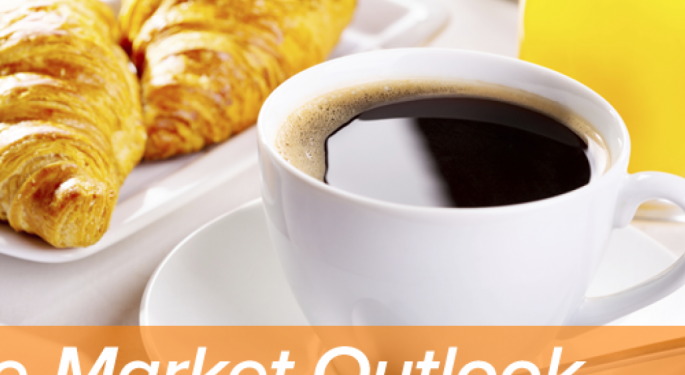 As we get into the heart of earnings season, see what these CEO's, fund managers and market technicians are looking for on this week's #PreMarket Prep!
Be sure to tune in at 8:00 am EST Monday-Friday here to interact with the experts who come on the show.
Monday, July 20, 8:35 a.m.
Sean Udall (@UdallTechStrat), Tech Stock Strategist
After nearly doubling his money on NVLS Systems in the early 1990's, Sean Udall has been hooked on tech stocks ever since. He has more than 20 years of experience working for some of the biggest firms in the country (Morgan Stanley, Salomon Smith Barney), managing over $350 million in client assets, and writing prolific content on the tech sector.
9 a.m.
Scott Redler (@RedDogT3), Chief Strategist at T3 Live and T3 Trading Group
Scott Redler has been trading equities for more than 10 years and has more recently received widespread recognition from the financial community for his insightful, pragmatic approach. He began his career as a broker and venture capitalist where he was able to facilitate relationships that led him into trading. Beginning his trading career at Broadway Trading in 1999, Scott moved on with Marc Sperling to Sperling Enterprises, LLC after establishing himself as one of the best young traders in the firm. As a manager at Sperling Enterprises, he maintained his status as a top trader at the firm while working closely with all traders in the firm to dramatically increase performance.
9:20 a.m.
Serge Berger (@SteadyTrader), Head Trader & Investment Strategist at The Steady Trader
Serge Berger has been an active trader since 1998. During his career, he's been a financial analyst, dealt in fixed income instruments at JP Morgan, and was a proprietary trader in equities, equity options and futures.
Tuesday, July 21, 8:35 a.m.
Nic Chahine (@racernic), Options Expert
Nic Chahine joins the show every Tuesday to discuss the week's options outlook. He is also a Marketfy Maven and the author of Create Income With Options Spreads. Prior to trading full time, he climbed the ranks of the corporate finance world. Then in 2000, Chahine branched out with an internet venture as CFO/COO. The venture paid off well enough to allow him to start his own fund and pursue his passion: the stock market. Chahine also has a background in electrical engineering.
9 a.m.
Karl Snyder (@snyder_karl), Chief market Strategist with Garden State Securities
Karl Snyder is a member of the Market Technicians Association and holds the Chartered Market Technician designation. He is both series 66 and 7 licensed. Snyder is also a series 87 licensed research analyst. He specializes in inter-market analysis with an emphasis on sector rotation and the impact of the business cycle on the financial markets. Prior to starting his financial career, Snyder studied at Rutgers University and served in the United States Marine Corps as a non-commissioned officer.
9:20 a.m.
Don Kaufman (@don_kaufman), Chief Derivatives Instructor for Simpler Options
Don Kaufman is one of the industry's leading option strategists and educational gurus. With more than 17 years of industry experience, Kaufman oversees Simpler Tradings firm wide strategy and deployment initiatives, while designing and executing upon innovative content in the financial education space. Prior to joining Simpler Trading, Kaufman spent 6 years at TD Ameritrade as Director of the Trader Group. At TD Ameritrade Kaufman handled thinkorswim content and client education which included the design, build, and execution of what has become the industry standard in financial education. He started his career at thinkorswim in 2000 (acquired by TD Ameritrade in 2009), where he served as chief derivatives instructor, helping the firm progress into the industry leader in retail options trading and investor education services.
Wednesday, July 22, 8:35 a.m.
Fari Hamzei (@HamzeiAnalytics), Founder of Hamzei Analytics
Fari Hamzei joins the show every Wednesday, bringing his wealth of knowledge on aggressive equity options and index futures trends. Hamzei is frequently quoted by CNBC, Bloomberg and RealMoney. His book, "Master Traders: Strategies for Superior Returns from Today's Top Traders," published by John Wiley & Sons in October 2006, was a bestseller on Amazon trading books space.
9 a.m.
Nate Tobik (@oddballstocks), Investor and Founder of CompleteBankData.com
CompleteBankData is a place for information on banks, banking institutions and bank-holding companies. Nate Tobik is a value investor and also runs oddballstocks.com, an investment blog that uses research from CompleteBankData.com.
9:20 a.m.
Dave Babich (@TRAFINITY), CEO of Trafinity
David is co-founder and CEO of Trafinity Ventures, Inc. Mr. Babich has more than 18 years of experience as a trader, marketing specialist, educator, and business owner in the active trading and online investing industries with a primary focus on the equities markets. Prior to beginning work on the Trafinity business model, David developed and managed WTC Consulting Group, LLC, which was responsible for marketing aspects, trader management, client support, and business development for a variety of private trading groups. Through WTC, David was able to work with over 1,000 independent traders and develop a wide network of industry contacts.
Thursday, July 23, 8:35 a.m.
JC Parets (@allstarcharts), Founder of Eagle Bay Capital
JC Parets is is a 10-year veteran and Market Technician who actively manages money incorporating Technical Analysis and Behavioral Finance into his practice. JC's work has been featured regularly on CNBC, Fox Business, Bloomberg, Business News Network, Wall Street Journal and Yahoo Finance among many other financial media outlets. JC Parets recently launched a research arm named Eagle Bay Solutions where market participants around the world can pay for access to his research.
9 a.m.
Frank Holmes (@bulldogholmes), CEO and Chief Investment Officer of U.S. Global Investors
Frank Holmes is the CEO and chief investment officer of U.S. Global Investors. Holmes purchased a controlling interest in U.S. Global Investors in 1989 and became the firm's chief investment officer in 1999. Under his guidance, the company's funds have received numerous awards and honors including more than two dozen Lipper Fund Awards and certificates. In 2006, Holmes was selected mining fund manager of the year by the Mining Journal. He is also the co-author of "The Goldwatcher: Demystifying Gold Investing."
9:20 a.m.
Greg Harmon (@harmongreg), Founder of Dragonfly Capital Management
Greg Harmon has more than 25 years of trading experience at BNP Paribas, State Street and JPMorgan. He has held senior positions including Head of Global Trading, Head of Product Development, Head of Strategy and Director of Equity and is the author of "Trading Options: Using Technical Analysis to Design Winning Trades."
Friday, July 24, 8:35 a.m.
Paul La Monica (@LaMonicaBuzz), Digital Correspondent at CNNMoney
Paul La Monica writes daily about the markets, economy and technology and also appears in the daily Buzz video segment. He also tweets throughout the day on StockTwits and Twitter @LaMonicaBuzz. La Monica previously was an assistant managing editor overseeing the site's economic, markets and technology coverage.
9 a.m.
Jerremy Newsome (@newsomenuggets), CEO of RealLifeTrading.com
Jerremy Newsome is a 27-year-old trader and CEO of Real Live Trading. He loves technical analysis and was inspired to trade and invest by the movie "Forrest Gump." He used to have a college radio show called The Crockpot, and has done stand-up comedy and Brazilian jiu jitsu since he was 16.
9:20 a.m.
George Hashbarger Jr, Portfolio Manager for Quintium Advisors
George Hashbarger, Jr. has served as the sole Portfolio Manager for Quintium Advisors, LLC. Since 2001, Hashbarger has provided portfolio management services and investment advice to several limited partnerships, BPV Wealth Management and Northshore Management Company. In addition, he served as the Chief Investment Officer of Northshore Management Company from 2004 to 2009. Prior to 2001, Hashbarger, spent nine years in institutional private equity working for both GE Capital (1993-2000) and First Union Capital Partners (2000-2001).
Posted-In: Exclusives Pre-Market Outlook Interview Best of Benzinga
View Comments and Join the Discussion!